4 Best Cloud Video Conferencing Solutions in 2020
January 17, 2020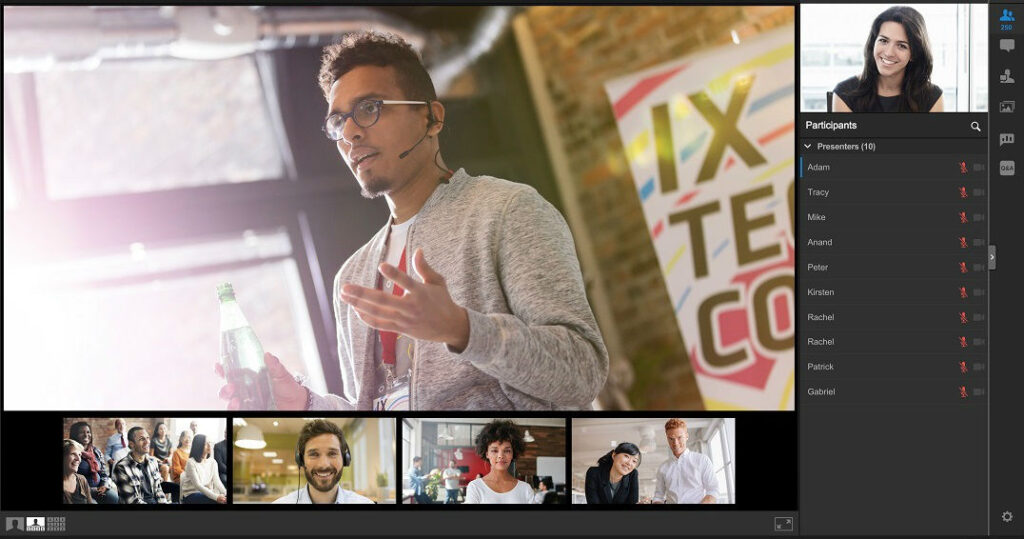 With the constant increase in the pace of technology, video conferencing has become a preferred medium of visual communication. Ranging from legacy workplaces to modern workstations- video conferencing has become the fuel for every enterprise. At the end of the day, it's only a seamless video collaboration that pushes the boundary and takes the meeting to the success level.
Furthermore, with this eminence, cloud video conferencing has also peeped in and become popular. Teleworking, remote working, working outside the office- these are the components of the latest corporate culture that empowers the cloud-based VC and, no doubt, today, it reaches a certain level. If you are exploring more, you can get here the elaborated information about- why IT persons are migrating to this new paradigm of cloud video conferencing.
Thus, here are the top 4 cloud video conferencing solutions of 2020, along with their well-defined features and functions. No doubt, these are the best picks that will deliver more secure and more collaborated communication.
Top 4 Cloud Video Conferencing Solutions
1. BlueJeans
Why BlueJeans: It provides just one-touch access to meetings irrespective of the device, meeting platform, or browser. It is recognized as Visionary under Gartner's Magic Quadrant for Meeting Solutions 2018.
"Customers" are the focus of BlueJeans and make their meetings simpler is its objective. It offers cloud video conferencing solutions that are fast to connect and easy-to-use with up to 150 participants at a time. Even, a person or the employee, who is new to it, can easily use it and even fast. Its solutions compilation consists of the events to meetings to rooms to the gateway.
The features include:
Initiating with its primary leverage, i.e. free phone audio in 40+ countries.
Events: Transform your all-hands meeting sessions into an open forum via a live & interactive webcast and earn more brilliant experiences with BlueJeans events, such as- you can host the larger events with up to 15,000 participants. Plus, experience the interactive marketing webinar that compiles the HD video with Q&A, polling, and rich moderator controls.
BlueJeans' pure SaaS solution interoperability with multiple room system configurations, such as- Poly, Cisco, and Lifesize. It implies that you can connect using the consistent one-touch join in few hours with no extra infrastructure, regardless of any conference room systems.
Plus, seamless integrations are into the apps, such as- Skype for Business, Microsoft Teams, Facebook Workplace, Slack, and more.
Also, the verified enterprise-grade security deployment (with Firewall/NAT traversal, encryption, SOC 2 verification, and IP VPN deployment options) is to be counted as well.
Dolby Voice: Enjoy Dolby Voice difference with background noise cancellation with in-app intelligence. 
Gateway for Microsoft Teams: Connect your existing conference or meeting rooms or huddle spaces with Microsoft Teams to make it a Microsoft Teams meeting room using BlueJeans Gateway (a cloud video solution).
Other features: Cloud streaming & recording, smart user controls, room system compatibility (using Dolby, Polycom, Cisco, Lifesize, and other H.323 or SIP-based room systems with one-touch), and device agnostics- are its USPs.
2. Lifesize
Why Lifesize: It is the world's first global 4K video conferencing solution provider that supports multiple integrations and fits with any space size. It is recognized as a Niche Player under Gartner's Magic Quadrant for Meeting Solutions 2018.
What makes it different? It's a well-defined solution to meet everyday communications need and high-powered meetings as well. Further, it has its broad reach in every geographical location, thus, it offers seamless and secure video collaboration. And, of course, the meeting rooms are already equipped with all solutions (software & hardware), the participants require to acquire top-notch experience. Above all, each meeting supports up to 300 active participants, and experience consistent video collaboration.
The features include:
To start with, its primary leverage is- Lifesize Telephone Support, which indicates local telephone numbers in 60+ countries- provides dial-in support to all contacts and meetings.
Enjoy live stream meetings with up to 10,000 viewers.
Lifesize Interoperability- Lifesize is an interoperable service that works with room systems and infrastructure from the manufacturers, like- Skype for Business, Microsoft® Lync® 2013, Lync® Online, Cisco®, and Polycom®.
Lifesize Integrations- Microsoft Skype for Business and Slack are the major integrated applications. Despite, you can also integrate Lifesize with the third-party VC room equipment, the scheduling apps, the calendar, and the collaboration tools in order to acquire coherent integration into your day-to-day meeting workflow.
Lifesize uses best-in-class data centers with independent third-party security and privacy certifications to ensure the utmost security & reliability. Encrypted signaling and media, AES 128-bit, automatic firewall traversal, no public IP required (Lifesize app and Lifesize Icon only), and web proxy support are the majors.
Other features: Click-to-call team directory, encrypted meetings to the highest standards, web-based admin console, and unlimited guest invites- are the principal components that help enjoy the more personal meeting experience with every communication/ discussion.
3. Bria Teams Pro
Why Bria Teams Pro: Because Bria Teams Pro enables the users to collaborate with others through video conferencing like a professional. It offers a secure virtual space with a plethora of advanced collaboration tools.
Bria provides a crystal-clear, fast, and simple solution that controls meetings in a better way, while the participant on mute. It offers HD audio/video conferencing, with which you can invite up to 200 participants without the need for any pin code. All we can say that it enables businesses to collaborate with teams on-the-go.
The features include:
Bria Pro provides an instant mobility solution for the BYOD The users can download the app on their devices- smartphones or tablets- and can join meetings right away. Superior voice and video quality are its mainstream to deliver the great experience the same as desktop.
HD audio and face-to-face video conferencing calls with multiple options, such as- change video views on the fly to display in a grid view mode or presenter view or the townhall to keep the participants connected, according to your meeting type and objective.
It provides dedicated virtual meeting rooms with a unique room ID for each of the users at an economical price. Moreover, to initiate the business meeting or collaboration session, or escalate a call, or chat with a simple click- no conference IDs or pin codes or passwords are required.
Bria Integration- Bria Pro overlays and integrates with calling servers (PBXs) and the VoIP services that allow you to carry your business number anywhere with you and can make calls to your colleagues, partners, clients, or customers from any outside location
Along with all the above, it has its important features associated too, like- screen sharing, messaging, recording, and rich hosting tools, etc. - to make your meetings more productive.
4. Skype for Business/ Microsoft Teams
Why Microsoft Teams: For the reason that Microsoft Teams is equipped with some good features in addition to already installed Skype for Business's features. In fact, they allow the end-users to collaborate with the specific members they need and the projects in real-time, without the requirement of any physical meeting.
At present, the two are being used in enterprises. The users are trying their hands on both- some are experimenting on Microsoft Teams while everyday communication is going through Skype for Business. As for an example- SFB is being used for the chatting, calling, and the meeting scheduling, whereas, the Microsoft Teams for the teams & channels, and accessing files in Office 365, & other applications. However, the CIOs, CEOs, CTOs, and CMOs are turning their heads towards the Microsoft Teams faster and acquiring productive outcomes.
The features include:
Cloud-based meeting recording, support for larger meetings for up to 250 participants
Users will acquire faster meeting join times and better browser experience without downloading any plug-ins.
Being more modern, this infrastructure makes things smoother and easier, like effortless tapping into Microsoft Cognitive Services, as- speech recognition, transcription, matching learning capabilities, and the translation.
A few of its enhancements include- Microsoft whiteboard integration, intelligent capture, personalized backgrounds, and live captions or subtitles.
The Ball is in Your Court
It's your call now. Which cloud-based video conferencing solution does fit as per your business requisites? It's the right time to evaluate the requirements and then choose one solution that will lend you gains, both – in terms of exceptional customer experience as well as the monetary profit. Btw... if you want to swallow more information about video conferencing- not just solutions, but far more than that- The Video Conferencing Definitive Guide is here to help you.