5 major challenges of mobile app testing
May 11, 2016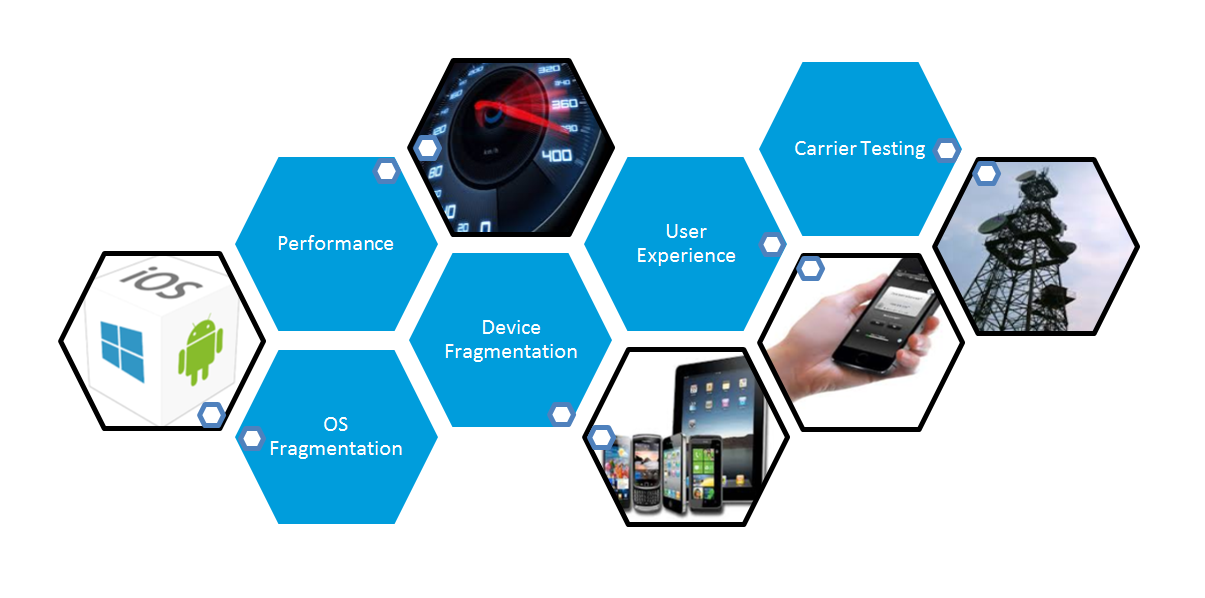 The remarkable growth of mobile devices has set the trend & opened up new avenues for organizations to reach their target consumers via mobile instantly. Along with consumer apps, enterprise apps are also shifting to mobile. Now for every standalone app. or web based app you will find a mobile app version. But with this flexibility there is a unique challenge – due to the soaring expectation of users, a single issue can make them switch to other player in the market. Mobile apps need to be resilient, reliable, user-friendly, bug-free & at the same it should deliver unique user experience, then only it will be able to survive in the market. To deliver all these qualities at the same time, companies need to have a substantial background in development along with QA. But there are some factors like lack of expertise, automation tools, lack of access to multiple devices for testing purpose which often become a hurdle to deliver a quality product. Following is a collection of some major roadblocks which development companies often faces while testing their products:
1) OS Fragmentation
OS Fragmentation arises due to different versions of OSs. Both Android & iOS has around 10+ different versions available. Developers have to make sure that there app is running on all different versions of OS(whether it is Android, iOS or any other OS). There should be seemless user experience regardless of the OS installed in device.

Source : http://opensignal.com/reports/2015/08/android-fragmentation/
2) Device Fragmentation
Device Fragmentation occurs due to different models availability It is considered as the most difficult aspect of the testing matrix because of the seemingly countless permutations. We can't even make sure that the same app will work flawlessly on another device even if it's from the same product family because the hardware specs i.e. CPU, Memory , screen resolution, OS optimization could be different.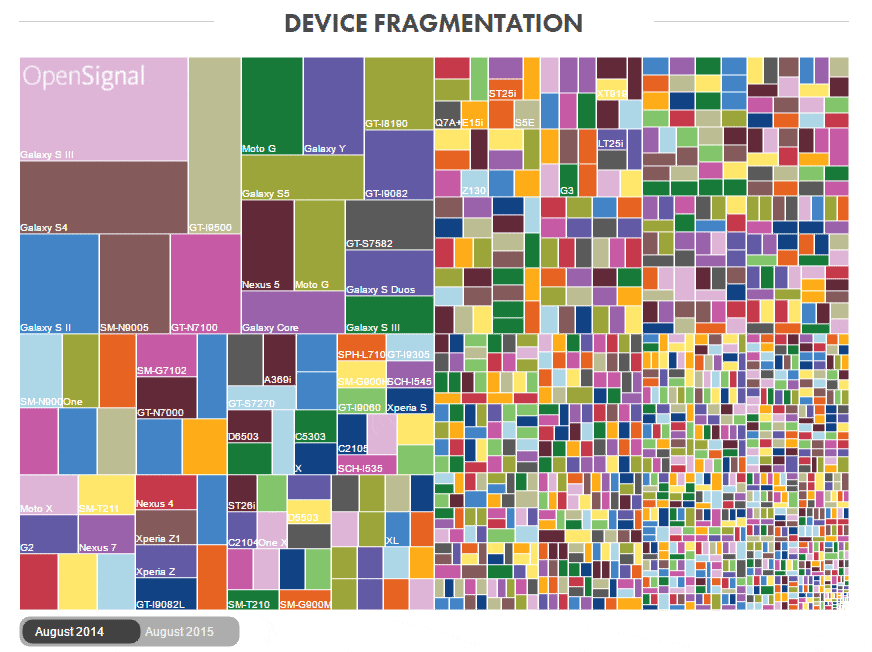 Source : http://opensignal.com/reports/2015/08/android-fragmentation/
This data chart is by OpenSignal representing nearly 24,093 separate Android device models encountered in Aug 2015.
3) Performance
A lot of apps run in the background and consume CPU cycles, thus draining battery and affecting the overall performance of the device. While creating mobile apps we need to keep power consumption at optimum level keeping the best practices in mind. A thorough testing is needed to identify unnecessary leakage and fix them before final release.
4) User experience
It is one of the most important factor that can decide the future of the product. As the screen available in front of the user is limited, the challenge becomes to keep the interaction between the user and app simple and succinct for the user, and at the same time display all of the relevant information. Some of the factors that can affect user experience are readability, font size , color combination, touch speed, processing time etc.
5) Carrier testing
When it comes to app utilization by worldwide users, we can expect multiple networks 3G, 3G+, 4G, LTE, Wi-Fi and in some places 2G also. App. should be able to perform in all these networks without any glitches (in some cases there can dead zone also where there is no network available).