5 Technologies that will matter to India
February 19, 2015
How big is the Indian market? Is it big enough to spur growth for my product? Do I need to explore it? Should it be a part of my international expansion plan? Numbers are big, but are they really big for us? That's the uncertainty global technology firms experience when they think about India. But this was something new for me. Being a witness to the growth here, I never doubted the potential of the market. However, when I came on board at WCS India, I realized this is a story worth telling, a story which has a big audience. I just needed a push to put it on paper. Luckily, a couple of weeks ago when Mike, our CEO, shared a McKinsey report which talks about the opportunity India exhibits for technology companies, I got my reason to share my perspective.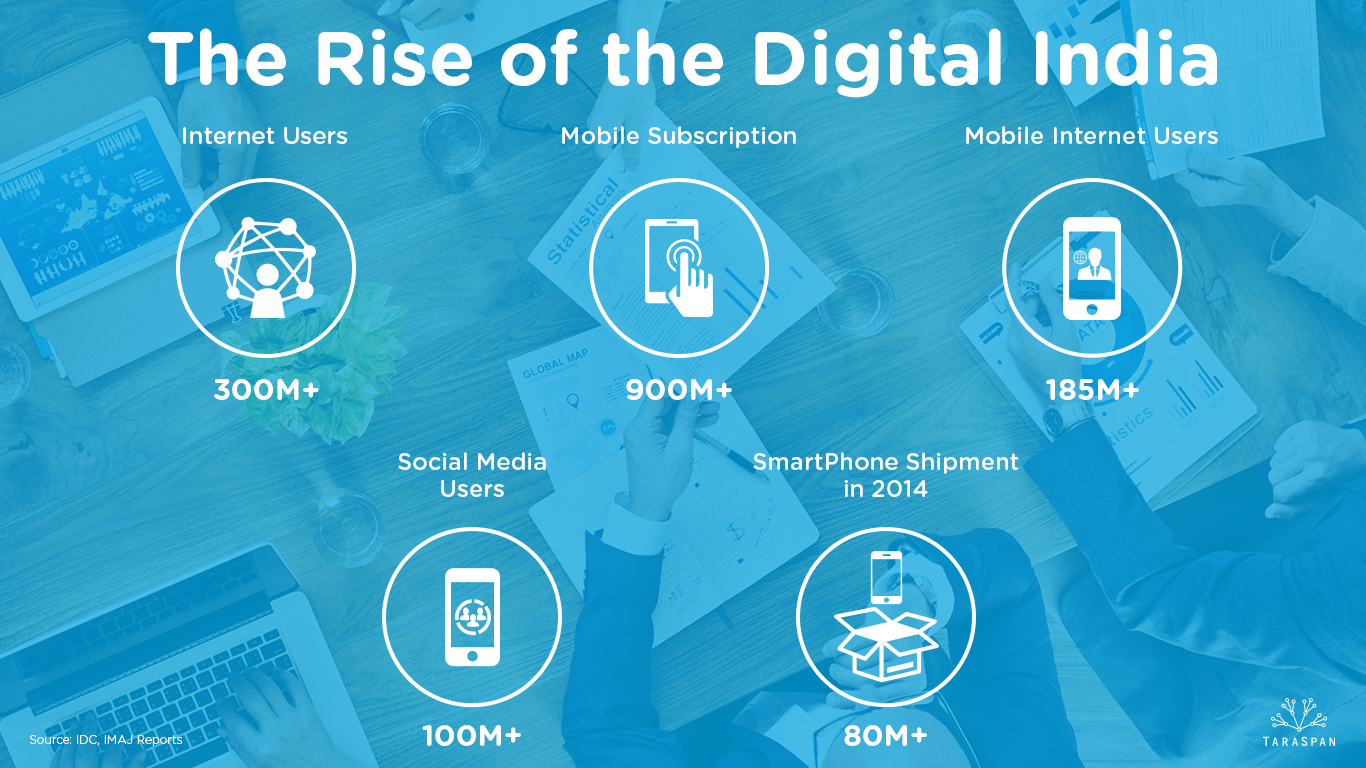 Let's have a look at the numbers. India is expected to ovetake US as the second largest internet market in the world. We have the second largest active mobile subscribers base in the world. The smartphone shipment in India is expected to touch 80 millions this year which makes it the third largest smartphone base with close to 200 million smartphone users. It's the second largest market for social media platforms like Facebook and LinkedIn, and to top it all it is expected to grow phenomenally in the next decade.
These numbers are sure to catch anyone's attention. That's what McKinsey would have thought when it decided to list down the IT trends which will impact India. In it's report, McKinsey has touched upon 12 technologies ranging from mobile internet to next generation genomics that can empower India in the next decade. Though each technology is expected to have wide ranging effects on the economy, I'm going to touch upon 5 technologies which I believe are the most potent.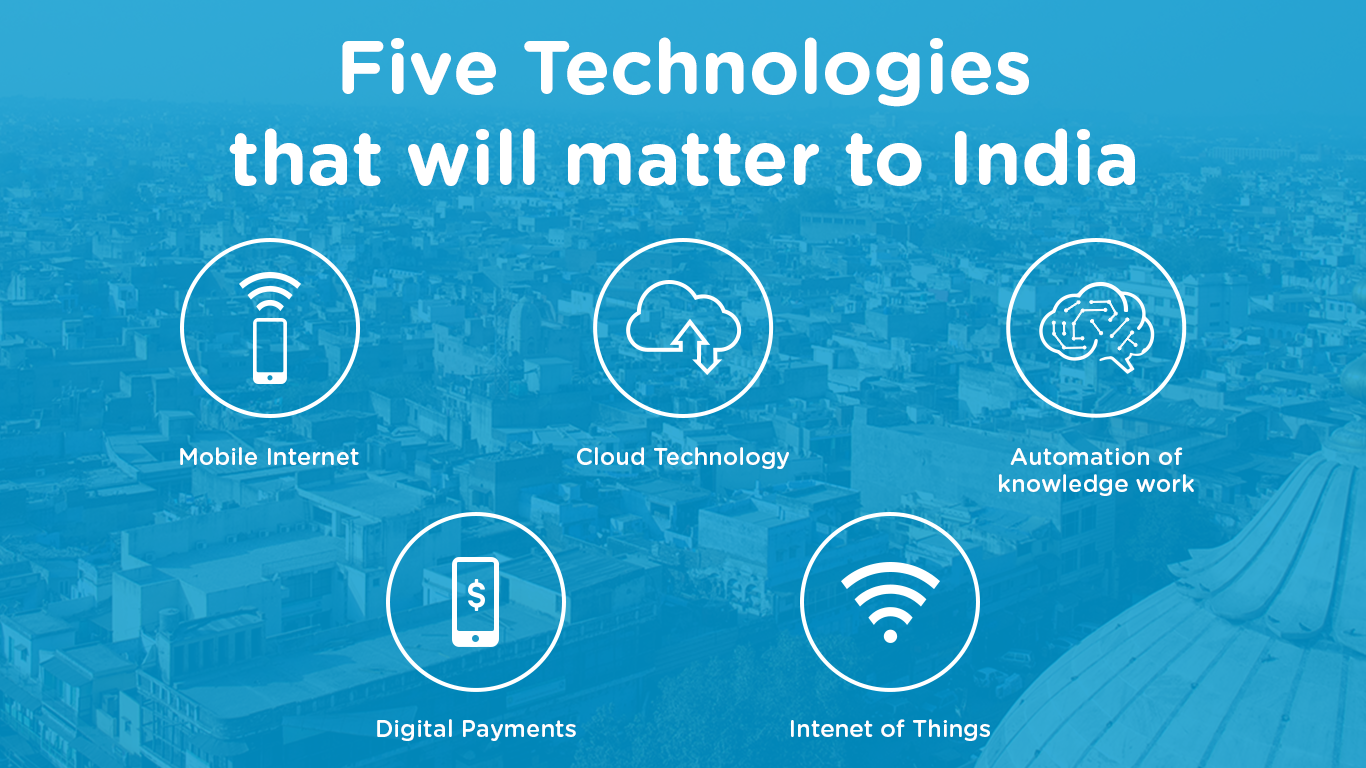 Mobile Internet 
We have seen the disruption mobile has bring in the last decade. More people experienced Internet first time on mobile than on PCs. The mobile internet users, which are estimated to be around 200M, are slated to touch 1 Billion mark by 2025. The market which grew on feature phones, has suddenly found an affinity towards smart phones. The emergence of cost effective smart phones has disrupted the entire internet users landscape. There are more mobile internet users than laptop/desktops internet users. If it's coupled with a good internet connectivity and speed (which is still a challenge), the impact can be far reaching.
Cloud Technology 
Cloud technology has evolved considerably in the last decade, addressing the concerns like security and accessibility. The ecosystem has also evolved to favor its growth, the demand for mobility, the rise of mobile apps and the reduction in the cost of ownership. The low cost factor that cloud brings with itself is more relevant here. It can, in fact it has, bring low cost IT services to business, read SMEs, which were hitherto available due to the high cost of setting that up in-house.
Digital Payments 
When I'm writing this, a lot is already happening on this front. Government of India has launched a high decibel Pradhan Mantri Jan Dhan Yojna (Prime Minister's Initiative to Financial Inclusion) to  bring a huge number of people who still use cash for business transactions to bank. More than 50 million bank accounts have been opened in less than 6 months. Mobile money can play a big role here. For millions of rural Indians, accessibility of their account through a mobile phone in a secured way can be a big enabler.
Internet of Things (IoT) 
Already a buzzword globally. In 2013, nine billion "things" were estimated to be connected around the world. The number is expected to touch 50 billion by 2025. There are more than 1 billion Google Maps users worldwide. IoT is expected to touch all facets of our life. It is expected to control the flow of goods and services too. India could have somewhere between 2 billion to 10 billion IoT devices connected by 2025 as per the report. 
Automation of Knowledge Work
For better decision making. It can catapult Indian SMEs into the next orbit. I can vouch for it. I've seen how our communication skills enhancement program has helped thousands of new joinees become job ready in no time, How tools based on artificial intelligence and adaptive learning can impact the upliftment of the society. Couple it with mobile as a medium of dissemination and see the impact. 
These technology trends are expected to have a bigger socio-economic impact on India. Mckinsey predicts an impact of $1 trillion by 2025. Even if less than 50% of this is achieved, that's a sizable number to put bets on. Yes, the Indian government here has a bigger role to play of an enabler, but global technology firms can definitely play a key role here of suppliers of these technologies, customized to local demands and consumption styles.