7 Simple Secrets to Inbound Marketing through HubSpot
July 16, 2020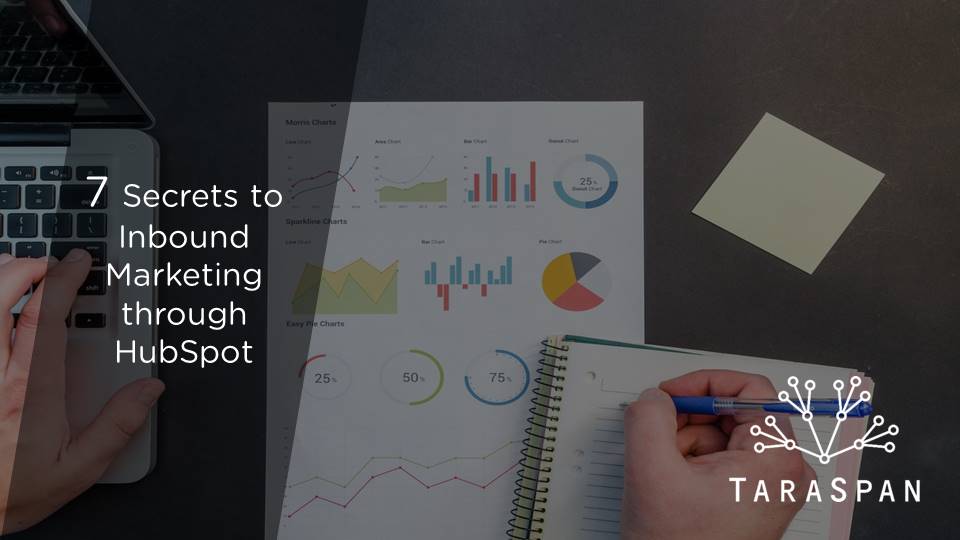 The top-secret to Inbound Marketing is to enter into your customer's mind.
You must be thinking- if it could be possible, isn't it?
Well, it's possible with HubSpot. The HubSpot Inbound Marketing strategy or secret helps you understand what your targeted audience is looking for, what they wish for, what motivates them, and what makes them click & open a particular URL. Simply, you need to follow the pathway and wavelength that is going to be discussed in this piece of content. Yes, they are effective and deliver value.
Although inbound marketing is an eminent term first coined by HubSpot in 2006, it has now become an important tool to stay at the top of the business game. And, to win it, you need to keep yourself updated with innovative marketing trends. So, here are some top-evolving elements that will help you get qualified leads and organic traffic towards your website- which in turn profitable to you as well as to your customer also.
Before diving into details to the HubSpot inbound marketing secrets, let's invest a few seconds into the short excerpt of inbound marketing.
A Snippet about Inbound Marketing
Inbound Marketing is a digital marketing strategy that helps you attract your targeted audience with the help of relevant content and convert them into your customers. In fact, it is a methodology that is specially designed to produce content for the audience, even before they are ready to buy the product. It focuses on helping customers by offering them the solutions to their problems, answers to their questions, and the exact content for what they are looking for.  
And, to pull or attract the customers involuntarily towards the website, the inbound marketing follows three prominent steps. These are the building rocks to win trust over customers, here they are:
1. Attract- This is to attract customers by producing and publishing relevant content through various modes- blog, social media content, etc. - that addresses their problems along with the right solutions.
2. Engage- This is to take your customers into trust through optimized landing pages, CTAs, personalized conversations, and some guides, tips, case studies, etc. Show them you are there to build a long-term relationship.
3. Delight- This is the stage when you have to make sure that your customers are happy with your solution and keep them supported even after the purchase. Insert surveys and chatbots in the buyer's journey, wherever it makes sense, for feedback after a regular period of interval.
Now, let's spill the beans to some great secrets to HubSpot inbound marketing in 2020.
7 Secrets to HubSpot Inbound Marketing to Rule the World in 2020
1. Long and In-Depth Content Is Better
Churning out and posting content has lost its place in marketing space. Now is the time to produce lengthy and value-adding content (blogs & website pages) that will appeal to your target audience. However, make sure that the content you create must answer the questions of your prospects, educate them, solve their problems, and inspire them.
According to HubSpot's data, the longer posts are more likely to rank higher on the search engine result page as compared to the shorter ones. The ideal length of a blog post should be 2500 words or more than it- to generate leads faster. So, if you are still creating shorter blog posts, then it will affect your traffic- it won't rise as you want it to be.
For your help- You can create the lengthy post by combining your existing shorter posts into one complete helpful guide- that encompasses all important topics (your shorter blogs in the snippet) of a particular subject.
2. Add in-text CTA to your blog posts
CTA or Call-to-actions are the refining elements of your blog post that take your process a one step ahead. They give the readers or you can say your target audience a direct way to connect with your services through more detailed content or some interesting offers or some educational material, etc. - and turn out in the meaningful conversions faster.
Generally, the CTAs are placed at the bottom of the blog posts. The people will walk through the entire content and then click on CTA to find more information. However, there are some more ways to use CTAs to get more conversion and higher lead generation. E.g. – the small or large pop-ups as the slider ads can be considered, while, the in-text CTAs can be the best alternative. The in-text CTAs are quite different from the normal CTAs of buttons or any image. They don't take the readers out of the content. Even, it's aligned with the content of the blog post. However, to make it distinguished from the entire content, it can be slightly larger and of a different color than the other content in the blog.
Moreover, this in-text CTA can comprise a slider image and the associated content too with the hyperlink on the whole CTA. Yes, it's effective and highly converting as well.
E.g. – Pinterest, the world's biggest library for the images, has three options to enter the website. You can log in through three modes through- Sign Up, Facebook, and Google Account. Also, the color modes are different to distinguish these and throw direct light onto the users. It's pretty straightforward and sophisticated.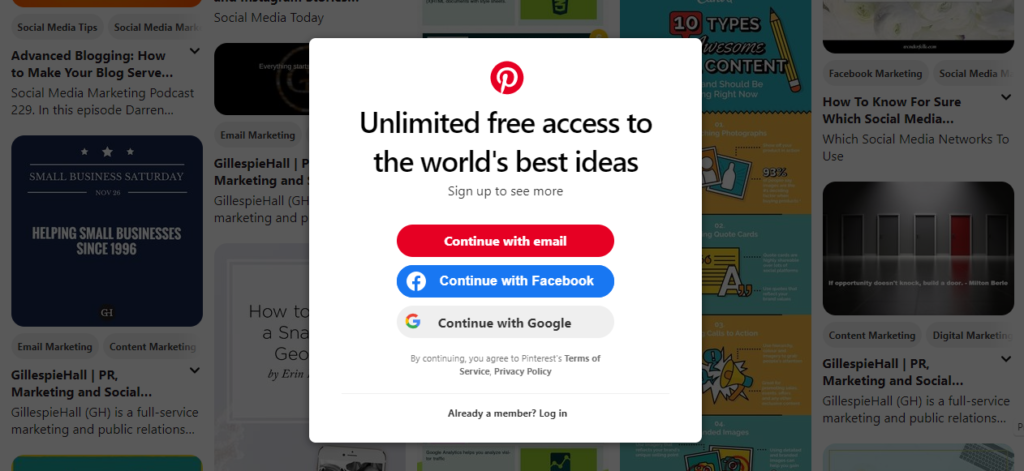 3. Know what social platform converts the most
Every now and then, new social platforms are budding at a higher ratio, or the new updates are evolving. LinkedIn, Facebook, Instagram, Twitter, Pinterest, YouTube are there to name a few.
Meanwhile, you have to search which social media platform will work for you the best- which platforms require your time and investment, etc. The answer is where your audience is investing their time. You need to create a buyer persona and understand your audience. This is to know which content you need to write and publish it on which platform.
Also, with the audience's interest, it is also significant to study different social media platforms. Find out whether they are right for your business according to the demographics of a particular channel. Also, you have to focus also on the tone and style of content- since different platforms suit the different content tone. As for an illustration- if you are into creating live and video content, then Facebook and Instagram will go well. On the flip side, if you are focusing on creating B2B content, then put more energy into LinkedIn.
The crux is to study your audience and evaluate which platform they are into- target that one.
4. Listen to your audience
Listen to your audience- it's the best ingredient that is listed in the secrets to inbound marketing. Although it is a self-explanatory term but, still it has the highest magnitude. Understanding and listening to the audience will help you produce relatable and relevant content- exactly what your audience is looking for. Hence, it will automatically enhance the chance of more qualified leads and customers.
Undoubtedly, understanding your audience will give you suggestions on what are their pain points and what products they are searching for. Varying from the surveys to social media to the measurable metrics to in-person interaction- everything will be there to connect with your audience. So, you will have different ways to follow your audience and explore what type of content will be helpful to them. It will definitely give a boost to your revenue and a great advantage over your competitors.
Simply, you need to listen to them, understand them, and build content in which they are truly interested.  
5. Recycling blog is good
Recycling the older content is not considered to be a traditional and ineffective practice of inbound marketing. Even, it is said that the trending topics often find a way to come into style again in the future. So, you can include this practice to see some surprising results. Use some social media hash-tags that are trending while sharing the blog posts on different social media channels. These will give a new spark to your older blogs.
Although you have a series of new content, but recycling the older ones is not so that avoidable. You can re-share your old blogs today, but that should be relevant to your audience. On the other side, if you are seeing that the traffic of some of your older blogs has dropped down, then you can keep updating them with current insights and data to refine them- and increase the chances to get a higher rank on the search engine result page.
Recycling blog is good and can prove a resort when you have a busy schedule and no time to write a new blog post to share it on the social media channel for a week or a month. Yes, it's a credible and reliable source for your audience.     
6. Set the right metrics
So, we have discussed some of the secrets to inbound marketing that are effective. But, they all are in vain, if you haven't measured the results, don't store the statistics, and analyze the data.
Yes, setting the right plan of action and measuring it is crucial to inbound marketing success. Which strategies are working out and which are not- studying the user and marketing behavior are the important elements that you need to input in this process. Since the market is changing frequently and user behavior as well- it is vital to save the data.
Although each business has a specific set of goals, still some common metrics need to be considered, like:
Check from where the traffic is coming at your website
The number of website visitors converting into leads
The number of leads converting into customers
Which content generates the highest traffic and conversion rates
Track the visitors who return and who convert
Never forget to check the bounce rate
Keep an eye on social media growth and engagement
Evaluate the ROI of your marketing efforts
Include these practices in your measuring plan- as they are essential to find out which content, which strategy, and which campaign are delivering the best results.
7. It Requires Constant Testing
Testing is a necessary step that helps you improve continuously. Since inbound marketing is a real-time and data-driven approach to digital marketing, it is pretty difficult to implement and receive the desired results. Hence, testing is an important phase to figure out the best way to execute it.
Besides, constant testing is like a cherry on the top. Assign and briefing the team about the testing method is the first step, and trusting them that they will run the tests that help you move closer to your goals- is the second. Not just the giant one, include the small aspects as well. E.g. – you can make a slight change in headline, sub-heading, remove a field from the form, or change the color of the CTA button, etc. You can take any of the things and these small things will definitely lead to big and successful results.
HubSpot has two different testing modes- A/B Testing and Adaptive Testing. A/B Test offers two versions to check the performance to achieve your goal- while- Adaptive Test leverages you to check five-page variations at a time to evaluate the results. More often, nowadays, digital marketers are switching to adaptive testing to check more and get more results- that help make a decision fast.  
Recap
Inbound marketing is an evergreen approach that helps businesses get more conversions, organic traffic, and ultimately the higher ROI. So, it never fades away. Rather, you need to go hand-in-hand with the innovative marketing trends and study the consumers' behavior shifts to deliver the best.
Summarizing, whether you take small initiatives or the bigger steps- you need to go with these secrets to HubSpot inbound marketing that keep you apart from the cutthroat competition in the long run.