Before your product goes global, your customer support should go global
April 14, 2015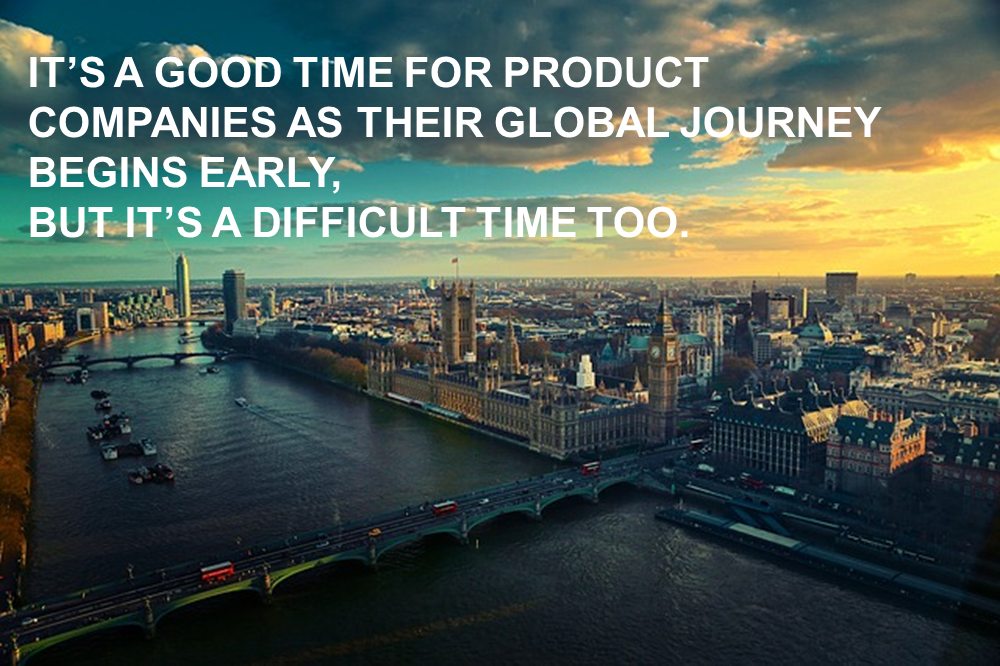 If you're a cloud or a mobile app firm, it's absolutely true for you. Why? It's simple. Intentionally or unintentionally product companies are acquiring global customers much earlier in their life-cycle. The reason could be anything from virality, ease of online customer acquisition, almost no implementation or on-boarding processes. The bottom line here is it's a good time for SaaS companies. But let me tell you, it's a difficult time too. Especially when you reach the office in the morning and see your mailbox flooded with support tickets from your global customers. Since you're not in their time zone, communication becomes difficult and leads to customer dissatisfaction, which of course no one desires. I've been in this situation and as a customer it seriously affects you if you have to wait 24 hours to see a response to your small problem, it spoils the entire experience. So what should product companies do? They should take their customer support global. This is what Neil MacLeod, our VP Global Support Services said when I asked him the same question. Neil comes with a ton of experience in setting up global functions for North American technology companies. My first interaction with him dates back to February last year when he was our client. Now, he's on our side of the table and helps firms set up their global support operations. During our discussion I realized there's more to it. So, I dug deeper into it and asked him to share his perspective. Here's what he has to say: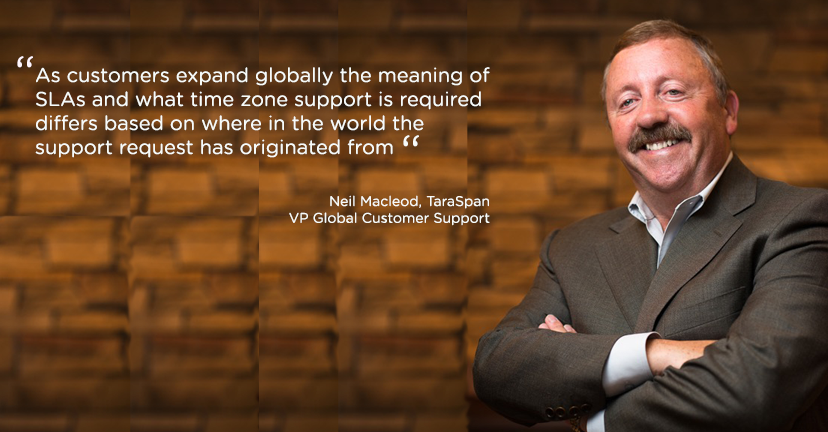 How is Global customer support different for the customers?
First thing is to establish who their customers are, where they are located and what type of support is required. Example, some customer are delivering mission critical services and in this case will want strict Service Level Agreements in place which must be adhered to. Other customers run non mission critical applications and operate on an 8 x 5 basis. However as customers expand globally the meaning of SLAs and what time zone support is required differs based on where in the world the support request has originated from. NA customer may want us to cover customers during their silent hours so that they do not end up running 24 x 7 operations in their own country, cost being a major concern in doing so. Once the SLA is agreed, support can take many forms and can be likened to a stack of services delivered to minimize your companies' pain and cost points. Most small to medium companies emerging onto the world stage need help shaping what suite of services they want to deliver to their customers and usually bring in a partner operating in a lower cost base to help enhance support services.

Three things one needs to address while setting up a global team?
People People and People
A company's greatest asset is its People. We spend an inordinate amount of time searching out the best talent not only from a technical expertise standpoint but also their customer skills and English language skills. Not much point in having the best technical support person on the team if they cannot communicate effectively. Not much point in having all the best talent if they are not fully motivated to learn and excel in their new environment. Ensure that the team is a good mix and that people issues are dealt with in an expeditious manner. Have an excellent manager. Always employ someone who is better than you and ensure that that person clearly understands the importance of having a strong focused team who love the work they do, enjoy coming in every day, and do not become flight risks. Losing anyone on a team in the early days is extremely bad news and a sign that we as managers are not doing our job. I always take any loss very personally and do my utmost to understand the reasons why and ensure that we take whatever corrective actions are required to stop any further losses. If you lose your key assets you will not be in business for very long!!
Training Training and Training
It is absolutely vital when setting up a parallel support operation that the engineers are exceedingly well trained and have an in depth knowledge of not only the product or suite of products being supported but also an in-depth knowledge within the team that spans the breadth of the network operation. More and more we find that we become involved assisting customers with end to end troubleshooting of network issues. Network demarcation points are not always clear and often customers just do not have the in-depth end to end knowledge within their own teams to be able to move an issue forward and find a solution. This requires a lot of training and also requires a team with skillsets across a broad range of network technologies. This knowledge is normally distributed amongst a number of network experts who can be called to help and provide a deeper understanding and guide the team through complex issues.
Process Process and Process
Unless there is good process in place do not start operations. Go back to square one and start mapping out the process that is to be followed. In a number of cases with smaller companies who have grown fast there may be no documented process. In this case step one is to document existing process review and agree then map in the new operations and agree how this new modified process will flow, test, adjust and re-document as necessary. Continuous improvement is key and any processes will undergo a number of iterations before all parties agree that we have a clean process. I cannot stress the importance of this task if it is not done then operations will fail and customers will very quickly vote with their feet and find another vendor who can provide effective support.
What does one need to consider for Global customer support for clients?
First thing to understand is our customer and how they operate, this is not a throw it over the fence and hope they catch it operation. We need to build a trusting partnership and to do so means building relationships with a number of key contacts at all levels of the organisation. Once this is done regular reviews need to take place, in the early build this is a daily process, but as operations ramp up it may continue with daily touch points or may only be necessary for critical issues or hot escalations as dictated by our customer. Escaltions are a key part of the process that we spend a great deal of effort perfecting prior to going live. You have to know when to escalate quickly and when issues can be deferred until morning. The next major step is to understand our Partners Customers, what products have been deployed, what network topologies look like, be it hardware and/or software, and who the key contacts are for escalation. Do they have recurring or systemic issues in their network if so why and what are we able to do about it. Where are the demarcation points, how far will we go in assisting customers debug their network before pushing the fact that they really need advanced assistance in the form of some Professional Services.
What is your advice to tech firms which are growing globally?
"Setting up a parallel TAC or Operations Centre, providing Professional Services, assisting with development support or QA in another country takes time and a lot of expertise."
Have a plan to scale your operations as business grows and how to scale in multiple dimensions. If you don't have a plan find someone with whom you can partner to at least lay out a framework on how to scale the business up for Global Support Services. Understand that to do so is not a flick of a switch it takes time and a great deal of effort to get it right. Setting up a parallel TAC or Operations Centre, providing Professional Services, assisting with development support or QA in another country takes time and a lot of expertise to navigate around the potholes in the road. Find a Partner that you trust, have a plan that you understand, with a timescale. Watch your business growth carefully and where new markets are emerging understand what options you have for being able to support those new customer effectively before they become a lost customer who provides negative feedback to other potential customers who they seek help elsewhere. Understand the complexities, understand that it takes time to build a new operation and lastly and most importantly ensure that you have your Senior Management Team well briefed with a clear understanding of budget costs to deploy approved before you begin the journey. Choose you Partner wisely, and a key point make sure you have fun along the journey of building offshore teams.
We delved into other dimensions too like when is the right time for a company to talk to a global support partner, what is the ideal composition of in-house and partner supported support teams, how he set up a global technical support operations for a complex tech product, what factors should be taken into consideration while evaluating a global support partner. And I realized it will be an information overload if I cover everything here. It should be a series of blogs. So, it will be a series. The next one is coming soon!