How SD-WAN Improves Unified Communications
March 25, 2019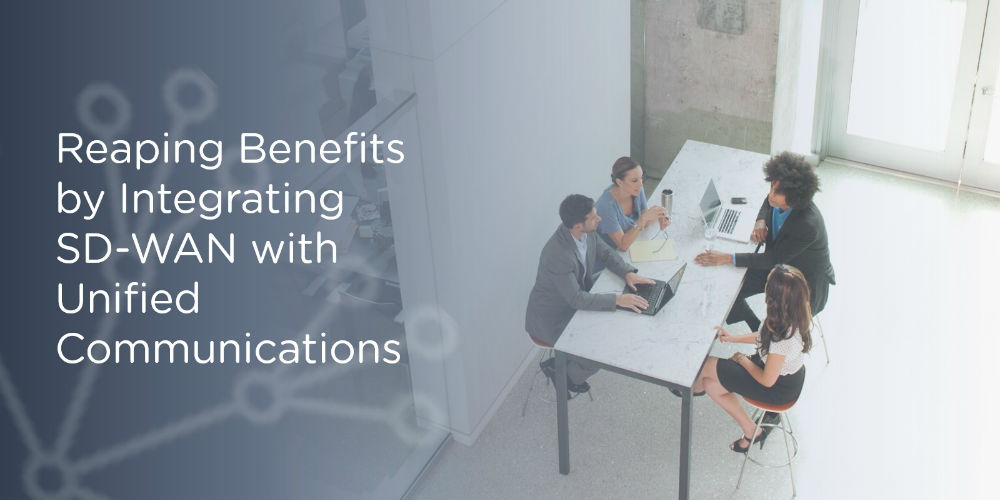 Round the Clock- Unified Communication is helping businesses in many ways. Ranging from a voice call to video to live chat to screen sharing to webinars, UC is proving its worth at every edge of the communications network. Staffing it in your enterprise's strategies will certainly make your communications stable and seamless. However, with the increase in higher bandwidth demand, unified communication faces a lot of hurdles in its way. You can't take overall charge of the network and the transmitted data. Under such conflicting circumstances, you need the solution through which you can take charge over the data delivery. SD-WAN is a cost-effective and rock-solid key to this problem. And, the best part is that you are going to collect the beneficial information on how sd-wan improves unified communications. Isn't it great?
SD-WAN or Software-Defined Wide Area Network is a software-based tool that enables a user to manage how a specific network transmits data. With this technology, the user can opt for the preferred network pathway or type of information, which will be on priority. In fact, SD-WAN reduces the dependency on expensive leased MPLS circuits by sending lower priority data to the cheaper internet connection, and the secured connection is allotted for the mission-critical data, as VoIP.
Even, SD-WAN helps establish easy connectivity among teams- sitting at a remote location, the on-site team, and the customers as well, without any jitter or delay. What an enterprise requires- the higher bandwidth stream and greater user experience! SD-WAN provides these services and delivers positive outcomes, over unified communications. In the long run, it assists in improving overall performance and productivity. If you want to read more about SD-WAN technology, you can find out the elaborated information at- SD-WAN Definitive Guide.
How SD-WAN Improves Unified Communications: The Leverages
1. SD-WAN offers Flexibility & Ease of Use via Zero Touch Provisioning (ZTP):
"Zero Touch Provisioning"- the user doesn't need to configure and provision the devices explicitly. SD-WAN Zero Touch Provisioning (ZTP) lets this operation to be executed automatically that will lead to a decrease in operational and overhead costs. Once the hardware is installed, ZTP takes the charge to automate follow-up steps, incorporating- OS updates, patch deployments, and errors troubleshooting, while implementing some new features prior to the connection.
The software also allows administrators to easily set up routing policies and mass deploy them to any number of locations across the WAN with just one click.
2. SD-WAN ensures Phenomenal Performance for UC Applications:
The connectivity is an essential factor for world-class performance, despite an organization depends upon the on-premise phone system, or cloud-based phone, or any other business collaboration tool. Hence, SD-WAN technology ensures the availability of all required resources, including application awareness and policy-based routing capabilities. Plus, it also keeps monitoring the network conditions, as-latency, jitter, packet loss, RTT (Round-trip time), and even MOS (Mean Opinion Scores) of user ratings along with a few vendors.
As a result, SD-WAN routes the traffic according to these network circumstances; and sends the highly sensitive workflows across the strongest connection of a company. During re-routing, SD-WAN employs its constant failover capabilities to prevent all possible interruptions in the application sessions that could affect the end-user experience.
3. SD-WAN supports Remote Office Communications:
Often, the poor connection is the barrier, when connecting the branch offices/ remote offices; and that's why, it has resulted into lack of sufficient reliability or bandwidth for efficient communication. Here, SD-WAN comes into the picture. Along with its zero-touch-provisioning (ZTP) capabilities, it offers an effective solution that facilitates the rapid deployment of powerful network connectivity to branch offices. Moreover, it can be easily layered on top of any connection, letting enterprises to staff their legacy infrastructure, which reduces costs and speeds up the entire installation process.
In addition to, along with its centralized management pane, SD-WAN also empowers the network administrators to make any kind of modifications in individual routing policies over the entire network to support the branch UC applications.
4. SD-WAN optimizes Traffic and delivers the Exceptional Experience:
Being linked with SD (software-defined) technology, SD-WAN prioritizes the traffic in accordance with network metrics (according to UC performance) to thwart the network congestion. Basically, it is done with bandwidth virtualization by aggregating the links(it can combine MPLS & broadband circuits, multiple broadband connections, and/or even wireless 4G connections) and optimizes real-time application traffic between the sites, without any session drop.
Under some unfavorable circumstances, voice and video conferencing traffic can be adversely impacted by the delays or packet loss or jitter. SD-WAN has the capabilities to discover the path with least resistance and VPN tunneling to protect the sensitive traffic (voice & video) over the public internet.
Verdict
Investing in SD-WAN is a "no-brainer", if your enterprise's strategies encompass UC (Unified Communications) approach. It is true that sd-wan improves unified communications greatly. Thus, employ SD-WAN and leverage the benefits of data & network prioritization in less cost that delivers exceptional user experience.