Improving Load Balancing through SD-WAN: Key Aspects to Not-to-be-Missed
September 22, 2019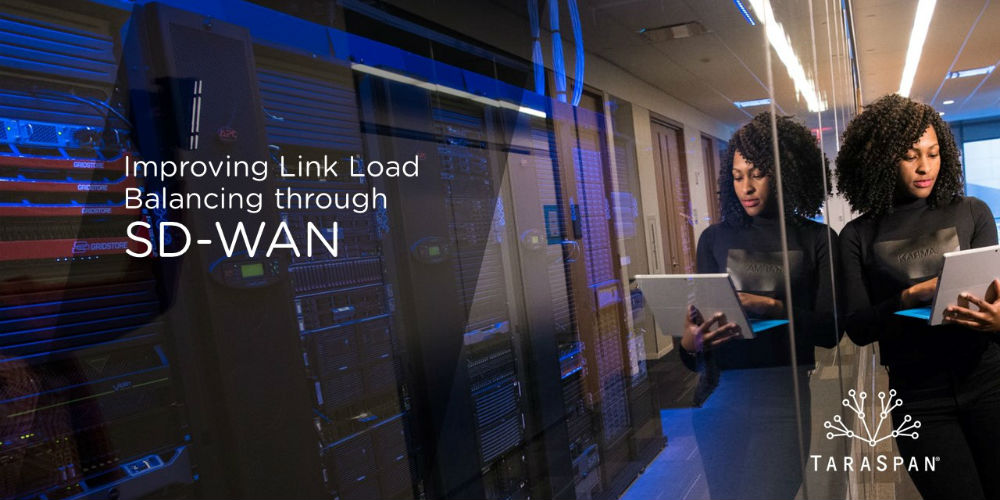 What is Link Balancing?
Link Balancing or Link Load Balancing is a networking approach to managing inbound and outbound traffic requests over various ISP (Internet Service Provider) links, to ensure the internet continuity, even when the ISP outages. And, to execute this function, a Link Balancer comes in.
Link Balancer or Link Load Balancer is a networking device that intelligently analyzes the ISP WAN links and, makes sure that all links will make most of them. It, actually, takes control of the traffic that is initiated from one of the LANs and steps out via one of the WANs. Hence, it is positioned at the LAN-WAN boundary. In fact, it evaluates and then manages the traffic in the most optimal way.
What actually it does after a comprehensive traffic analysis, is:
Bandwidth Utilization
Reduced Downtime
Link Aggregation
The above three are the USPs of the link load balancing technology. Let's elaborate them with its other advantages as well.
Benefits of Link Balancing
Real-time Monitoring: A link load balancer monitors the health and performance of the WAN links and connections to ensure smooth throughput.
Appropriate Bandwidth Utilization: This device audits the links and then allocate bandwidth to every link in an appropriate ratio to avoid chaos.
Link Aggregation: Aggregating multiple internet links will lead to pile up the bandwidth to make sure the availability of bandwidth every single time.
Reduced Downtime: Unexpected internet outages, cable damages, natural disasters, etc. can occur anytime. Then, the link balancers automatically switch the connections to the available links.
Improved Performance: The link balancers make sure that the applications run at the utmost performance level by accumulating aggregation, acceleration, and server offload.
WAN Optimization and Link Balancing
What is WAN Optimization?
WAN Optimization or WAN Acceleration- is a technological approach that optimizes the Wide Area Network (WAN). It, actually, maximizes the efficiency of the data flowing through a specific path through:
Traffic Prioritization
Proportionate Bandwidth Allocation for Critical Applications
Links Balancing with WAN Optimization
Either it's about past, the present, or the future- bandwidth was/is/will be the premium commodity of the WAN and the networking landscape. In fact, various organizations and applications are confronting with many bandwidth challenges for long. Hence, the networking world has come up with WAN optimization and link balancing techniques.
Apart from all that, if we look into the deep essence of both, then bandwidth is the common asset that needs to be utilized effectively. As a matter of fact, it's the link load balancer or WAN optimization equipment that maximizes the efficiency of bandwidth by:
Mitigating Bottlenecks
Bypassing Outages occurred on the way
Appropriate Bandwidth Utilization
Enabling you to decide which links are befitted for which applications
Ensuring Network Optimization
Prioritizing Business-Critical Applications
So, we can state that- with link balancers, generally, positioned between gateway, routers, and the firewall, WAN optimization is a big "yes" for the network.
Moreover, the link load balancer makes use of different traffic management algorithms. These algos make sure that all leased ISP links are being utilized appropriately at their utmost. Therefore, as the request comes, the network administrator looks into these protocols and; check which ISP link has the most avail bandwidth for a specific request. This, combinedly, optimizes the WAN and the traffic with the optimal effectiveness.
What we can achieve is that congested WAN links and latency issues result in lost productivity. And, the WAN optimization plus link balancing wipes out this mess, producing a boost in throughput. In short, this fusion is appropriately tuned for the accelerated network/ traffic performance.
Load Balancing through SD-WAN- What will be the Outcome?
What was the Past?
In the absence of link balancing technique, the traffic was not optimized, there was no link health check-up and certainly no proper & productive output. Even to achieve traffic optimization, the enterprises had to install different devices for traffic, links, security, and more. In a few words, there was unavailability of centralized management and automation that make everything streamlined. As a result, congestion was there.
A Thorough Overview
SD-WAN or Software Defined Wide Area Network is applied on multiple WAN connections- LTE, broadband internet, 4G, or MPLS; and link balancing is to optimize the links, delivering managed traffic flow across those links (or connections). If you are looking for the congestion-less network and seamless links experience, then no need to look further. SD-WAN and link balancing is your trusted resort. Switch to this option, right now.
Wondering how this technological approach will be beneficial for your enterprise? Let's check out further...
Failover: Very first, SD-WAN link balancing algorithms are there to overcome the issue of link/ network failure. In the case of any of the broken links, this protocol takes control of the overwhelming traffic flow and defines the appropriate method to determine which link will handle which application request. The procedure is automatic, thus consumes less time. With the same rhythm, if your organization seeks "redundancy", then SD-WAN with link balancing technology is the best solution. It will balance the load among multiple ISP links having the same service or configuration, and makes traffic flow uninterruptedly.
What else?
Dynamic Load Balancing: It is the application that monitors the load balance while execution. It is effective because, if any modification is required, it can be effortlessly done at the time of execution.
Application Prioritization: This includes the prioritization of any application, which is more important than others. For e.g.- the voice has been given higher priority than that of mail application.
Bandwidth Utilization: The bandwidth is properly utilized as this combo will identify the right link and let a specific application utilizes the accurate bandwidth.
Link Aggregation: Collection of multiple links that will be formed into one logical link is link aggregation. It delivers fast recovery in case of any link failure and balances the traffic across these links to enhance overall performance.
Zero-Touch Provisioning: No requirement for additional manual IT-support. The additional SD-WAN's automation power lets the software & devices to be upgraded and configured automatically. Hence, traffic gets more seamless experience at a regular interval.
Inbound Traffic Balancing: It is one of the prominent factors of link balancer and SD-WAN. The multiple ISPs will be utilized to deliver bandwidth to much, like- web applications, VPN gateways, and emails, etc.
Still, you want to explore more about the pros of SD-WAN, then you can read more at Top 6 Benefits of SD-WAN.
Are you ready to adapt this tech combo or already have it?
If your enterprise already has this technology, then you are definitely experiencing productive and valuable outcomes. After all, it single-handedly manages your overall network, traffic flow, application prioritization, and granular QoS foremostly. Broken links and undefined traffic flow are no more fear to your enterprise, right?
Well, if you are not having this tech till yet and struggling with a number of disadvantages, then it's time to adapt this technology. Add SD-WAN or Link Balancer to your organizational architecture and get prepared to acquire a mélange of benefits, even higher ROI as well. So, are you ready? 
If we conclude that the title is correctly justified. Load balancing is an indispensable element that is refining the way enterprises are adapting & working upon these days. And, if we talk about SD-WAN technology, then it is helping a number of enterprises in optimizing the overall network. You can collect more information about SD-WAN here- SD-WAN Guide.