SD-WAN Architecture Explained: An Overview and Components (2020 Update)
August 7, 2019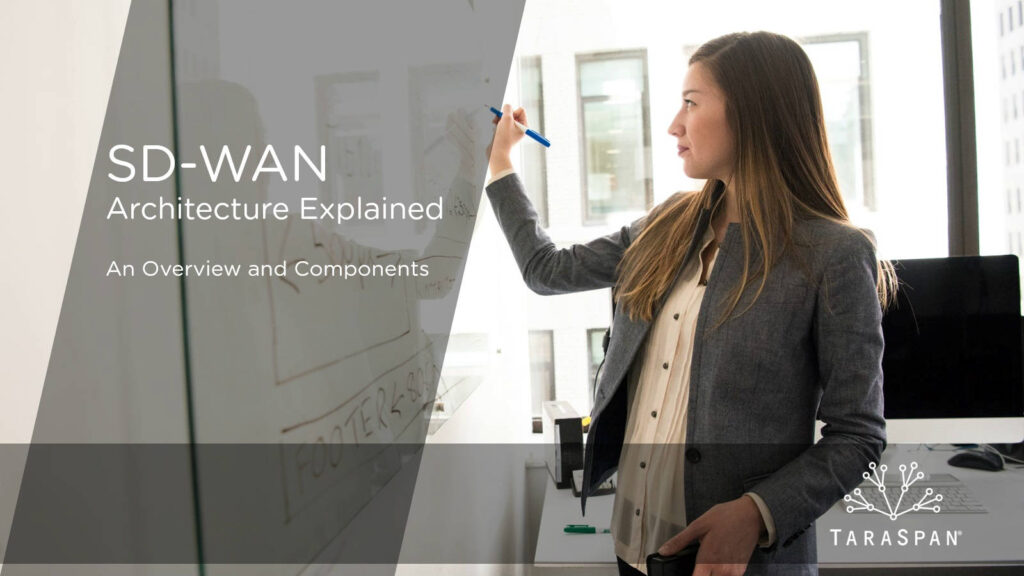 Today, the higher bandwidth and data consumption have become the need of an hour. Especially during the peak hours, it's quite arduous to manage bandwidth distribution over WAN. This is the reason that SD-WAN has become an imperative business component that helps businesses stay forefront by getting victory over bandwidth mismanagement. SD-WAN is, in fact, the way to every single thing- from WAN connection to deployment to monitoring to overall centralized management. If you want to know the nitty-gritty of SD-WAN, the SD-WAN Definitive Guide is there to answer your every query.
Since it's all about the enterprise's networking world, let's start with its fore-steps before going towards the SD-WAN. What needs to be counted in an enterprise approach within the SD-WAN paradigm; what has to be done by an enterprise to make the way clear in order to adopt SD-WAN without any hassle, etc.
What Do Enterprises Need in an SD-WAN Architecture?
Its Clear Vision and Implementation.
Building an SD-WAN architecture requires a clear and balanced vision, as it is an integration of newer and older both technologies. Each system, router, controller, and other devices need to be replaced perfectly. With all these elements, an enterprise should be priory prepared with all planning steps to implement it correctly. And, the vision and execution must include:
Have a complete transparent idea about your business's ecosystem.
Evaluate SD-WAN deployment models.
Briefing about workloads, performance levels, and SLA requirements.
6 Essentials of SD-WAN Architecture
Let's start by discussing the significant components of SD-WAN Architecture that most of the CIOs are counting today. These include all the key points that will overshadow the challenges related to legacy systems, and other management concerns, associated with SD-WAN Architecture.
Since we have discussed the first step of the enterprise to be considered, it's time to fuel the system with more important components. Let's get started.
I. SD-WAN Solutions: Addressing Performance & Other Issues
While supplementing the traditional networks with SD-WAN, connected devices will encounter certain issues that are mandatory to be addressed. Hence, it's essential to think over some prominent points, as:
Making a choice between an on-premise or cloud-based model needs to re-look on your business's every corner to evaluate things on the basis of latency, bandwidth, performance, etc.
Mission-Critical Data necessitates making sure that they are within SLAs, with reference to availability, latency, and performance.
Don't overlook WAN optimization tools while contemplating about SD-WAN. They are indispensable in terms of performance, and other addressing issues.
II. Secure SD-WAN: Re-Scanning Security Policies
With transformations in network and end devices of an enterprise, the security ecosystem is also affected. If it is a private network, then you are in the safe zone. However, when the network is connected to a public open network, then it requires a more secure way. So, we can assert that security is also counted in the portfolio of SD-WAN's other valuable benefits, since it also leverages the great value, as:
SD-WAN has a feature that enables the organization to draft uniform security policies across the enterprise.
The addition of SD-WAN will give a secure and balanced security ecosystem to the enterprises having patchy security outlay across their branches.
The fast deployment of security policies lets organizations set up the infrastructure in less time that enables faster response and higher agility.
III. SD-WAN Monitoring Solution: Re-Structuring Audit & Analytics Tools
Analytics, statistics, monitoring, visualization capabilities are to be in-line and right to manage the traffic flow, policies, etc. This will deliver you good results, like:
Analytics and performance data leverage the network managers to acquire a good understanding of workloads, performance, and other significant factors.
Also, important attributes of SD-WAN monitoring incorporates QoS monitoring, endpoint & component monitoring, access management, and network data analysis, etc.
IV. SD-WAN Architecture: The Graphical Illustration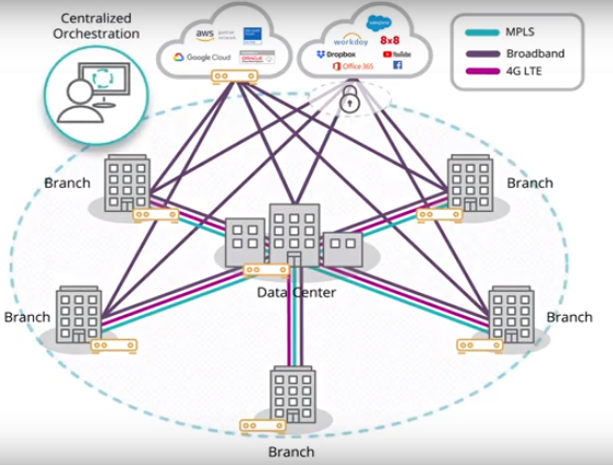 The separation of data forwarding and control planes simplifies the network traffic routing is the foremost benefit of SD-WAN technology.  Earlier, all-things were controlled by the data center that made the entire routing process complex and took comparatively more time. But, with the introduction of SD-WAN's centralized orchestration feature, it's pretty easier to orchestrate or manage thousands of routers via a single centralized platform. It leads to a painless and fast update/modification of every router and WAN connection of the enterprise.
Previously, the branches were connected to the data center, and then the data center was connected to the cloud. So, the failure in a single leased line led to a traffic drop-down of the entire network. With SD-WAN, all branches are individually directly connected to the data center and to the cloud. In this case, if any of the MPLS leased line drops off, then SD-WAN will redirect the route that doesn't affect the other networking lines.
In addition, as shown in the figure, MPLS, broadband, and 4G LTE- these three lines are individually in-operation. So, with SD-WAN it is possible. Without interfering with any of them, a company can utilize multiple networks without any fear of latency, packet loss, jitter, and network failure.
V. SD-WAN Architecture Must-Have Components
Integrated Security:

As the organizations are switching from limited internet usage to unlimited internet with no bandwidth limitation, security is the foremost concern. In other words, today, with SD-WAN, higher performance should be directly proportional to security compliance. Else, include the trusted SaaS applications, like Microsoft Office 365, that allows direct access to the local internet connection, while directing other traffic to the hub site.

Native Cloud Support:

Cloud integration provides enterprises with a foundation to manage the network locally and on the internet. As an advantage, some of the SD-WAN solutions offer monitoring and smart routing at the application level in order to get high-quality user experience, even if the internet connection is not good. Some of the enterprises opt for the public cloud providers, such as AWS, that serve two options- initial connectivity to the cloud and the robust backup solution for the long run.

Virtualization:

The current scenario witnesses with Virtual Networking Functions (VNFs), which is a single hardware platform to deploy multiple functions. The best part is that they will be upgraded with a list of newer features within a short interval to support all-new attributes and functionality. In short, virtualization empowers agility.

Automation:

Automation is here in the current scenario to reduce complexity. And, most of the SD-WAN vendors allow automation via the central management portal, delivering the capability to provision new site fast, make amendments, resolve issues, and notify about the potential threats and issues.
VI. Types of SD-WAN Architecture
ON-PREMISE ONLY

This SD-WAN architecture connects only your enterprise's websites- through an SD-WAN box or plug-n-play router. The on-site SD-WAN box doesn't connect to any of the cloud gateways. De facto, it performs the real-time traffic shaping at each place (only your company's multiple sites).

Perfect for the organizations that have in-house applications and operations, not on cloud-based infrastructure. A common small configuration that accommodates- MPLS network for voice, video, or virtual desktop, while, the public internet, controlled by SD-WAN, is allocated for everything else.

Pros:

Improved Performance of all WAN apps
Multi-Circuit/ ISP Load Balancing
Enhanced Disaster Recovery

CLOUD-ENABLED

This framework comprises an SD-WAN box that is connected to a cloud or virtual gateway. Leverage the advantages of on-premise architecture (real-time traffic shaping & multi-circuit load balancing/failover), coupled with the features of cloud infrastructure- reliability and improved performance.

Plus, the cloud gateway is directly in connection with the leading cloud providers- Office 365, AWS, Salesforce, DropBox, Azure, etc. In case, if your internet circuit drops down, then the cloud session will still remain active. Moreover, if your enterprise uses the secondary internet line, then SD-WAN will re-route your cloud application on to that secondary line, without losing your current session.

Perfect for the enterprises using a large number of cloud-based services -- such as Office 365, Salesforce or applications running on AWS.

Pros:

Increased Clouds App Performance
Enhanced Cloud Apps Reliability
Multi-Circuit/ ISP Load Balancing

CLOUD-ENABLED PLUS BACKBONE

Backbone always works as a resort. So, here cloud-based infrastructure supported with the backbone is a level above. This solution includes an SD-WAN box that connects your enterprise's website to the SD-WAN provider's nearest network point of presence (POP), where your traffic will be switched to the provider's private, fiber optic, network backbone.

Redirecting traffic to the SD-WAN provider's private backbone ensures reducing the level of latency, jitter, and packet loss. This leads to an increase in the graph of network traffic's performance. Plus, like the cloud-based architecture, the backbone is straightforwardly connected with the chief cloud apps providers- Office 365, and AWS, etc., which improves the reliability and the overall performance of those applications.

Perfect for the enterprises that are on the way to eliminate their MPLS network and at the same time running a lot of real-time network applications. 

Pros:

Mission-Critical apps on private backbone lead to the improvement in the performance of all network apps
Cloud-gateway- increasing the performance and reliability of cloud applications.
Multi-Circuit/ ISP Load Balancing
Briefly, with an increase in demand of bandwidth requirement, and innovation- all enterprises are looking for the smart, reliable, agile, cloud-based, streamlined, and uncomplicated way for traffic and data transfer- SD-WAN is the perfect option that accommodates all these technological factors.
Frequently Asked Questions
What is the difference between WAN and SD-WAN?
SD-WAN is a technological shift through which the WAN (Wide Area Network) is deployed, monitored, and managed. In fact, as the name indicates, SD-WAN or Software-Defined WAN is the software-driven paradigm that uses SDN technology (Software Defined Networking) and focuses on application priority as well as the security.
What is SD-WAN used for?
Primarily evolved for the application awareness, SD-WAN is an application, based on the SDN technology, which is applied to WANs, such as- 4G, internet, LTE, or MPLS. It connects the enterprises with their branch offices, employees at remote locations, and data centers across the large geographical area. If you want, you can read the detail here about how SD-WAN works.
Will SD-WAN replace MPLS?
It is actually a myth that is running along. MPLS (Multiprotocol Label Switching) is something associated with the quality of data during flow, but the cost of bandwidth may take it in the monetary hitches. While SD-WAN cuts down the overall expenditure that includes bandwidth cost as well and overcomes this challenge. You can collect more info here- SD-WAN vs MPLS- and decide what you are looking for.
Do I need SD-WAN?
If all your branch offices are stationed in the local vicinity and you have an extremely high-quality internet connection, then an internet-based SD-WAN deployment will match your needs. With such configuration and deployment, you can cut down the network cost and the complexity by using broadband irrespective of the regional MPLS links.
Is SD-WAN secure?
Most of the SD-WAN implementations provide an approach to encrypt your inter-branch corporate traffic using an IPsec, which secures the data in transit. Since almost all the vendors offer IPsec, it's accepted that SD-WAN is inherently secure. And, IPsec manages the handling of data protection, while it traverses the network.