Small Cell: A baby dragon for 4G LTE and 3G
May 11, 2015
No, this one does not breathe fire or is poisonous, but is certainly going to be monstrous in coming time for cellular deployments, globally.
'Small cells' is an umbrella term for operator-controlled, low-powered radio access nodes, including those that operate in licensed spectrum and unlicensed carrier-grade Wi-Fi. Small cells typically have a range from 10 meters to several hundred meters.
Well, with evolving technologies & limited infrastructure, small cell solutions are set to play a key role in defining & distinguishing a good quality network from a sub-standard network. Its application & deployment scenarios may differ from for a particular region & clutter, but benefits will remain almost similar. That is, more customers and eventually more revenues.
Evolving Technologies: Moving towards more efficient technology 
As smartphone penetration is rapidly increasing in developed & developing regions of the world, demand for higher data consumption is increasing at a rapid rate. For ex, largest cellular operator in India, Airtel, registered a data growth a whopping 75% in last quarter of year 2014 (Data revenue growth).

This mainly due to enhanced deployment of evolving higher data technologies like UMTS & LTE. However, since the ecosystem of these data technologies exists in higher frequency bands (1710-2690MHz) in most parts of the world.
Hence, cellular operators are often out up-against the challenge of greater penetration of signals & quality of their network in this frequency band. Here is where small cell solutions play their part & often act as a rescue mission in order to retain their subscriber base by providing better coverage & network quality.
Small Cell Applications
Foreseeing the importance of small cell deployments, almost all major global cellular operators are now planning to invest heavily in this domain, given its positive implications & a must have in their deployment arsenal for data hungry users.
There was some good news announced in MWC 2015. Here are some interesting points:
Operators around the globe have purchased more than 10 million small cells
In excess of 75 operators worldwide are using small cells in their networks
Majority of them till date have been deployed in residential scenarios, but we have also seen a significant step upward in the enterprise and urban sectors.
17,000 small cells have been deployed in rural or remote applications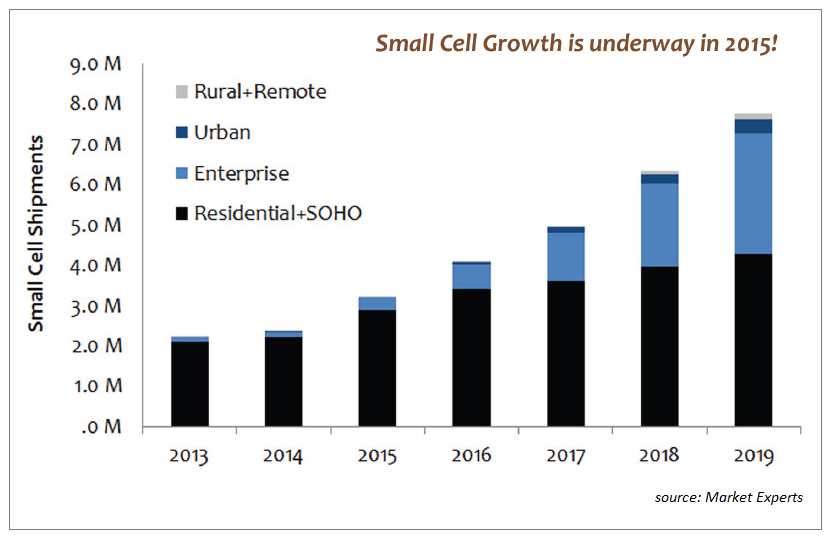 Small Cell Solutions
With the increased demands on the network, service providers are investing in small cell solutions to help optimize and monetize consumer and business services on mobile devices across 3G, 4G, and Wi-Fi networks. Various wireless infrastructure providers are providing some interesting small cell solutions like Distributed Antenna System (DAS), small form factor antenna solutions, camouflage antennas, concealment solutions etc.
Among these, one of the really handy and easy to deploy solution is small form factor antenna solutions from CCI, which cater to coverage or capacity or both. These may range from tri-sector canister antenna solution for coverage in high band (1710-2690MHz) to Dual Band Bi-sector Stadium antenna for creating capacity in Low band (790-960MHz) as well as High band (1710-2170MHz).
Source : http://www.cciproducts.com/
These antenna solutions are being crafted specifically for some leading global operators who have rightly started investing in small/micro cell applications. Small cell solution deployment is the "Need-Of-The-Hour" and should be done keeping in mind below factors in mind:
Coverage: For providing coverage, filling up coverage holes in urban/dense urban scenarios (Tri-Sector Canister Antenna)
Capacity: For crowded places like railway stations, shopping malls, main streets (Dual Band Bi-Sector Stadium Antenna)
Infra limitations: Limited space on cell towers
Government regulations: With respect to putting up extra cell site at urban locations
Marching Ahead
Network investment today is very quickly shifting towards 4G. Major vendors have shown various methods of achieving 600Mbps or more. Qualcomm did this with 256QAM and Carrier Aggregation. It seems that there is still plenty of innovation left in 4G to keep engineers busy for a good 10 years or more. Google announced they would be getting into the mobile service business themselves, perhaps even launching small cells in the sky using tethered balloons and solar powered drones. They hope others will copy their innovation, but aren't revealing too much as yet.
One major telecom gear equipment vendor forecast around $8B of their $14 Billion revenue for 2015 will come from LTE. Many of the new small cell products and features we saw last year have matured and become commercialized. 4G small cells are widely available including many 3G/4G configurable and a few with LTE carrier aggregation. Wi-Fi has also continued to evolve, especially Voice over Wi-Fi, leading to debate about how best to make both work together. Meanwhile, the last year has seen a lot of good common sense engineering and operational improvements going on in the background that are easily overlooked.