Top 10 Benefits of SD-WAN (2020 Update)
June 18, 2019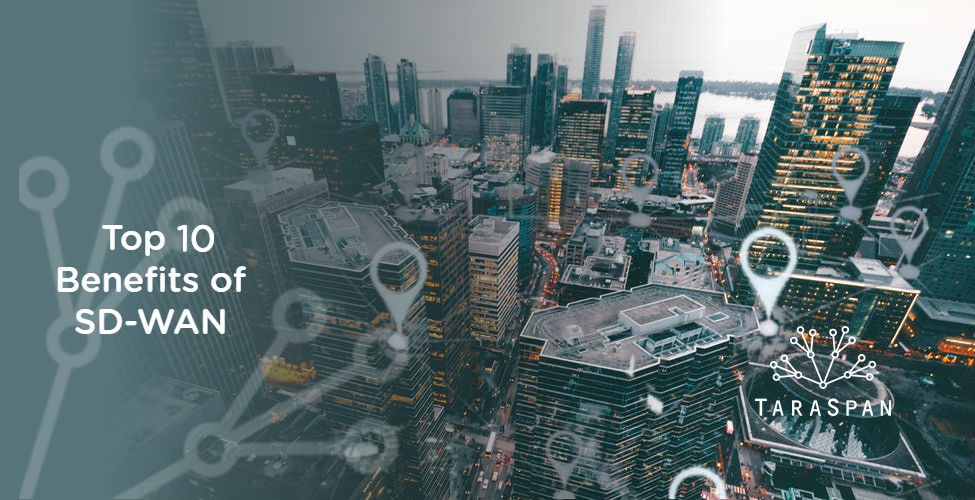 Enterprises are revolving around different business strategies and new technologies to be ahead in the game. Whether it is cloud or SaaS, mobility, BYOD, network security, or unified communications- every entrepreneur is in search of the best and latest tech. Among which, the cloud is most eminent. It has gifted certain presents to the clan of businessmen- easy data transfer among intra-geographical locations, ease of storage, etc. Along with these advantages of the cloud, its security plays an equally important role. Here enters SD-WAN, which provides:
Granular Security
Agile Network
Better Speed
Low Operating Cost
Higher UX, etc.
No doubt, SD-WAN is a hype in the current scenario. Even, many businesspersons have adopted it just because other enterprises have staffed it in their agendas. But, do you really know what is SD-WAN? What is this approach all about? Does it have the potential to assist you in solving your business problems? What does it possess that drives many organizations to turn their heads towards it? Does SD-WAN match the expectations of your business?
Let's discuss what is SD-WAN, why it has turned up, and the top benefits of SD-WAN.
What is SD-WAN?
SD-WAN or Software-Defined Wide Area Network is an approach, which distributes the traffic that uses (software-defined networking) SDN technology across WANs to find out the best possible route for traffic flow among different geographical stations.
Technically, we can define that- SD-WAN is a technology that optimizes the operations over WANs with cloud-based management and automation.
Why does SD-WAN Emerge?
With continuous adoption of the use of SaaS/ IaaS applications, the graph of user experience has been degraded within a short period. This is being resulted in poor performance and reduced ROI. Plus, conventional MPLS circuits were designed as well to function in a branch with security constraints within that specific campus. That's why SD-WAN appears to fix all these issues with these resolutions:
It makes processes more agile to improve the user experience.
It offers security and accessibility to cloud-based applications.
It has the potential to prioritize the traffic, automatically, according to its criticality on the cloud.
It is, literally, evolved for the companies with multiple branches and SD-WAN can handle critical branch office operations.
On the whole, SD-WAN comes into existence because it balances the proper management of the user experience, complexity, and security.
What are the Benefits of SD-WAN?
1. Upgrading Business's Connectivity with Traffic Prioritization:
SD-WAN tech is all about the robust connection with full-fledged security. It allows the users to create a common network infrastructure, which accommodates different connections, such as- MPLS (Multiprotocol Label Switching), wireless LTE, or broadband. The user can enjoy this benefit easily- by allotting critical applications to robust connection, and less sensitive data to the public connection.
Moreover, this technology helps customers by removing the routing hardware and bringing the provisioning connectivity & services from the cloud on the platform. Even, you will also have the flexibility to scale connectivity up and down according to your prerequisites. In short, SD-WAN can easily upgrade the business's connectivity among branches, headquarter, and the cloud.
2. Improved Edge-to-Edge Security:
Cybercrime is increasing day-by-day; and at some point, users can also ask access to critical applications. This might be risky. SD-WAN takes care of each application at all branches. This technology has in-built security protocols along with encryption capabilities to ensure that only authorized persons can access and/or view the specific application on the corporate network.
3. Network Agility with Increased Provisioning Times:
Flexible enough to diversify the bandwidth access using any local internet provider and to add newer sites easily and quickly. Also, you can increase the speed for any site (whenever it is required) by adding another connection, and upgrading the site licenses, since the bandwidth requires some changes within a particular time of interval. Hence, we can say that now, with SD-WAN, provisioning is no more peril to enterprises.
4. Increased Reliability and Responsiveness:
Links and speed both play an equivalently vital role in data transfer. Of course, links should be undisturbed, and the speed should be optimum (or, accordingly). Therefore, for gaining the utmost security, cloud-based application traffic uses direct internet connectivity to acquire a simpler and consistent performance on the cloud. Plus, the links' health gets monitored after a span in order to keep your sites connected and all inbound & outbound actions go on smoothly.
5. Reduced OPEX:
Automation and self-managed protocols of SD-WAN scale down the requirement of external IT experts. Adding a new branch (anywhere) online is easy and can be accomplished in less time and cost. It can be done by- combining the efficiency of a centralized network management & automation with convenience & predictability of a managed service. Most appropriate for small/medium-sized businesses, it, eventually, lowers the risk and total sum.
6. Higher Quality Data Transfer:
Not all applications have the same level of criticality. Some of them flow without any specific privilege, but others require higher quality and performance to match the pace of the expected user experience. SD-WAN selects the most appropriate route for specific traffic application. This helps spot the congestion points fast and divert the traffic to the less-utilized path.
Thus, traffic prioritization and congestion management assist in maintaining high-quality data/traffic.
7. Increased Application Performance:
Applications are the lifeline of an enterprise. The process, the resources, etc. - everything is associated with an application. And, since here, many mission-critical applications run on the cloud, therefore, they need more security and focus. The SD-WAN separates the applications from the underlying network services with a policy-based virtual overlay. Then, this overlay audits the real-time performance statistics and chooses the optimal network for each of the applications on the basis of the configuration policies. In this way, each application has its magnitude and improves its performance eventually.
8. Centralized Management:
SD-WAN defines a policy-driven, centralized management interface that manages the traffic and monitors it. Based on the statistics, the dynamic path selection initiates- which means- that the path has been allotted to the application (according to criticality). No matter, where the application is, all will be controlled and audited by the centralized management plane. It reduces complexity and makes it easy to manage from a single zone and track the application & its performance. 
9. Inclusion of IoT Technology:
If the organizational structure is distributed among remote locations, then the SD-WAN solution is the right fit for you. It uses the best of IoT, which enables it to manage all your distributed networks efficiently, and offer ease of usability along with the ability to integrate with your existing network without any hassle. Moreover, the intelligent technology "automatically" (automation) adjusts traffic flows to accommodate the network conditions effortlessly so that the application will get streamlined across the WANs.
10. SD-WAN and Unified Communications:
The connectivity among different branches through voice and video becomes prevalent today. Even, the enterprises approach for the remote working and yield higher productivity comparatively. In such cases, the bandwidth should be in its optimum usage. Therefore, the SD-WAN consolidates with unified communication applications and reduces the jitter as well as packet loss in voice and video traffic. You can collect more information about this combination here- SD-WAN and unified communications. 
Conclusion
Although SD-WAN is a new entity on networking interface, it is proving its 100% worth for cloud-based applications. The above-mentioned benefits of SD-WAN have explained a lot. So, today, the cloud with SD-WAN has become an essential component for an enterprise, isn't it? For more information, you can read the complete guide of SD-WAN. Trust me, it's not click-bait!