Top 10 Reasons why businesses are migrating from audio to video collaboration
December 7, 2016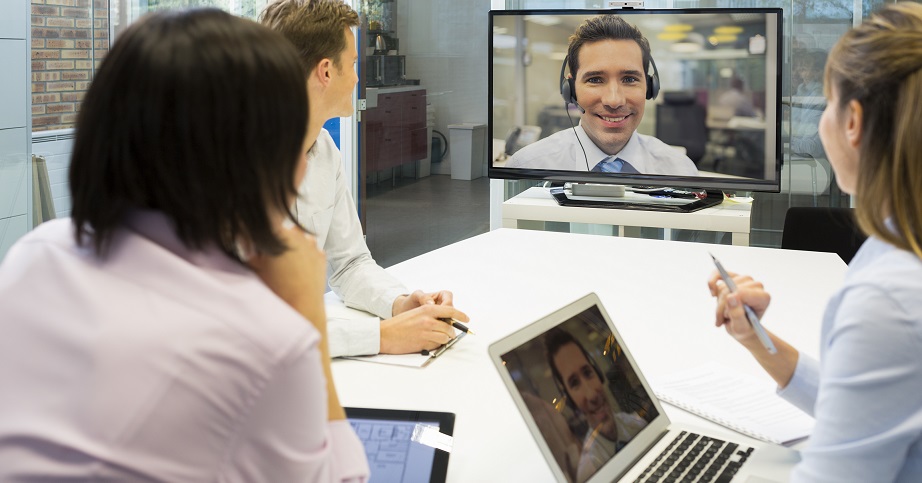 Revolution entered the corporate sector with all new and innovative video collaboration technology when the people located at various remote locations could easily interact with one another in a single room and hold quality virtual meetings. Now, with video collaboration, you really do not have to scratch your surface thinking how to hold a business meeting when the main line of participants are scattered at different places.
Talking about video collaboration vs. a conference call, the former helps in establishing a human connection  and a deeper relationship with the person situated on the other side of the screen. While at the same time, travelling costs, time and efforts are saved which undoubtedly will give a soaring rise to business productivity.
Now, here are the top 10 reasons why video collaboration takes a upper hand over a conference call and how it would prove to be of much greater benefit for yielding better results, without any glitches.
Stay Miles Apart Yet Stay Connected!!
Build client confidence and productive relations

 


This one benefit is pretty much obvious. Regular face to face interactions would help in forging healthy and productive relationships between the employees, the employees and the clients or the partners.
Not only does it help in deepening the interactions and holding multi-layered discussions but also helps in building a sense of trust between the two or teams. It can be said that video collaboration is an effortless way towards efficient working. While in case of conference calls, achieving such level of proficiency is beyond possible.
Even when you are miles apart, you can still remain connected with your team members.
Enhanced team collaboration

Imagine yourself working in a multinational company and your CEO wants to hold up a meeting with the employees dispersed in different countries. Video conferencing would enable easy team collaboration and the employees would be able to put forward their own perspective and carry out the discussions with full concentration.
In an another situation, if you are working for a client present in a different country, you can showcase your product design and presentation through a  full HD crystal clear quality video conferencing, without engaging yourself in unnecessary hassles of travelling. The same would not be possible in a conference call.
Interviewing Job Candidates and Witnesses is a much easier task now

Scheduling interviews can be a much time consuming and tedious task as there may arise a need to travel to different offices to search for the promising employees. But with video conferencing technology, this need is also eliminated as you can interview candidates from the comfort of your desktop.
As opposed to the conference calls, this would help one judge the overall personality of the candidate, her/his body language and the way she/he speaks and puts forth one's perspective.
Troubleshoot problems in an easier way

Most of the companies have adopted an easier way of troubleshooting technical problems with the help of quick video conferencing calls. They might just view it and fix it within minutes instead of the technician travelling from one place to another.
Enables Transparent Communication

 

Holding a video conferencing call enables one to judge the body language and the expressions of the party on the other end. While, in a conference call, one would only be able to hear the voices of the people at the other end.
Thus, we can say that the former gives an overall idea of what the other party is thinking, behaving and how are they presenting their opinion, and enables a more transparent and autonomous discussion between the different teams.
Consultation and Training from remote experts are beneficial


Most companies invest money for holding consultation and training programs to boost up the motivation level of the employees as well as their business productivity. With the help of a video conferencing call, the training experts would be able to share their knowledge with all the company employees, without the need to spend extra time, efforts and money on travelling.
Less opportunities of misunderstanding and misinterpretation

When there is a face to face communication between the different teams, there are obviously less chances of miscommunication and misinterpretation. This is because, it is a human tendency that a picture itself says a thousand words and undoubtedly, video conferencing enhances the  concentration levels of the employees so that they could pay more attention to the discussions going on. Thus, they would be able to feel that human connection and hence more in sync with each other.
Video Collaboration is "participation" in a true sense

 

According to a study by Fraunhofer institute, it has been noticed that that the teams come out with better results and enhanced productivity if they choose to work through video conferencing rather than through conference calls or mails.
The employees are able to present their opinion and hold a profound discussion freely. Moreover, they feel their work to be united rather than dispersed and are able to actively participate in making important decisions.

Share Important Information with Remote Workforce Quickly and Easily

Video collaboration is a pathway to capture and distribute important information or any sort of training material quickly and visually. Moreover, it is not merely about sharing but the team at the other end would easily be able to edit the documents also.
One can say that video collaboration keeps the remote workforce enabled, engaged and efficiently consolidated with the branch office. If talking about conference calls or audio conferencing, such an innovation would be next to impossible.  

Video Conferencing for more organized and structured meetings

There can be no doubt in saying that video conferencing helps to keep people's attention and concentration intact. Have you ever experienced such a situation when on a conference call, you have asked a question but have not received any answer since the people on the other side were busy in some other tasks or were not paying attention? In the case of video conferencing, the participants would be able to pay full attention to the discussion going on rather than on the other unimportant tasks at that time.