Top 4 IP Telephony Solutions in India in 2020
March 11, 2020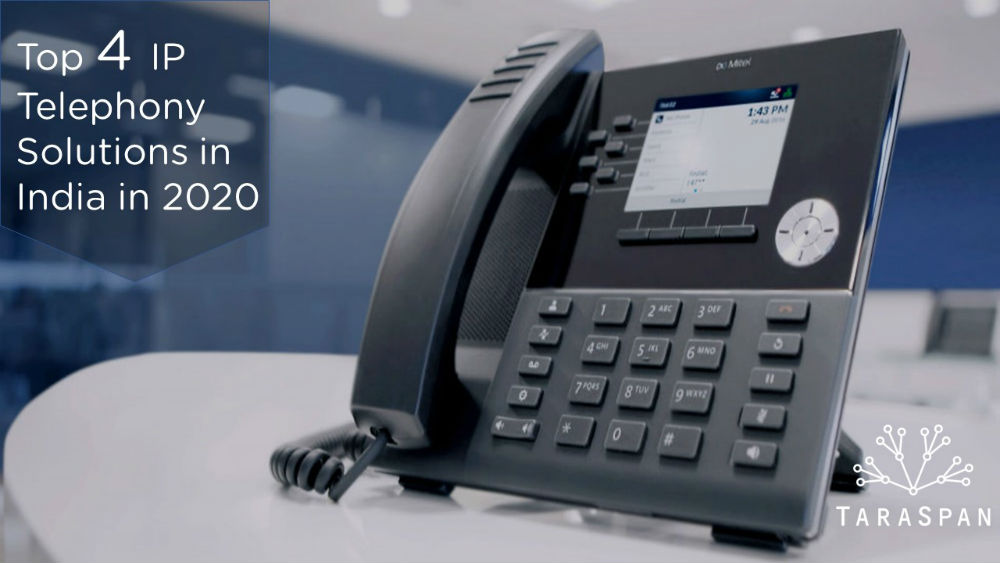 "The global IP Telephony market was valued at million US$ in 2018 and will reach million US$ by the end of 2025, growing at a CAGR of during 2019-2025."
It is one of the crucial elements of the IP telephony market research report of 2019. Clearly, it states that the market of IP telephony is growing and will thrive greatly in the next 5 years.
Further, this report puts its main focus on the IP telephony volume and its value at certain levels- the global, the regional, and the company as well. It was gone through deep research and study of the historical data and then come up with this prospect. Overall, what we can say that IP telephony is a leading technology in the world of digital communication that is helping various enterprises at different scales.
IP telephony is something that gives a new way to business phones and improves communication. It is actually- "communication of the new generation" that moves ahead into the realm of IP phones, softphones, VoIP solutions, mobility/ teleworker solutions, unified communications, and much more.
Laptops, smartphones, tablets- are eminent today; but the desk phones are the root of the business and a strong component of the business as well. Audio, fax, video, etc.- IP phones are a hub for all such applications that are connecting the edges of the world within seconds. If you are looking for much information about IP telephony, you can get every inch of data about IP telephony in IP Telephony- a complete guide.
This is what about IP telephony- it is the most beneficial way of the collaboration of today's cut-throat world and it's assisting many enterprises and organizations with its boundless advantages.
However, how can you leverage these pros? You don't have any information about the credible IP telephony solutions provider in India.
Following are the top 4 providers that are going to help you with their robust IP telephony solutions in 2020. Let's discuss them with some highlighting features.
4 Best IP Telephony Solution Providers in 2020
1. Mitel
2. Avaya
3. Cisco
4. Grandstream
1. Mitel
Recognized as 5 time Gartner Magic Quadrant Leader for UC, Mitel has its over 1,600 patents & applications to improve collaboration for the customers. It is recognized as an industry-leader of unified communications and collaboration (UCC) that makes it a level above than others.

Let's proceed to know in detail:
Mitel has three executive versions- smaller, mid-size, and enterprise-grade. And, it supports up to 5 lacs users.
Diverse Features: Mitel offers many calling features, such as- unlimited calling, call forwarding, call logs directory, call monitoring & recording, call transferring, call waiting, DECT phones (SIP-DECT serves businesses of all sizes with this solution for cordless telephony on IP-based networks by merging the Session Initiation Protocol (SIP) innovation with DECT, which is the leading technology for building multi-cellular radio networks for voice communication), and other services, as- voicemail transcription, instant messaging, presence, and faxing.
Elite call attributes are also present, like- call parking (it enables to put the call on hold so that the other person can pick it using another phone. And, while "parking" the call, anyone, who has access to that parked call, can pick it up.), call routing (a call management feature, where each call is in a queue and then routed to the particular person or the group of persons according to the pre-established rules and pre-defined criteria. It occurs before the receiver receives the call.), and call screening (its basic version includes the caller ID showing on a phone or collaboration app, comprising the caller's name and phone number. The advanced version capabilities enable to set up the rules that go into effect before the phone even rings. And, the last version is call blocking that involves blocking the specific phone numbers, entire area codes, or any caller without caller ID, within other potential rules.
DnD (Do not disturb)- It allows the user to send the call to his/her voicemail, or send it to another person, who can receive that particular call.
Hot Desking: It is a way to reinforce inter-departmental communication. Using this technology, the workers have full access to their desk phones, even outside the office. The credentials are provided by your IT dept.; simply, log into your phone through those details and use your desk phone on that network.
Audio/ Web/ Video Conferencing: Get easy collaboration through audio/ web/ video conferencing with MiCollab (all-in-one app) without the need for any third-party service. Optimize your meeting with documents, applications, and screen sharing with this versatile feature of Mitel.
Relevant Protocols: Border Gateway Protocol (BGP)- Also called path-vector protocol or distance-vector routing protocol- it makes the routing decisions on basis of the paths, network policies, or rule-sets configured by the network administrator, and is involved in making core routing decisions.; Internet Protocol (IP)- it defines the packet structures, which encapsulate the information to be sent to the destination. This protocol sends the packets from the source host to the destination host, solely on the basis of the IP addresses in the packet.; and Session Initiation Protocol (SIP)- It allows the creation and deployment of multiple services, which are far more than just IP telephony calls, such as- instant messaging, multimedia/ video, and web integration, etc.
Integration: Mobile integration, Outlook integration, and more applications that can be added to your unified communications and contact center solution. Plus, CTI (Computer Telephony Integration) is also included that enables the interactions on a telephone and a computer to be integrated or coordinated. The functions may vary as- screen popping, phone control, transfers, call routing, automatic/computer-controlled dialing, advanced call reporting functions, and voice recording integration.
2. Avaya
Recognized as an April 2019 Gartner Peer Insights Customers' Choice for Unified Communications (UC) technology, Avaya has more than 4,800 patents that drive automation and efficiency. It has its name around the world for its open ecosystem (integrated & customized), a myriad of global experience with a wide portfolio, and the innovation.

Let's dive deeper:
Avaya has three executive versions- smaller, mid-size, and enterprise-grade. And, it supports up to 2.5 lacs users.
Diverse Features: Avaya offers many calling features, such as- call forwarding, voicemail, optional auto-attendant services, hold call waiting, call transfer, call parking, call waiting, call history, reclaim call (to reclaim or recover the last call that was at your phone, but is now ringing or is connected somewhere else.) and other services, like- Message Waiting Indication (It is a technique to set a lamp or other indication on compatible telephones whenever a new message has sent, either in a personal voice mailbox or in a group mailbox or call back message. Once the message has been played or acknowledged, the lamp is automatically turned off.), Visual Voice (offers the platform to voicemail via handset display and buttons, as- Listen, Delete, Save, Fast Forward.); and Hunt Group Enable/Disable (to enable or suspend the membership of users of Hunt Groups.)
Elite Calling Attributes: Its calling features include- caller ID display and call tagging (enable users to see who they are calling before they receive the call. Even, the client information can be 'popped-up' on the user's PC.), and Direct Inward Dialing (DID/DDI) (It depends on the local telephone exchange transferring all or part of the dialed number to the IP Office. Then, this number can be used by IP Office call routing software to route the call to an individual phone, or the groups of phones.)
DnD (Do Not Disturb): It allows the user to shut down the incoming calls on their phones temporarily. It will prevent the Hunt Group calls and send the callers either voicemail (if enabled) or the busy tone. This feature can be enabled/disabled from the phone or through the Phone Manager application. In some cases, you can add a particular extension number to the DND exceptions list to transfer the call to that specific number only.
Hot Desking: This feature allows multiple users to use the same extension number and each of the users can sign in using their credentials in order to receive the calls and access their voicemail & other services. Once the call is finished, the user will log off and make the extension avail to other users, or if the user logs in at some other phone, he/she will be automatically logged off from the original extension.
Audio/ Web/ Video Conferencing: Avaya offers quality sound and expandable capabilities to make every conversation impactful. Calls are placed on hold to create the conference call using either the other phone or any other desktop application. The technology varies from easy-to-use devices with superior HD audio and crystal-clear Avaya OmniSound® technology for any size meeting room. Plus, the enterprise-grade video conferencing will go aligned for your business.
Relevant Protocols: It supports SIP and H.323 IP protocols that assist in reducing infrastructure upgrade costs. Plus, the IP office directory (with up to 1000 numbers and associated names storage capacity) is LDAP (Lightweight Directory Access Protocol) compliant that enables it to keep synchronized with the data on any LDAP server. Through this method, you can retrieve up to a maximum of 500 records.
Integration: Avaya with its supported open SIP devices and approved third-party UC platforms are integrated with different apps that connect your business. Moreover, the calendar integration additionally supports to deliver a personalized experience.
3. Cisco
Recognized as a leader by Gartner in 2019 titled, Magic Quadrant for Unified Communications as a Service (UCaaS), Worldwide, Cisco has 13,000 patents across the world. Cisco IP telephony solutions are specifically designed to offer reliable and scalable communications that take the full-fledged leverage of your LAN & WAN, and enhance the employee agility and the overall productivity.

Let's get involved profoundly:
Cisco has three executive versions- smaller, mid-size, and enterprise-grade. And, it supports up to 40,000 users within a cluster with hardware end-points. And, the range varies as the hardware changes.
Diverse Features: Cisco supports technology, like- cognitive collaboration, unified communications (unify voice, video, data, and mobile apps), high quality & state-of-the-art speakers, end-to-end IP solutions, and voicemail, etc.
Calling Attributes: Cisco has a large portfolio of calling features, such as- call transfer, call forwarding, calling name delivery (CNAM) (provides the endpoint with the name of the calling party.) & calling number delivery (CND) (provides the SIP subscriber endpoint with the calling number of an incoming call.), caller ID delivery suppression, call hold, call park, called party termination, outgoing call barring, and emergency call, etc.
DnD (Do not disturb): This feature enables the user to block the incoming calls (on which this is activated). Plus, you can assign a phone number in the list of DnD in order to divert that particular incoming call to that assigned number; or- if no call forwarding is triggered, then the call is routed towards a busy tone. It should be provisioned and activated on the BTS 10200 because of feature interaction with cutting-edge features, like executive override.
Hot Desking: This technique allows the users to access their desk phones outside the office as well. Simply, you need to sign in with credentials, provided by the IT dept. and you will have access to the calling, voicemail, and other services of your desk phone.
Audio/ Web/ Video Conferencing: Cisco provides intuitive conferencing solutions that support meetings, events, audio, web, and video conferencing. Plus, it also supports small conference or huddle rooms and delivers the same high performance audio conferencing outcome.
Relevant Protocols: MGCP (Media Gateway Control Protocol) is a protocol used by call-control devices to manage IP Telephony gateways; SIP (Session Initiation Protocol) for presence-based applications, for third-party SIP-based phones, & SIP Trunking, etc.; and open-standards-based Internet Protocol (IP) consists of addressing information.
Integration: The integration with Mobility Applications, WebEx & Jabber improves employee collaboration. Plus, Outlook integration makes it easy for scheduling.
4. Grandstream
Named as the 2016 Global Enterprise IP Endpoints Company of the Year by famous market research firm, Frost & Sullivan, Grandstream has over 50 IP Unified Communications products in its portfolio. ​ It is eminent within the industry for its innovation, quality, and product value.
Let's gather more information comprehensively:
Grandstream has two executive versions- smaller and mid-size. And, it supports up to 2000 users.
Diverse Features: Grandstream offers WiFi Voice and Video (from which, WiFi voice can increase its access to SIP or VoIP networks via WiFi, instead of through hard-wired connections. Plus, due to the presence of SIP networks (the majority of them support video also), WiFi voice network deployments can support the video as well. Also, this feature enables the users to enjoy office mobility, great connectivity, quality standards, fast speed, broad coverage ranges, robust communication tools, and a step to make the corporate premises completely wireless. Another feature is the unified communication solution (that allows users to work remotely effectively, to stay secure with IP-based security and facility access, to visually work together with conferencing end-points, and to view the status of coworkers). The other one is Bluetooth (it connects your smartphone to share contacts from the smartphone to desk phone).
Calling Attributes: Its calling features include- call forwarding, call waiting, call transferring, voicemail, email forwarding, fax, remote calling, DECT phones (they enable free-roaming and cordless calling), remote access to data tools (CDR, call recordings,), calls routing, etc.
DnD (Do not disturb): This feature empowers the users to refuse the specific incoming call. Once it is enabled, the call will automatically transfer to the voicemail box. It is for the caller so that he/she can drop a message if it is required.
Hot Desking: It allows multiple users to use the same desk phone at different periods. Simply, a user can sign in to the Hot Desk-enabled phone (using the same SIP server) employing an extension ID and password and can make or receive the calls or check messages.
Audio/ Web/ Video Conferencing: Grandstream offers full HD conferencing that helps driving profitability for the business. For video- the users can consider GVC end-point to acquire robust and collaboration-focused communication; and for audio- GAC2500 will be the best fit, and it embedded with unparalleled flexibility of AndroidTM coupled with rich, HD audio.
Relevant Protocols: Grandstream supports SIP (Session Initiation Protocol) and its open SIP-based standard products can decrease the communications cost and accelerate the productivity of the enterprises.
Integration: Grandstream's IP-PBX integrates with third-party CRMs, like Salesforce and SugarCRM to increase communication practices.
Your Turn
Here, you've reached after exploring different features of the top 4 IP telephony solutions in India. So, it's the right time to make the decision. It doesn't matter- whether you are going to buy the IP telephony solutions for the very first time or want to upgrade your communication channel for the long run- you should invest your time aptly and then select the solution that will save your business time and money, delivering the productivity side-by-side.