Top 7 HubSpot Integrations To Boost Your Productivity
July 28, 2020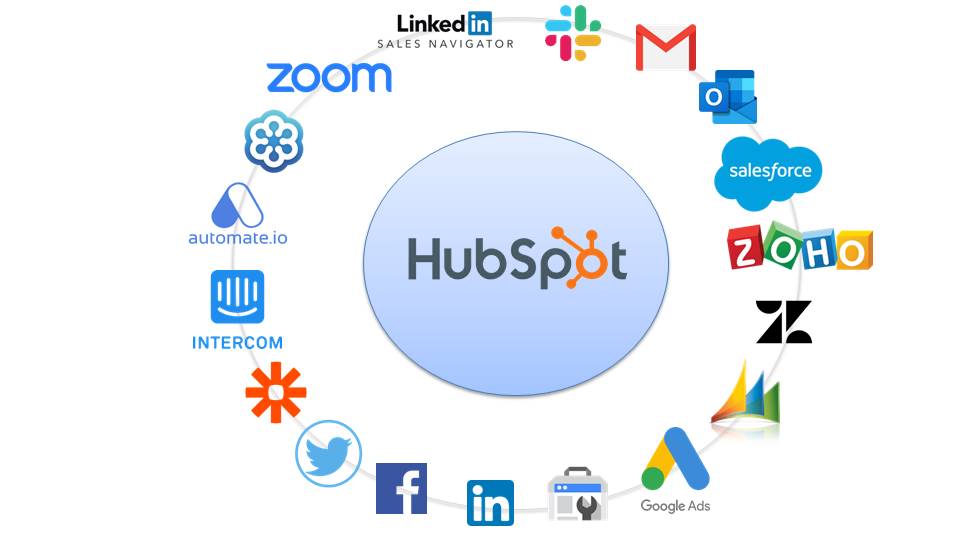 Technology is a boon for all and HubSpot is squeezing the best out of all technological innovations. HubSpot Integration is one such appropriate example.
Who wants to toggle between multiple software or applications to complete a single task? Perhaps, you have to plug-in and plug-out repeatedly. It's so tedious and mundane, isn't it? Also, it's critical to business operations and success as well.
Hence, HubSpot offers effortless integration with other applications so that the techies and digital marketers make their efforts more efficient- by bringing the functions of other applications together. It is extremely important because it gives easy access to have a look at all data from multiple platforms on a single interface.
This allows you to accomplish more with contacts segmentation, triggered workflows, adding personalization, and a lot.
So, let's start with what is HubSpot Integration, and then we'll walk you through some significant HubSpot Integrations that will definitely make your business life much easier.
What is HubSpot Integration?
You can also customize HubSpot so that it would exactly match your requirements. And, that you can leverage fully with HubSpot integrations- the specialized apps that allow you to utilize some cool and new functionalities, features, and extensions. Adding these to your software will definitely give a hike to productivity and the results of your marketing/sales efforts.
7 Best HubSpot Integrations that You Should Try
1. Integration with your email client
Microsoft 365, Outlook Calendar, Gmail, and Google Calendar- make the best of the HubSpot with these useful applications integration.
a) You can create a log of the emails sent from Outlook or Gmail in HubSpot CRM in just a single click. Also, you can track the clicks and open rate of the emails in real-time- that would certainly be helpful to you. You can also have access to some interesting tools to make your work more efficient, such as- templates, meetings, sequences, etc. - straight into your inbox.
b) Also, the calendars (Google & Outlook) allow you two-way integration with HubSpot. It will facilitate you with logging in a meeting in your CRM, creating a calendar event for that meeting, and sending invites to meeting guests- all simultaneously, In addition, if you create a meeting event in Gmail or Office 365 Calendar with a HubSpot contact, then the event will be shown on their contact record timeline.
2. Integration with CRM
CRM or customer relationship management tool is the sole of an enterprise. From adding contacts to nurture your leads- everything happens and stores here. Although HubSpot CRM associated with each hub is a beneficial way to go, still, if you want to integrate other CRM, HubSpot allows you. You can integrate Salesforce, Zoho CRM, Zendesk CRM, Microsoft Dynamics, and other CRMs with HubSpot and leverage the functionalities of both.
a) With the HubSpot app for Salesforce, you'll get- the fastest app on which your entire team can rely on and work effortlessly. Also, the bi-directional sync is there that will automatically make updates/changes from one system to another. Besides that more functionalities are associated with Salesforce, such as- lead data (email opens, form submissions, and website activity, etc.) is automatically sent, you can send lead scores from HubSpot to Salesforce, etc. In brief, Salesforce integration is more precisely valuable for your sales team and assisting them in prioritizing the outreach, building more meaningful relationships, and closing more and more deals in less time.
b) Establish real-time bi-directional sync between HubSpot and various products of Zoho Suite in a few steps. And, also save your precious time on manual data entry and avoid using the CSV files for your imports and exports. Let PieSync handle transferring your customer information. PieSync (acquired by HubSpot in Nov 2019) is an advanced rule engine that supports- Zoho CRM, Zoho Invoicing, Zoho Recruit, Zoho Inventory, and Zoho Books. It allows you to leverage several functionalities, such as- you can sync Zoho candidates with HubSpot, Zoho lead statuses with HubSpot's lifecycle stages, and you can explore a myriad of possibilities with this rule engine.
c) Also, you can establish the real-time bi-directional sync between HubSpot and Zendesk Support or Zendesk Sell (previously Base CRM) in less time. Plus, the PieSync (discussed in Zoho Suite) takes care of moving your customer data. But, it is quite different from free integration. The free one allows one-way push of ticket information into a HubSpot contact's timeline - and – the PieSync allows data to move in both directions.
Further, with Zendesk Support, you can leverage different functionalities, such as- you can sync HubSpot company data into Zendesk or vice-versa, sync HubSpot contact properties into the Zendesk customer database for optimized ticket routing, and also sync new or existing Zendesk customers into HubSpot as contacts for marketing nurture campaigns.
And, with Zendesk Sell, you can sync Zendesk Sell lead statuses with HubSpot's lifecycle stages and align company data, with custom business data, between HubSpot & Zendesk Sell.
d) Microsoft Dynamics 365
This integration allows you to customize when and how your data syncs, such as- sync Microsoft Dynamics 365 customers and all of their properties to HubSpot. This will help align data—including custom properties—between the two systems. Then after, you can decide on a lifecycle stage and start tracking conversions.
Plus, the sync health dashboard is there to display you what, when, and how the data is syncing. Since the sync runs in the background continuously, checking the updates every five minutes you'll always get the updated view. Even, if the sync fails because of the mismatch data, it will inform you and fix the issue in either Microsoft Dynamics 365 or HubSpot.   
3. Integration with Google Tools
Integrate beneficial Google tools, such as- Google Ads, Google Search Console, etc. and make the best out of Google tools with HubSpot.
a) With Google Ads in HubSpot, you can target your customers with highly relevant ads and the reporting based on the true ROI of your campaign. Simply, connect your account and set your own protocol to turn on ad tracking and apply your tracking pixel. From there only, make the proper utilization of HubSpot CRM to generate the targeted audiences- that will automatically sync with your Google Ads account. Following that, you can simply report on the success of your ads via a number of attribution views, and evaluate how your ad investment is affecting your bottom line.
b) The Google Search Console integration helps you provide you greater visibility about your content marketing, like in real figures, likes, clicks & impressions, and page rank. It will uncover more data about the position of your content on Google search results and how often people click on your website. Besides, you can also have a view of the keywords or the key phrases people are searching for when your website appears on the search engine result page- that will help you generate new content ideas on the basis of the keywords that your prospects are looking out for.
4. Social Media Integrations
Social media channels are always at the top of the funnel for marketing and sales- and they are delivering higher performance. So, HubSpot offers easy integration with LinkedIn, Facebook, Twitter, etc. This simple integration will help you know your followers, understand the content they love, like, and share, and automate specific sections of your social media strategy.
Using social media integration, you can schedule the posts for Facebook/ LinkedIn, and tweets for Twitter ahead of time, and even apply automation that will auto-publish them at the most appropriate time. Plus, you can also evaluate and measure the post's performance. While on LinkedIn, you can also share your posts to the specific followers to nurture them into your customers and leads, and with Twitter, all the data about your current and new followers will be inserted into your contact database on HubSpot.
Hence, with social media integrations for HubSpot, you can collect various benefits- simultaneously and appropriately.
5. Integration with Productivity Tools
Productivity is an important element, which is the result of a commitment to excellence, smart planning, organized approach, and consistent efforts. And, productivity is a quality that revolves around them. Since the market is much competitive, it's wiser to save your time and use the appropriate productivity tools- takes you one step towards success. Zapier, Intercom, Automate.io, etc. and other tools are available in the market for your help. Simply you have to tap on the one that suits your business goals.
a) Zapier is an automation tool to connect over 1000 apps- linked and shared data with no code required. Even, you can set up your workflows, referred to as "Zaps", within a few minutes. Besides, you can also automatically send the new contacts or forms submissions from the HubSpot to any other app you use, collect data from other resources, and send it to HubSpot again. The best part is that HubSpot integration with Zapier offers much more than that- the information can be easily transformed, formatted, sliced, and diced as per your requirement. Even, with the capability to have the event in your system, trigger a sequence of updates and actions across your tools and set up the processes wherever you want- that you haven't thought of before.
b) Intercom integration leverages you to capture new customers with the help of the live chat and chatbots on your website. Once it is integrated with HubSpot, this tool allows you to get more conversions by connecting with them at any time, when they land on your website. After that, you can easily nurture your lead using custom bots, interact with them directly, and track them as well. And, then you will have all the customer information automatically organized under their respective contact on the HubSpot platform.
c) Automate.io offers you the wonderful benefit of connecting HubSpot with more than 100 applications and automating workflows. And, the best part is that no coding is required. You can simply connect your apps and automate the repetitive tasks in a few clicks by using the HubSpot drag-n-drop editor interface. It enables you to connect apps, like- Salesforce, Typeform, Mailchimp, GoToWebinar, Gmail, Slack, Google Sheets, and a lot more.
Moreover, the powerful built-in applications – Conditional Logic, Time, and Data Formatter – will facilitate you the power to design the workflows exactly the way you want them.
6. Integration with Webinar Tools
Webinars can be a beneficial way to produce an interest in your product or service. You can make use of it for training, product launches, and a few group meetings as well. And, with the right webinar tool, you can engage your audience and create a meaningful connection with your participants as well. And, for this, HubSpot can integrate with different webinar tools, such as- Zoom, GoToWebinar, etc.    
a) The HubSpot Zoom integration unlocks several benefits, such as- you can easily add your Zoom dial-in info to any meeting scheduled via the HubSpot meeting's link. It means that you can turn every meeting scheduled into your HubSpot CRM into a Zoom meeting. Moreover, when any person registers for the Zoom webinar, he/she will be automatically added to your HubSpot contacts database. Then, you can make use of the HubSpot workflows to send them the automated event reminders, follow-ups, etc.
b) Using GoToWebinar integration, you can build responsive, branded landing pages in HubSpot and then directly sync them with your GoToWebinar event. You can also send invites and reminders with HubSpot's email tool before the webinar, and then combine GoToWebinar information with your other CRM data to create follow-up campaigns. And, eventually, you can generate revenue reports, funnel reports, attribution reports, and much more to link your webinars to every part of your flywheel.
7. Sales Enablement Integration
The sales enablement tools have a great impact on revenue growth and ROI. From every conversation to going through the sales pipeline, pitching them, relevant content sharing, customer experience, analytics, and reporting, etc. - every single thing is an asset and plays a vital role. Plus, the use of the right sales enablement tool with effective execution is key to sales success. In fact, HubSpot integration with sales enablement tools will give an uplift to your sales team to deliver the best. LinkedIn Sales Navigator, Slack, etc. are a few to naming.
a) LinkedIn Sales Navigator is a great and proven sales enablement tool that helps sales reps in many different ways, such as- to target, understand, and engage with leads and prospects, the company news, the leads search, and InMail, etc. And, using the HubSpot LinkedIn Sales Navigator integration, you can leverage these powerful features directly from the HubSpot contact record. To make your outreach one-step ahead, you can find out the shared connections between you and the company's sales reps, immediately connect with them and start your sales outreach from there.
b) Slack integration with HubSpot is an engine that helps teams focus on their core roles rather than in completing menial tasks. The software should be there to help reduce the task, but not in creating extra steps. HubSpot's Slack integration is there to do so, such as- with "Actions", you can add a task and a ticket, and link them with a company or contact, or deal in HubSpot – directly within Slack. Also, using some "Slash Commands", you can find and post the HubSpot objects or actions (Contact: /hs-search-contact; Company: /hs-search-company; Deal: /hs-search-deal; etc.) directly within Slack.
Moreover, you will also get notified about the incoming chats from your website in a selected Slack channel, can see the conversation status within the chat notification, and respond to those incoming chats within Slack - or, click "Reply in Inbox" and get taken to the chat in HubSpot.
Conclusion
Integrations are extremely powerful to amplify all aspects of your business. From sales reps to marketing heads to CXOs- everyone can leverage the power of the integrations a lot. Especially, the HubSpot integrations, they are in abundance. Just find out the right meaningful tool for your business, and make your log much influential. Moreover, if you are in search of integration through the API framework, then it is also available for custom integration. So, you can leverage it as well as other incredible HubSpot integrations ultimately.