VDI vs DaaS: Key Differences to Decide Which Resonates with your Business
September 10, 2020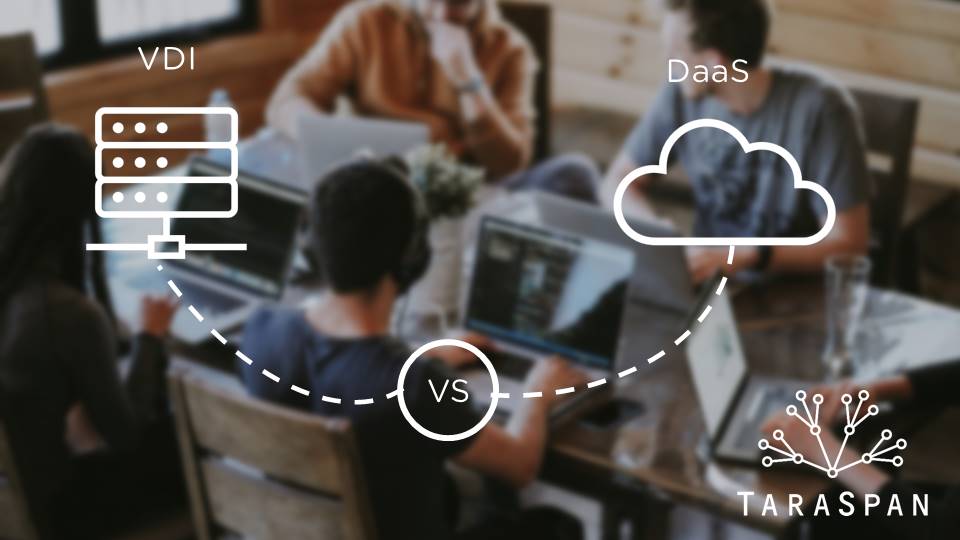 2020 is the launching point of desktop virtualization. Don't you think?
On account of the current crisis, enterprises are turning towards the work from home model exponentially. It's not that it's new in the market. The increasing mobile adoption and the need for a unified virtual workspace have also influenced the past year of local VDI and DaaS implementation. But, it is increasing at a very high speed this year. And, this leads enterprises to make all required resources and applications available to the workforce so that they can work effortlessly from anywhere. So, here comes the real discussion over VDI vs DaaS and which one to choose for the business. 
Virtual Desktop Infrastructure (VDI) and Desktop as a Service (DaaS) are the two industry-leading desktop virtualization solutions that are roaring high to help the IT workforce and other ventures. These solutions share the goal of providing end-users with access to their desktops on their choice of internet-enabled devices from any location. And, this is what the end-users require – the best way to get their work done effortlessly.
However, the debate on VDI vs DaaS is unending. Even they serve similar functions, still there are some differences – that the enterprises gauge their requirements and then choose a solution that rightly serves their business.
So, let's dig deeper and find out which factors are paramount when you need to invest in one of these virtual desktop solutions.
Virtual Desktop Infrastructure (VDI)
Virtual Desktop Infrastructure or VDI technology enables the creation of the virtual desktops on the remote server infrastructure, hosted on on-premises. To know more, it is a desktop virtualization method that ditches the legacy of physical desktops scenarios and adopts the digital desktops era.
Being one of the end-user computing solutions, it offers users the capability to access their desktops, applications, resources, and data from any device and anywhere. Moreover, with this technology, the hardware stack is handled and maintained on-site itself. Majorly, VDI covers:
Optimized Administration
Centralized Management
Easy Accessibility
Enabled BYOD
Improved Security
Workforce Mobility
Increased Productivity
Energy-Efficiency, etc.
Desktop as a Service (DaaS)
Desktop as a Service or DaaS is identical to the VDI solution, except that it is cloud-based desktop virtualization. It supports the hosting of virtual desktops and delivers to end-users remotely. Basically, the IT enterprises outsource their desktops to outside cloud service providers and the desktops are deployed from there only.
Being the cloud solution, DaaS is more reliable and cost-effective, since there are no hardware investments. Resonating with VDI, it is also a user-centric approach that facilitates the end-users to access their desktops, applications, resources, and data from any device and anywhere. Majorly, DaaS comprises:
Eliminating Desktop Challenges
Simplified & Centralized Management
Business Continuity
Agility and Scalability
Resilience & Responsiveness
Enabling BYOD
Devoid of Hardware Investment, etc.
You can find out more benefits of DaaS in this blog.
So, until now, we have covered the individual significance of Virtual Desktop Infrastructure (VDI) and Desktop as a Service (DaaS). Now, it's time to look upon these virtual desktop solutions in terms of business, and figure out which one serves your business prerequisites better.
VDI vs DaaS – Which goes well with your venture?
VDI
DaaS
Organizational Capabilities

The internal team manages the platform.

The DaaS vendor manages the platform.

Platform

Update Manually per Year
Mature, Tested, and Proven Solution

Automatic Weekly Update
Flexible Infrastructure Subscriptions

Geography

Local Workforce in Less Proximity
Reachable Location

Global Distributed Workforce
From Anywhere

Agility & Scalability

Moderate Deployment Time
Limited Capacity

Quick Deployment Time
Flexibility in Usage

Single-Tenant vs Multi-Tenant

Single-Tenant Model
Single User

Multi-Tenant Model
Multiple Users

Security

Extra Security Measures Required

Optimal Security Measures Deployed by Vendor

Data Backup

Separate Backup Servers Required
Additional Investment

Automatically Data Backup on Redundant Servers
No Extra Investment

Cost
1. Organizational Capabilities
From your IT department's perspective, it is required to ask concerns of the team- whether the resources are accessible, they have the proper know-how, or whether there is a need to practice "the art of VDI" - that implies if they know how to use or access the virtual desktops and applications, etc.
Moreover, every application or desktop requires a control plane, which is responsible for provisioning user sessions, ensuring end-users get secure access to the correct resources, handling capacity management, infrastructure orchestration, image deployment, and remote display traffic, etc.
With VDI, your EUC (end-user computing) team is in charge of designing, installing, managing, securing the platform along with the control plane – that will be quite complex. On the other hand, in terms of DaaS, the control plane is a managed service, operated by the DaaS vendor.
2. Platform
If you are adopting DaaS technology, then you must ensure that the control plane needs the internet connection to access it. With DaaS, you can leverage fast updated cycles on the weekly basis – that will ditch your worries about updates. Since the DaaS provider has a global datacenter scale and flexible infrastructure subscriptions, it also unlocks some new use cases.
With VDI, your team will have to conduct regular updates within a specific interval. Often, that period is of one year. Still, VDI has a number of advantages to look upon – it's a mature, tested, and proven solution that is helping a ton of businesses in mobile workforce technology.
3. Geography
Always ponder on – where your workforce is and where your data is. On basis of which, you can opt for the one solution among VDI vs DaaS for your enterprise. Sooner or later, it's pretty important to select your datacenter and/or cloud regions wisely to support your end-users, either locally or globally.
If you don't have a large distributed workforce and subsist in less proximity, then VDI is the alternative to opt. It is because you need a deployment that will be accessible and reachable to each supported location. Low bandwidth and high latency can hugely impact the user experience along with different remote display protocols.
With DaaS, there is no limit or any boundary. It supports all end users from the cloud through virtual machines in multiple zones to deliver an uninterrupted user experience. Alternatively, you can also use the cloud as a control plane for all regions, with user VMs running on-premises in some or all locations.
4. Agility & Scalability
Usually, the VDI deployments consume up much time to set up and can be challenging to modify later. If there is a need of adding more users, you must first buy the hardware, install it, and configure it to the new user's desktop. In addition, you have less freedom to try your hands on multiple operating systems because of the expensive subscriptions. Even, you might be constrained by refresh and budget cycles.
With DaaS, you can enjoy the flexibility or elasticity of getting DaaS deployments up and running in less time. It is because the infrastructure and platform are already configured, you simply require adjusting desktop settings and allotting them to end-users. In case, if you want to add some temporary or contract workers, then you can simply add more seats when you need them - and pay only when you are using them - without sinking your capital costs.
5. Single-Tenant vs Multi-Tenant
VDI deployment is based on the single-tenant model that allows deployment catered to one user. That user can be a single user or a large organization with hundreds of desktops. And, the enterprises that are seeking to shift their physical desktops to the virtual space, they should acquire VDI technology. Even, they will have complete control over their hardware infrastructure and server resources.
On the flip side, DaaS deployment, a cloud-based delivery model, offers multi-tenant hosting. Thereby, multiple end-users working from different locations can get virtual desktops from the service providers. All of these are hosted on the same cloud platform, but each user has an individual cloud space to work upon. The users are given the central management portal to handle the desktops. However, all control of hardware is in the hands of the service provider.
6. Security
The organizations, which deal with confidential and critical data, they prefer on-site VDI so that all control along with backend is in their hands only. But, when to go far, they have to take extra security measures to acquire the data security of the peak level.
On the other side, the DaaS service providers deploy multiple security measures, such as- data encryption, multi-factor authentication, and intrusion detection to assure maximum data security.
7. Data Backup
It is the most vital element for both VDI and DaaS to achieve business continuity. It helps you to recover the data in times of some crisis or when data gets compromised or is hampered by any cyber-attack, etc. With the VDI solution, the separate backup servers have to be deployed either on-premise or in some external data centers. This will incur you the additional investment and one more unit to manage.
Contrarily, the DaaS service providers will automatically backup the data on redundant servers to assure quick recovery in case of any crisis.
8. Cost
The cost factor is always a notable concern for every enterprise and organization. It has to be considered before and after choosing the model – DaaS or VDI. With VDI deployment, significant capital expense (CapEx) is there due to the upfront infrastructure costs, scaling costs, periodic infrastructure updates, and data-backup, etc.
On the contrary, DaaS offers more flexible consumption models. You can run all user applications/desktops in the cloud, resulting in an entirely OpEx model. With some solutions you can also run some or all user applications/desktops using on-premises infrastructure (with the control plane as a cloud service), blending CapEx and OpEx.
Over to You
Now, the stage is all yours. Going through the above-mentioned points of the VDI vs DaaS debate, it's quite clear that despite being identical solutions, they both are pretty different. It's not that choosing a winner between the two. In fact, it's about evaluating both end-user computing solutions with your business requirements – and then choose the one that resonates with your biz needs.
Careful consideration and focus are necessary at each step while comparing VDI vs DaaS. After that, you will have the right informed decision that will reap success for you. So, it's your call now!