Video Conferencing Troubleshooting Tips - A Professional Guide
October 3, 2019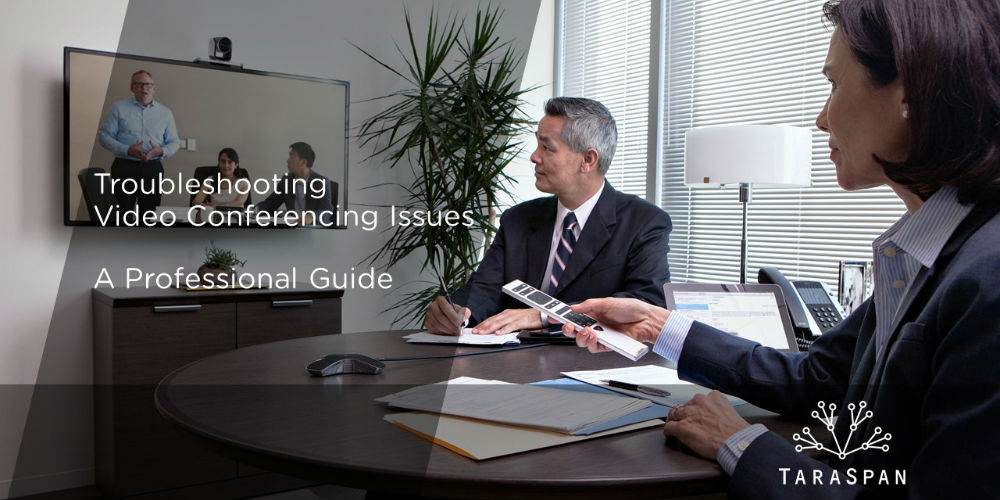 Rolling out new technologies for video conferencing makes everything streamlined for the organizations. Auto framing, speaker tracking, interoperability, noise-blocking system, and whiteboard camera system, etc.- are rising in value in the market. From huddle meetings to large conferences to webinars or events, video conferencing technologies are proving their worth at each edge.
Video conferencing continues to remain in vogue due to its credibility and affordability. And, the increased collaboration among distributed workforce acts as a cherry on the top. Even, the content sharing and webinars are not-to-be-overlooked components of the VC arena. Irrespective of on-premise or the cloud- video conferencing offers ease of connection & collaboration across miles. The Video Conferencing Guide is here that explains the ABC of video conferencing elaborately.
Peeping back in past video technology, we always thought how smart and unexampled it is in the future! And, yes, it is helping millions of businesses/ individuals in present, still, there are thousands, who are bypassing it.
Following is a comprehensive guide that helps enterprises address and overcome video conferencing issues.
Troubleshoot your Video Conferencing issues
Not able to dial a call

I don't know but somehow my VC system is not working properly..earlier it was working fine... I am not able to find out the problem... Damn, it shuts down suddenly... It goes off, what to do now?... My meeting has ruined, etc.

Difficult to admit, but it's true that sometimes even small things can cause so much trouble. If everything is setup fine then problem could be caused due to two main reasons - Network Connectivity Issues or Closed Firewall Ports

Solution: Make sure you are providing dedicated bandwidth to your VC system.  Also make sure that the firewall ports are open to public IP  along with security provision for your video conferencing device. Your data will remain safe and you'll acquire the great and secure meting experience ever.

Video freezing, Choppy audio
The network is disconnected... The video is refreshing itself, what's happening? etc.

The network is the first important element that needs to be flawless. Even, without it, it's not possible to establish the video conferencing. There can be multiple reasons behind this issue, such as- long delay (generic), video freezing, dropping down the screen share, choppy audio, etc.

Solution: Check the upload and download speed using speedtest.com. It will give you how the network will perform during the meeting. Else, you can consult your technical department.

Interrupted Background Noise:
It's not audible clearly... So much noise, etc.

These are some of the examples of audio chaos at the conference room. Often, the background noise will become the biggest victim to spoil the entire video meeting. Why face such an embarrassing situation, when there is such great technology?

Solution: The technology has given us so many beneficial inventions. The noise cancellation technology is there to resolve this issue. Make sure that the noise cancellation technology is integrated into your VC equipment for sure and make sure to improve your board room acoustics.

Automatic calls from system - System Hack:
I haven't made any call. How is the call automatically connected?

It is pretty obvious- if your network uses public IP, then it is vulnerable to security threats. It is not covered by the firewall or NAT at all. As a result, the automatic calling starts, and the users at both the ends have no clue about it.

Solution: Always make sure that your network is defended with the firewall or NAT so that your VC set-up will remain secure and within your notice & control.

Not connecting to other OEM devices - No Compatibility
I am not able to connect my device with other OEM devcie.

It's not necessary that everyone employs the same device of a single brand. Different devices could belong to different OEM- like HDX series from Polycom tries to connect with Cisco, etc. In such circumstance, the software compatibility issue might appeared and ruin your overall VC experience.

Solution: Ensure that your software has been upgraded to the latest version. No matter which device you are using, always keep your software updated to stay out of the incompatibility issue.

Picture Freezing Issue:
My picture gets frozen... I am unable to change the slide. It is ceased... My set-up contains the shared bandwidth, does the picture freeze? etc.

This is one of the major video conferencing issues faced by the end-users in case of network bandwidth fluctuation. If you are using shared bandwidth, then the link will fluctuate for sure. Sooner or later, the picture freezing issue will appear. And, it's very distressing to face such situation amidst the conference.

Solution: The solution is you can use the dedicated bandwidth of at least 1 Mbps. You won't counter with any kind of hitch in your video conferencing way. It is pretty obvious the picture is an indispensable component. So, better to be prepared priory to acquire a good experience, and hence, happy customers.
Device not Powering up:
The equipment is not working...The adapter stops suddenly... It has not any power, etc.

Out of the blue, this is also included in the VC issues list. This is something pointless, but yes it happens. The socket may not be properly plugged in, or the adapter or the device might have not appropriately connected. Still, this is possible and occurred as well.

Solution: Simply, check the socket for accurate power supply, the adapter is properly functioning or not, and the device that you are using for your conference, is perfectly connected or not.

No Video! Audio Only!
I am not able to view the video... It's only sound that I can hear, no picture is coming, etc.

Yes, it is also possible. The voice can be audible, but you are not able to view the picture. And, it is the biggest video conferencing issue that needs to be fixed on priority. No video, no video conferencing! It is mainly due to lower available bandwidth, let's say- 64 Kbps, no video can be displayed.

Solution: Available bandwidth is the main culprit here. As a matter of fact, the device calling speed is fixed dynamically as per available bandwidth. So, here, you need to ensure that available bandwidth of VC is minimum 1 Mbps and also you can manually set it to 1 Mbps in side settings, not less than that.

Camera Malfunctioning (Not rotating to its right position):
Oops, the camera is not working. The meeting is about to start, what to do now? etc.

It is also one of the generic issues that can happen anytime. And, the reasons are so probable, such as- the camera's position might be unintentionally shifted or you might not aware, but it is drifted by merely a light touch (of your hand, or pen in your hand or any other stuff). Secondly, possibly, the camera might be damaged due to a drop or fall on the surface accidentally. As a result, you will not be able to join any video conference.

Solution: Handle your camera cautiously and place it at the position, far from the conference table. The angle should be set up appropriately, but a little far from the reach. If the camera gets malfunctioned. then it needs to be replaced by a new one.
Bonus Tip: Want to take it?
Upload a short VC "Training Video" or a "Training Cheatsheet" on your intranet. Don't forget to enrich that video with catchy graphics. (An image is worth than a thousand words.)
Final Thoughts
Video conferencing was in the past, in the present, and will be in the future. Just a difference of upgrading it with new technologies. And, even it helps you to enhance your own video conferencing experience. Priced at a fraction of all sized businesses, this is the best option for your company success. Yes, it plays a vital role in improving the ROI of your business.
Just a few minutes guide to video conferencing set-up and you are all set to rock your conference or boardroom meetings or webinars.
These are some profound video conferencing issues and their respective resolutions that every enterprise must acknowledge. So, it's better to prepare yourself priory to overcome them, like a boss.
If I've missed some point, don't forget to share in the comment section below.