How WebRTC can spur exponential growth in these 5 verticals
June 4, 2015
"Humans are incredibly visual and powerful, moving images help us find meaning and video helps capture and contextualize the world around us." – Dan Patterson 
Video conferencing in businesses is no longer restricted to boardrooms. It has become mainstream. While team meetings earlier used to be on audio conferencing tools, the advent of WebRTC (Web Real-Time Communication) has brought them to video conferencing platforms like Pexip. Employees now have Virtual Meeting Room (VMR) id instead of a audio bridge id. WebRTC, which enables communication between different browsers has made it a lot easier to schedule a video conference. Here we are going to talk about how the communications are transformed with WebRTC in industries like Education, Healthcare, Recruitment, Service Delivery and E-commerce.
After introduction of HTML 5, one can start video from any device without downloading heavy client setup and experience the HD quality video and voice. It simply removes complex steps like running .exe setup which was not an easy task for a lesser tech savvy person. Now one can simply establish a video chat connection from a browser like Chrome, Firefox Mozilla etc. by entering a simple URL. As it works on devices like smart-phones, desktops, and laptops with no additional software, a forecast says that by 2020 around 7 billion devices will be WebRTC enabled .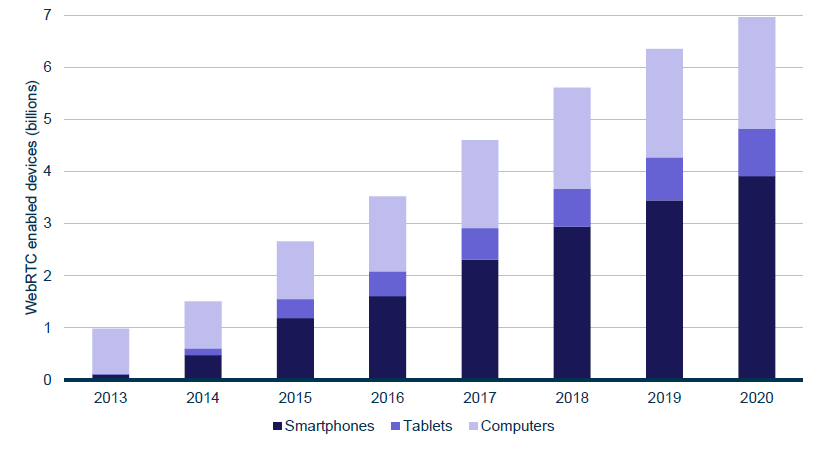 Source : Analysys Mason 2014
As we can see WebRTC is changing the rules of the game and creating a new market. It will impact the communication mechanism for all businesses, but we believe that with WebRTC in industries, these five sectors can benefit a lot.
E-commerce
Business-to-Consumer e-commerce is growing very rapidly, globally it will reach $2.356 trillion by 2018. In a tough competitive environment, maintaining business growth will be a challenge for any company. Customer satisfaction and customer loyalty can only be maintained through quality service and quick response. Video collaboration can play a major role here.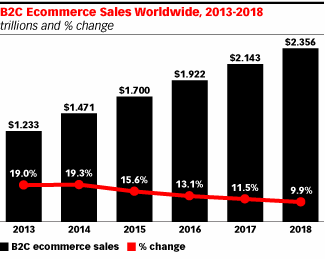 Source : eMarketer July 2014
Perception vs actual image of the product
Sometime items are not like what they appear in the photographs . Items like home appliances, and decoration pieces can only increase the beauty of your setup if they are fit to the space created for them.  In India customers still prefer to see product physically before buying it, specially in case of above mention goods. Video chat can help sellers in convincing customers by showing items live. Customer can see the actual size of the product instead of pictorial depiction. Actual color and design, different angle views can be shown by camera zoom-in/zoom-out.
Expert advice
For high value products, an expert advice option through video chat can trigger sale. It can also reduce the sell cycle. Sales executive can further invite more relevant experts in the video conference with the customer to ensure the resolution of his query.
High profit margin
Sometime customers come to an online store with a preferred choice. But that can be changed with up-selling/cross-selling. Sales executive can offer similar technology product with higher profit margin. He can also offer some deal with the product based on customer's reaction.
Reduce the percentage of goods return
When the physical specification or dimensions of the product do not match customer expectation at the time of delivery it always increases the percentage of goods returned. Video chat during the buying process can substantially reduce the churn.
Education
Adaptation of technology has empowered educational institutes like universities ,colleges ,schools and coaching classes with 24X7 delivery of education. Before WebRTC, it was limited to asynchronous technology tools like mail and chat. WebRTC enables institutions with synchronous technology like real-time video, audio, chat, black board etc.  in a virtual classroom. Lecturer can deliver lecture from anywhere now with no hassle of booking a video conferencing room. before HTML 5 technology, institutions were facing problem like :
Video conferencing room Booking
In a large university there are maximum four to five VC rooms from where a lecturer can deliver a lecture. It means at a given time only 4 professors can conduct sessions for students. Now universities are offering hundreds of streams and subject to students. This problem is overcome webRTC enabled video conferencing. A professor can deliver a lecture from anywhere from any device by using collaboration tool.
Limited number of hours
Limited number of hours were available for lecture delivery due to high bandwidth requirement of traditional video conferencing equipment's, dependency on fix devices.
Healthcare
Telemedicine and Medvarsity are two terminologies that are broadly accepted and known. In India it has not been fully deployed in healthcare industry but adaptation is on the surge. Services like doctor-on-call and consult-a-subject-matter-expert are available because of WebRTC enabled conferencing. Instead of a heavy VC equipment at operation theater or in doctor's room, a small iPad is sufficient. A specialist can talk to patient via inbuilt tab in a bed and nurse can share reports via same device.
Below mention services of healthcare department have been enabled by WebRTC.
Medvarsity
 A platform for online delivery of medical education helping doctors, nurses and paramedical personal through variety of courses (Medvarsity).
Village Resource Center (VRC)
The VRC concept has been evolved by ISRO to provide a variety of services such as tele-education, telemedicine, online decision support, e-governance services, weather services, and water management. It will provide connectivity to specialty hospitals, thus bringing the services of expert doctors closer to the villages. As of now, 445 VRC nodes have been established in many states across the country (E-Governance).
Rad Gurukul
Premier provider of tele-radiology services launched "Rad Gurukul," the tele-radiology training center in Bangalore, to provide training and to refine the skills of radiologists, technologists, and IT personnel involved in healthcare IT.
Patient Monitoring
Remote patient monitoring and care is possible with Web real time communication (WebRTC) .
Recruitment Industry
60 percent hiring managers have conducted a job interview through video chat (ENTREPRENEUR ). Online recruitment industry is growing by 10 percent year on year. Candidates opt for video interview because they don't have to travel for a face to face experience with recruiters and most importantly they can chose time slot that suits them. Recruiters choose video recruitment because they are easy to conduct, save money, take less time to fill the position and can assess the body language of a candidate. A win-win situation for all.
Service Delivery or Support organization
In a competitive business environment, your sales service or customer service distinguish you from your competitor.  Before WebRTC, voice call and emails were only methods of communication. Team viewer was used for remote desktop services. WebRTC combines all communication media in a single tool. Now voice, video, chat and desktop sharing can be done with a single device. It helps support teams to respond fast, act quickly and deliver best in class service.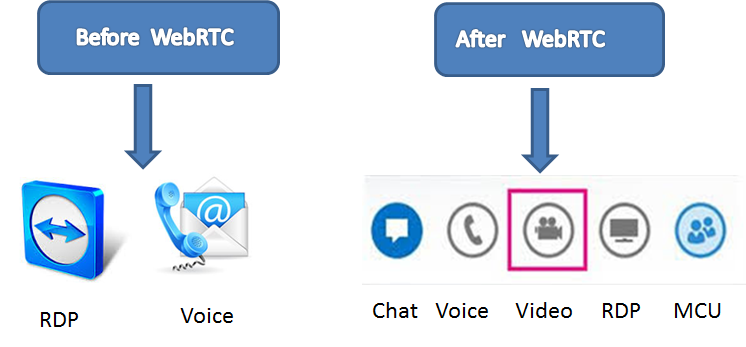 As can be seen in this diagram, WebRTC enables multiple communication option in your tool, pre-sales organization can conduct online demos, can take help of coworker by group video chat, and can collaborate document presentation. Post sale organization can deliver f-2-f support through website.
WebRTC since it's inception has produced disruptive changes in video conferencing landscape. As we have seen in the examples above, WebRTC in industries is providing new mechanisms of delivering services and customer experience, benefiting not only vendors but also customers. Virtual Meeting Rooms (VMR) enabled by WebRTC are giving new definition to on-demand collaboration. It's forcing enterprises to relook their collaboration strategies.