What is HubSpot and What Does It Do in 2020?
June 23, 2020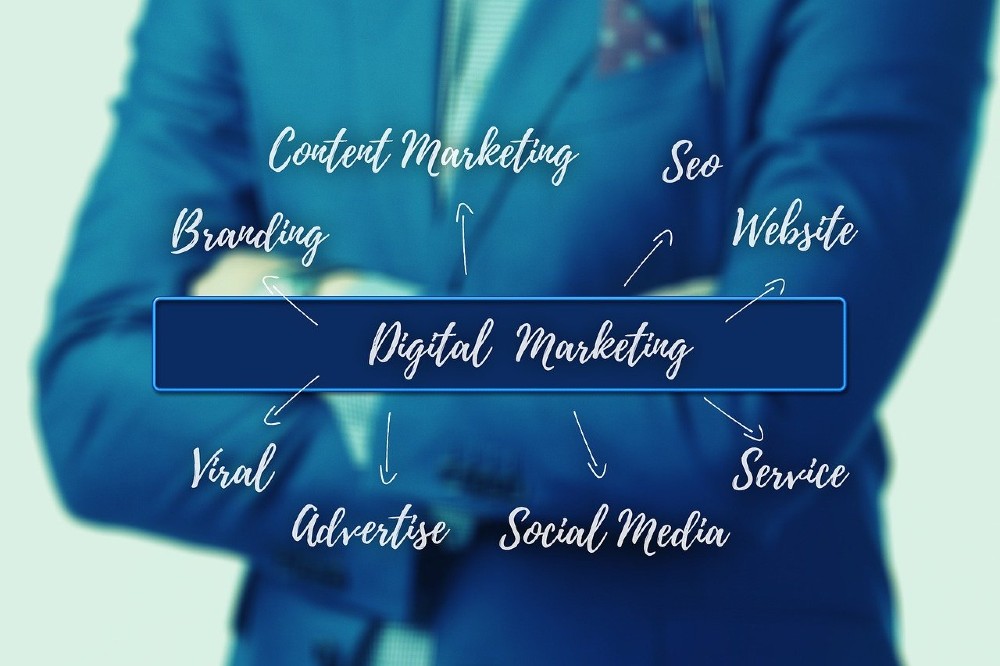 HubSpot Academy, HubSpot Certifications, HubSpot Blogs- Many of you are already familiar with these terms- if you belong to the Marketing/Sales/Support zone. Even HubSpot is the eminent name (or solution provider) that enterprises and businesses are leveraging to achieve their success goals in an emphatic way.
However, what exactly is HubSpot? What does it do? How is it helping so many business people and enterprises?
1. What is HubSpot?
2. Why use HubSpot?
3. What is HubSpot used for?
4. How HubSpot pervades itself in various areas?
5. How does HubSpot work?
6. Who uses HubSpot?
7. What is next?
What is HubSpot?
HubSpot is an inbound marketing and sales software that helps enterprises attract prospects, convert them, and close customers. It is designed to align sales and marketing efforts, foster sales enablement, optimize their processes, and boost ROI. It is a leading growth platform that comprises the software products for inbound marketing, sales, and customer service- eventually, these help you sell better and grow better in your niche market. In nutshell, it is a complete suite of tools for marketing, sales, and service- that together helps you to scale in a better way.
Founded in 2006 by Brian Halligan (Co-founder, CEO) and Dharmesh Shah (Co-founder, CTO), HubSpot is based out of Cambridge, Massachusetts. It offers a full-fledged stack, named- HubSpot Growth Stack. This software is specially designed to help build the appropriate sales pipelines and accelerate revenue growth. Plus, this stack includes a CRM along with- Marketing Hub, Sales Hub, Service Hub, and CMS Hub. These hubs are playing their vital roles individually as well as in compilation too. As per the HubSpot-
"Powerful alone. Better together."- HubSpot
Why use HubSpot?
So, you have come to know that what is HubSpot. Now, why to include it in your business strategies! Is it really efficient? Let's discuss why to use it.
First, HubSpot is an all-in-one tool that aligns the marketing and sales efforts- that in turn helps produce the desired results.
HubSpot strategy resonates with modern consumers- in terms of both behavior and psychology.
You can have the right conversation with the right people at the right time.
It helps generate qualified leads and increase brand awareness.
Educate your prospects and leads throughout the buyer's journey.
It empowers the marketers to connect with the consumers and engage them with your brand at their convenience and space- 24X7.
It helps the enterprises to attract ideal customers by educating them or by addressing their problems in real-time.
HubSpot focuses on "Growth Content", i.e. - the relevant content exactly what the consumers need and it focuses on the original thought so that the visitors find it resonating with their issues or requirement.
With HubSpot, you can design and build the website that knows your visitors- as a name, but not a number.
HubSpot helps bring organic traffic (high-quality engagement) towards your website and business via their result-oriented strategies.
You can make smarter data-driven decisions by filtering the best opinion from different perspectives of your marketing, sales, and service teams.
Until not only closing the deal, but HubSpot is keeping the customers engaged after that so that they will convert into your advocates.
What is HubSpot used for?
To begin with, HubSpot is actually connecting the specific marketers to their potential customers to not only sell, but to make a long-term credible relationship.
Now, technically, HubSpot uses its hubs- marketing, sales, and services- to attract the leads, keeping them engaged, to qualify those leads, and to convert them into your promoters. In other words, HubSpot is to help the marketers with the best "inbound marketing" strategy to magnetize the ideal customers and keep them engaged with the relevant content for what exactly they are looking for.
Above all, its cloud-based attribute allows the customers to track the results in real-time through analytics, customer success & support, the feedbacks, and a mélange of other CRM operations that help in following the customer's requirements- as they are. In addition, its tools & technology portfolio empowers the enterprises in the marketing zone, tracking the sales record, and analyzing the performance accurately.
In essence, HubSpot is the all-in-one software that helps enterprises and businesses communicate, manage, and maintain the customer base by delivering them 360-degree solutions, which escalate the revenue streams.
How HubSpot pervades itself in various areas?
HubSpot Growth Stack consists of the marketing, sales, and customer service, with a completely free HubSpot CRM at its core. CRM or customer relationship management tool empowers all the customers to leverage all embedded features in all the hubs that will make the process smarter and easier. Individually, these hubs function at their best, but CRM is something that is complementing their functions- especially for the customers to enjoy this bonus edge.
Let's discuss the HubSpot Hubs explicitly.
1. Marketing Hub
The Marketing Hub is designed to carry out the marketing efforts- and to make them easier and more productive. It is used to grow high-quality traffic, convert them into qualified leads, delight them with what your prospects prefer, and execute the complete inbound marketing campaign at scale. This HubSpot enablement is available free with a set of limited features, and to utilize it more professionally and to enjoy more features, including the free ones, the paid version is available,
The free version may include- email marketing, contact management, contact insights & activity, and traffic and conversion analytics, etc. - while – the paid will go with marketing automation, SEO tools, blog & content creation tools, analytics dashboards, and social media tools, etc.
2. Sales Hub
The Sales Hub is a time-saving tool that eases out the complex manual sales operations. This hub is enabled with some automated rules that cut down the manual intervention and connect with the consumers on their terms & conditions. It is simply to improve the response time and close the deals faster and accurately. Again, this hub is available free with some features, and the paid version includes more enhanced features with the free ones, which you can leverage the most in your sales process.
The free version may include- contact, deal & task management, email templates, scheduling, and tracking, in-app calling/ call tracking, and live chat, etc. Withal, the paid version comprises- sales automation, Salesforce integration, predictive lead scoring, smart send times, and multiple deal pipelines, etc.
3. Service Hub
The Service Hub is purely dedicated to optimize and enhance customer service. It is used to listen to customers, communicate with them, exceed their expectations, and convert them into your advocates that will eventually grow your business. Again, this hub is also categorized into free and paid models. The free one includes some limited features and the paid version accommodates all the free features along with some enhanced features set.
The free model contains- ticketing, team email, calling, email and chat to ticket, ticket creation bots, and reporting, etc. On the flip edge, the paid model includes- customer service automation, knowledge base, multiple ticket pipelines, customer feedbacks, custom support form fields, and video creation, etc.
4. CMS Hub
The CMS or Content Management System is to help customers gain more flexibility and personalized experience. It is actually designed to help all people- deliver scalability to marketers, design-ability, themes to developers, and secure & customized experience to the consumers. In short, CMS Hub is to create and manage the website pages with personalization for specific visitor explicitly. Especially, if you are a non-techie person and have no clue about design and coding, HubSpot CMS empowers you easy editing without having the know-how of programming stuff. Yes, CMS Hub is all set for your enterprise, but at some cost.
Its powerful feature set includes- SEO recommendations, numerous website themes, multi-language content creation, drag-and-drop editor, adaptive testing (test up to five variations of a single page), content attribution & reporting, and a lot more.
Bonus: Website migrations and redesigns are tough. HubSpot can make them easy for you.
How does HubSpot work?
Well, yes it's 2020- somehow, unfortunately, we get stuck due to the COVID-19 pandemic. However, life must go on- the business must go on. Simultaneously, business continuity has also become one of the major challenges, from which the enterprises and organizations are encountering with. How to survive in Covid-19 times and how to get prepared for after-COVID-19 times, etc. are included in the bucket list of the businesses today.
Nevertheless, what does HubSpot do in 2020? It actually follows the customer "flywheel" that explains the entire customer/buyer journey and helps customers 24X7 with its 360-degree solutions.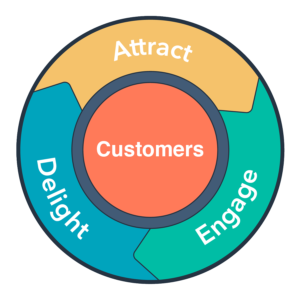 In fact, this flywheel works from the scratch till the end- when the visitor will turn into your promoter. Initiating from the inbound marketing to sales outreach to customer service- every phase is important and playing its vital role in your customer's success and in growing your business.
However, before going in-depth, HubSpot creates the "buyer persona" for all its customers. It is actually a virtual representation of the targeted customers. For e.g. - CEOs, marketing managers, sales managers, etc. are the customers. And, they have their different business goals, different requirements, and a different budget. So, to categorize the customers according to these terms- is something that you can call it a buyer persona. Simply, study the customers thoroughly and create an individual buyer persona. 
Now, let's dive deeper to understand the buyer's journey thoroughly and how HubSpot helps the buyers achieve their goals.
1. Attract
The customers- but not- the ideal customers are your targets, who are looking for "your type of service". It is the first step of the inbound marketing methodology. It includes the content creation that should address the customers' challenges and the relevant & appropriate solution to those issues. After all, every individual is interested in the solution. So, here, the robust content strategy is designed that producing content in different forms, such as- blog, infographics, video, audio; and distribute it across social media channels to spread its reach- to make it available for your potential customers. Then, the content strategy is optimized with SEO to make your content appear higher on the SERP (search engine result page).
2. Engage
The second step is to create long-lasting relationships with the customers by keeping them engaged with a personalized experience. The conversion tools are added, such as- CTAs, forms, and lead flows to collect the information of prospects landing on your website. Then, the compiled information is used in the CRM tool to personalize the website experience by employing smart content, and the entire buyer's journey using email and workflows. All the steps are executed to make the experience unique that perfectly fits with the customer's business needs.
3. Delight
It includes email and marketing automation along with conversations so that the right message will be delivered to the right buyer persona. Plus, the same conversation box is already accessed to the sales and service team as well with the marketing team- to keep every step in the process aligned. So, it's time to create and start the contextual conversations with the customers in order to make the customers delighted at the end. Choose the content that your customers prefer- and they will become the advocates of your business.
Who uses HubSpot?
In one line- any enterprise, small-medium businesses, large organizations, firms, non-profit organizations- anyone can use HubSpot. But, majorly, B2B and B2C enterprises look for the lead generation and higher revenue production strategy, and HubSpot is an ace in that. Also, we can define the following can use HubSpot:
That doesn't have geographical boundaries
That is ready for a culture shift
That knows and understands that results won't occur overnight
That focuses on the solution rather than the product
That's business is based on cloud and mobile
That works on connecting with customers for long-term
Nowadays, marketing and sales is a fuel to drive customer success engine. And, HubSpot is an ace of marketing & sales ground.
Here, what we can believe is that HubSpot is a customer-centric platform that helps its customers in any way- by integrating innovation, automation, scalability, and personalized experience. And, we all know it is the best way to educate, attract, engage, and delight our customers by offering them customized information- for what they are seeking for long.
Your ideal customers are looking for you- make yourself available very first for them with HubSpot!