What is Inbound Marketing? A Holistic Overview of Inbound Marketing Approach
June 17, 2020

If you have just launched your start-up business or are looking to revamp your existing inbound marketing strategy, here are the value-driven tactics to try out and master.
1. What is inbound marketing?
2. Why does your business need inbound marketing?
3. What are the advantages of inbound marketing?
4. What are the different inbound marketing strategies?
5. How to start with the inbound marketing process?
6. How do you execute the inbound marketing process?
7. What is the role of marketing automation?
8. Learn to measure your success
9. Frequently Asked Questions
What is inbound marketing?
In layman term, inbound marketing is a marketing approach that attracts people towards your business using specific strategies, as- content, social media, graphics, and emails, etc.
Diving technically, inbound marketing is a digital marketing strategy that focuses on developing quality and relevant content, pulling the people "into" your product and brand. It is an organized plan of action to earn the attention of people by giving them reasons that they come to your business. Precisely, this methodology is like delivering experiences customized to people's researches and looking forward to making and nurturing relationship in the long run.
Why does your business need inbound marketing?
Because helping customers succeed is key to your business success.
Customer success has the power to help you grow and turn them into your promoters and advocates. This is why, the inbound marketing peeps in- to help your customers organically and truly; and to enjoy your success in their success.
Now, let's explore technically why inbound marketing is hot nowadays.
The foremost reason is that inbound marketing helps marketing techies deal with their primary challenge- to generate quality website traffic organically. The first step that this approach includes is the optimization of each traffic source in the way that a person finds it helpful (that what it is the motto). The blogging, SEO, social media marketing, email marketing, etc. are some of the organic tactics through which the visitors will land on your website. And, the best part is that they get attracted by the valuable & relevant content, what they are looking for. I believe it's all about inbound- to help customers in their way and compel them to look at your website and services.
The second rationale must be the focused and smart marketing strategy to generate more and more qualified leads. Yes, it is an ever-going process that requires a planned strategy and several efforts. It's not an overnight process. Even, it's all about creating a well-thought marketing strategy that comprises all nuts and bolts of digital market and how to turn customers towards your business. Initiating from targeting multiple buying personas to developing tailored content- all are counted in a smart marketing strategy that attracts qualified prospects and converts them into leads.
Finally, yet importantly, inbound marketing brings higher ROI with marketing analytics. ROI is something directly proportional to the monetary success of an organization. And, yes, it can be acquired and even accelerated using the organic strategy. This process certainly consists of a deeper understanding of the buyer journey and designing the content strategy for each phase to help them, and studying the customer behavior as well after a regular interval- that will also convert into your promoters as well. Thus, the customer will get exactly what they are looking for, and you can have your eye on statistics (that help you analyze your customer behavior) - this will definitely take them as well as you to the ladder of success. Eventually, it will help you build credibility, develop trust, foster relationships, and boost up the ROI too.
What are the advantages of inbound marketing?
1. Generate qualified leads
With consumers having control over the information they search, inbound marketing strategies enable consumers to reach that relevant information. This tactic believes to be in two-way communication and that's why, they allow leads to directly participate through the information they are looking for. It is actually reaching to them, who are already interested and attuned to listening from you. Once they click a link, they are communicating their interest to you. Here, your follow-up efforts should be focused on the individual lead and hence, continuing the process to mature that lead successfully.
There are certain inbound tools that filter your audience and those people are already showing interest in your services, and are ready to take action. Hence, you are already reaching, generating, and following up with more qualified leads.
2. Increase brand awareness
Your brand is the recognition of your business, and its position is created among the audience through many resources. Word-of-mouth marketing is one of the strongest sources that can make your brand's name in the market. And, with inbound marketing, you can broadcast your services through blogs, videos, ads, etc. Since your target audience is of a specific niche, you are more likely to narrowcast your message. Once they find the content in the form of a blog that addresses their challenges and delivering solutions, they find your company to trust upon. As they find it a trustworthy source of expert information, they start to share it with others. Plus, social media interactions play their role as well.
Once it starts spreading outside the community, more people will talk about your brand & services, and eventually, reach you.
3. Shape brand preference
Brand preference is choosing a specific brand when compared to others in terms of its influence, price, and availability. And, inbound marketing is the strongest weapon to build brand awareness among the audience. In fact, market research is the key to shaping brand preference. And, the inbound marketing is based on the research that includes addressing customers' problems, delivering them the relevant solutions, finding what is appealing to the customers the most, what motivates them, etc. The inbound tactics focus on these parameters and enable marketers to listen to customers anytime 24X7.
Brand preference is a reflection of brand awareness, successful marketing strategies, and customer loyalty. And, inbound marketing builds the brand and maintains its strength throughout the buyer's journey.
4. Put the customer on the driver's seat
It's about the customer, not the marketer- this is the principle of today's world. Inbound marketing helps companies put the customer forth before their services. Adopting this strategy allows the companies to carry out deep research about the customer- his/her interest, challenges, etc.- to help them in any way. In fact, inbound marketing is all about assisting the customers in the form of providing them the exact information about what they are looking for. And, this is a purely organic method that doesn't interfere in the customer's business. Instead, the customers are the drivers and they find out the right path (right and relevant content) to drive on it. And, the companies are ready to entertain the customers, who are already driven by their relevant content.   
5. Improves Site Rankings
Not only humans but also search engine bots should approve your inbound marketing strategy. These bots will crawl through your website and analyze it whether it is useful for customers or not. It does certain more actions as well, like- indexing, checking relevance & authority, etc. So, the inbound marketing strategy contains SEO (search engine optimization) that makes website appropriate (for human and bots both) and eventually improve the rank of the website so that when your targeted customer will find your kind of service, they will find you right at the first page of search engine.
6. Boost sales and revenue growth
Closing more and more deals will definitely boost the sales of an organization. It is kind of the biggest challenge to mature leads or to turn prospects into customers. Thus, an efficient inbound marketing strategy that helps prospects get the right solution whenever they need it- it will definitely increase the rate of sales closing. Although it is not an overnight process, but inbound efforts build upon themselves over time. Eventually, it'll generate more qualified leads and close more number of deals than expected.
Once, the sales growth has touched the edge of success, the revenue will involuntarily increase. It is true that most of the marketers, who adapt inbound methodology with the sales enablement- they are more likely to experience sales growth and revenue acceleration.
7. Build trust and relationship
The foundation principle of inbound marketing focuses on interaction and building trust & long-term relationship. This methodology emphasizes on more & more communication via offering them informative content, answering their questions, delivering them the solutions, and delighting the potential customers occasionally. The quality and real content helps establish your company's authority and the consumers will learn to trust your expertise. This might happen even before they contact you or make any purchase from your company. Hence, as you build your status, the consumers will trust you and this will warm them up for future purchases.
What are the different inbound marketing strategies?
1. Content Marketing
The content is a core part of inbound marketing. All it starts with creating different forms of content, such as- blogs, social media posts, emails, infographics, whitepapers, case studies, cheat-sheets, website content, e-books, podcasts, webinars, events, videos, and so on. It's actually the incredible and quality content that pulls the audience towards it and compel them to explore the product and companies. Then, publicizing, or distributing content among different social media channels is the way through which your content will reach your audience.
By the way, content marketing is going to help the customers at each phase of the buyer's journey. It's true!
2. Search Engine Optimization
No doubt, SEO or search engine optimization is an integral part of the inbound marketing strategy. Although content is there to educate the ideal customers, but all you need to optimize the content to increase the reach. Thus, SEO lands here. It is a process that needs focusing on certain pointers, such as- a set of keywords, building backlinks, and analyzing traffic within a regular period. Just, set a pre-defined timeline, produce content, optimize it, and execute the analysis & reporting procedure. It will help you study patterns that help you understand which keywords or content go in synch with customer's requirements.
Want your website on the first page of the search engine? Produce quality content and dip it in the SEO process.
3. Social Media Footprint
Social media is the face of the digital world. Without an iota of doubt, remain active on social media platforms will bring you more engagement than you expected. LinkedIn, Twitter, Facebook, Instagram are the most commonly used platforms and the majority of digital marketers post an average of 2-3 times a week. Now, you can guess the engagement rate, isn't it? Thus, creating content and circulating it on these platforms will definitely increase the chances of getting more leads organically. Especially LinkedIn, it is B2B specific professional channel with all techies, digital marketers, CEOs, sales reps, and many more.
Moreover, social media focuses on more personal one-to-one communication that derives more humanization. Simply, be real about your business, and this is how, you will stand out on these interactive social media channels.
4. Pillar Pages & Blogs
Blogging is the most common inbound marketing strategy that drives the maximum amount of organic traffic towards your website and nurtures leads. However, it's time for innovation and inbound, a pillar page is something that you should consider in this list. A pillar page is something that includes all possible information about a specific subject. For e.g. - a pillar page or a blog of social media marketing is created. It includes the sub-topics, as- Facebook marketing, LinkedIn marketing, Twitter, or Instagram marketing, etc. And, these sub-topics have their individual blogs that are linked with the pillar blog through hyperlinks.
This strategy is also referred to as topic clusters. It is in trend and you should give it a try.
5. Email Marketing
All the above-mentioned strategies are going to help you in times when you are attracting the visitors towards your product & services. Now, let's switch to the second mode, i.e. keeping them engaged throughout.
Emails are the most professional and versatile mode through which you can execute your inbound marketing process. Once the visitors show interest in your services, it's time to get in touch with them through emails. Yes, it's one of the strategies to convert them into leads. Simply, pitch the solutions to their problems, educate them about your products (showing them how it can help in their business), assure them that you will help them in their business growth, give them the snippets of the case studies or e-guides, etc. Start shooting emails with compelling subject lines so that the customers get compelled to open the mail and read it. Plus, make the content impulsive and solution-oriented that help your customers in any way.
Don't flood their inbox. But, still, be in touch with them consistently.
6. Website- Always in Trend
Ultimately, the objective is to drive quality traffic towards your website. Thus, your website is as essential as other inbound marketing strategies. Here, you need to be double sure that your website is marketing & sales ready that converts the visitors into your customers.
Website Design- Your website design should be clear, crisp, and streamlined with what you are selling. Make sure that your website is upgraded with the latest trend and technology that acts as a cherry on the top. Plus, your website should be mobile accessible without losing any content or any other collapse/enlarge issue.
Landing Page- It is just a click away and your leads are converted. I believe that you have now understood how much importance the landing page possesses. Define the benefits and the solutions that your customers are looking for in a short and crisp form. It should be compelling enough that makes customers fill the form or click on the CTA button.
CTAs- CTA or call-to-action buttons are the most forgotten elements of a webpage. It is the way through which your inbox will welcome the message of your customer, or you'll get notified that the customers want to connect with you. Don't ever miss it!
7. Conversational Marketing & Chatbots
Conversational marketing is something that comprises two-way communication between the customer and the marketer. Chatbots, live events, episodic content, and webinars are some of the examples of conversational marketing methods. These actually create personal long-term relationships at scale. Enable customers to chat at their time and convenience, and get ready with your chatbots or live chat to reply them back. After all, no one wants to take the chance of missing even a single conversation, right?
Test and Recap- It's time to test your inbound marketing strategy- whether it will work or not. Although it's an organic process and it takes time to derive results, still testing at each stage of the buyer's journey is a must. If it works, it seems pretty impressive. On the other edge, if it doesn't, then start re-marketing with might be some different resources or using a different timeline. Don't forget to store the analysis, statistics, and reports that have the answer-why it failed.
How to start with the inbound marketing process?
Just understand & define the target buyer personas and you are good to go.
A buyer persona is the fundamental essence of the entire inbound marketing process. A buyer persona is something that you create. Yes, it is a fictional representation of your ultimate customers. For e.g. – there are several buyers in your target market. However, there are a few, as- CEOs, marketing managers, or sales managers- who might purchase your product or services. Plus, they have their different set of goals, interests, and priorities. Thus, defining the buyer persona is something that you categorize them according to these three principles.
Simply, you need to study the current marketing trends, find out the exact buyers who you are targeting, what makes them tick your checkbox, and how they communicate- will help you develop the right message that will go aligned with their requirements. Investing your proper time here and understand the characteristic of each buyer persona will make a solid-rock foundation that will help you focus on the right topics for content creation that will truly resonate with your ideal customers.
How do you execute the inbound marketing process?
Simply, deliver the right solutions to people's problems in the form of helpful content and that's how you will run your inbound marketing campaign.
Going deeper, inbound marketing is the digital strategy that comprises producing meaningful content that empowers the audience to reach their goal at all stages of the buyer's journey. It's all about the pull marketing strategy. Thus, it depends on how you help and deal with your customers at each stage. This is how your organization builds trust and develops a strong foundation for the entire inbound marketing process.
Let's study the customer's buying cycle in detail through an inbound marketing "Flywheel". It derives the continual process and drives future growth by investing in each section equivalently. You don't need to start again from crux after a specific span of time. It swings around and always maintains the equilibrium among these three components of the customer buying cycle.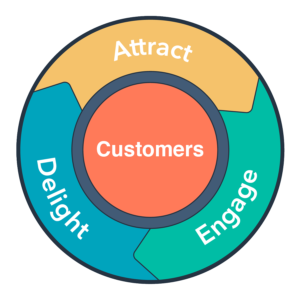 1. Attract
It is the first step of the buyer's journey. This phase includes that completely focuses on creating and publishing compelling content in the form of blogs, social media posts, articles, etc.- that answers the queries of your customers. Moreover, optimize your content strategy with SEO. The process has a set of specific targeted keywords related to your products along with how you are solving the pain points of your customers using those. This will enable your content to appear higher on the search engine result page (SERP). Thus, it's easy for your ideal customers to find you when they are looking for their desired information.
2. Engage
The second step is to convert those visitors into qualified leads. Include optimized landing pages, forms, and convincing calls-to-action tools in this stage to bridge the interactive gap between you and your customer. Show them that you are looking forward to cultivating long-term relationships, include some strategies, as- how you deal with the inbound sales calls and get them assured that you are their solutions provider, not the product seller, etc. Don't forget to complement this phase with whitepapers, e-books, infographics, webinars, tips guides, and case studies.
3. Close & Delight
Add tools, such as lead scoring, lead nurturing, closed-loop reporting, vast lead intelligence, and emails along with the market-proven practices to follow-up with leads. Using these tools, work on the process of assuring customers that their process is in the final stage to transform those leads into new business.
Further, delight is a secret sauce that ensures referrals and renewals. It is to assure that the customers are happy and supported even after the product purchase. Add surveys, smart content, social monitoring, and well-timed chatbots to assist, support, and ask for feedback. However, put surveys and chatbots on the appropriate point of the buyer's journey that, makes sense and delivers value. Keep the survey per six months so that you will come to know their feedback about the product & series and some new ideas for improvement.
What is the role of marketing automation?
Self-defining, marketing automation manages, automates, and measures different marketing tasks, activities, and processes. It simply replaces the manual and repetitive marketing tasks (social media, emails, ads, etc.) with purpose-built applications that are geared towards the performance. So, basically, marketing automation is a streamlined, quick (time-saving), and an efficient process to optimize how the task is completed, and allow you to invest more time on other imperative tasks.
Marketing automation acts as a fuel for the inbound marketing engine that ignites the fire, helps its continuous ignition, and takes it to the ultimate end. Yes, this process helps the marketers right from the scratch to the beautiful ending, as-
It helps in developing the relationship with leads, which are still not customers through targeted email marketing campaigns.
Between the process, it helps in your inbound efforts by dividing the legitimate leads and the not-so-legitimate ones.
Eventually, integrating marketing automation to your CRM (customer relationship management) ensures that your leads won't get lost in the system.
In the end, marketing automation brings you certain benefits:
Enabling personalization by creating customized content for your personas
Your customers will get the same, and consistent, experience based on their actions. This will enhance customer retention and relationships
This process also improves the marketing and sales alignment without jumbling in any kind of chaos.
All that will go structured and organized automatically will surely increase the number of qualified leads
Learn to measure your success
Yes, it's true. Many marketers don't know how to quantify success. At times, they anticipate the big score of followers as their success. It might sound impressive and exciting; however, it's not going to deliver you the real business profit.
Rather, you should turn your head towards the financial metrics that reveal how your strategy helps your business generate profitable leads and faster growth as compared to your competitors. So, what you should need to do to measure your success?
First, measure it in terms of organic traffic. You can simply quantify it by checking your website's rank or position in the SERP (search engine result page). However, that shouldn't be there when someone directly put your website's URL or search by your brand name. The search can be performed by some other means, like- any keyword that specifies your services. Fortunately, if your company name pops up higher on the first page, then you have gained much from the organic search.
The second step is to audit the traffic on the website and check how much will convert into leads. That will pitch the idea of how much it is needed to adjust your marketing efforts.
Further, check out the trends, including figures and qualitative things so that you can notice how fast your online presence is improving.
Frequently Asked Questions
What is the difference between inbound and outbound marketing?
Inbound marketing is based on content creation and distribution on social media channels to spread brand awareness so that audience will know you and then show interest in your product. On the flip side, outbound marketing is all about when the digital marketer reaches the audience through door-to-door sales or cold calling to know whether they are interested in their product or not, without knowing if he or she is a qualified lead.
What is the difference between inbound and content marketing?
Basically, content marketing is a subset of inbound marketing. Since content is the soul of inbound strategy, content marketing is its part that includes optimizing content (creation and distribution on different channels). Inbound marketing is to attract visitors with content, engage them constantly by turning them into customers, and finally delight them with long-term assistance and relationship (turning them into promoters).
What companies use inbound marketing?
Companies such as- enterprises, large organizations, firms, SMBs- all are using an inbound marketing strategy exclusively. Plus, a major section of B2B and B2C companies seek an inbound marketing strategy for lead generation. Besides, some of the non-profit organizations are also turning towards this methodology for converting leads irrespective of company size or sector. Despite the discussed info, some of the marketers adopt inbound marketing solutions to address the challenge of acquiring higher ROI and securing a large amount of marketing budget for the upcoming year.
What is B2B inbound marketing?
B2B or business-to-business inbound marketing targets the requirements & interests and addresses the challenges of the individuals, who are making the purchases on behalf of, or for, their business or organization. Thereby, here, the customer is also a business or a company.
Is inbound marketing effective?
A well-executed inbound marketing strategy can bring 10X more conversions and improve the overall growth of a company. However, the strategy should be battle-tested and the execution should be organized and flawless.