Technology Winners and Losers in the New Post-COVID-19 Market
July 2, 2021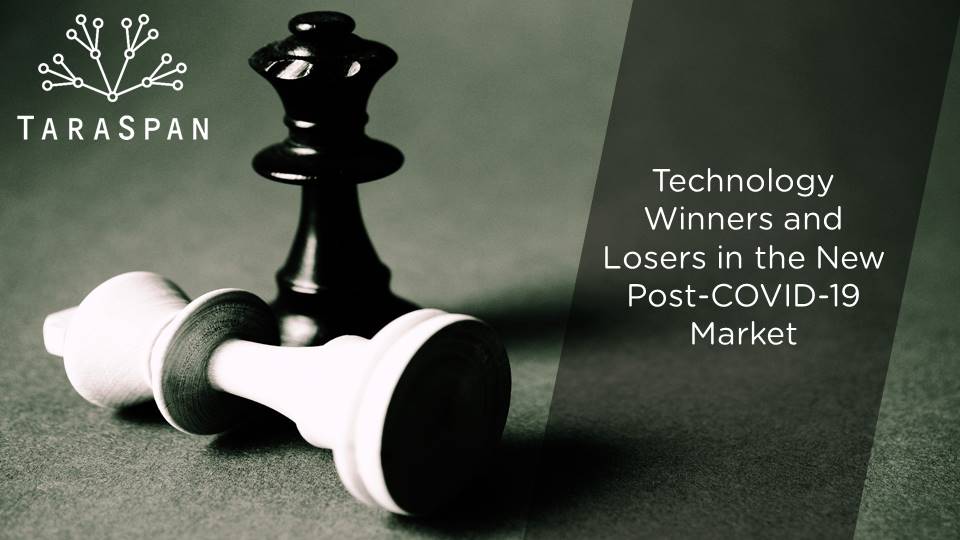 Just as a significant historical moment has its own influence, the COVID-19 pandemic has also affected the entire planet. It has shifted the business models and the societal adaptation to a new norm. Also, it has transformed the technology landscape and breaks it into technology winners and losers of 2021. 
Business rebooting has become the trend to survive the current trying time and the post-pandemic era. We have compiled here some technologies that work well even after the business shift, caused by COVID-19, and some require a rethink post-pandemic.
 So, here we go.
Technology Winners and Losers Post-COVID-19
Technology Winners
1. Cloud-Based Video Conferencing
Eventually, digitalization fits into the new rhythm of the business era, as work from home is a new norm and that will reduce physical contact.
In such testing times, video conferencing has become the all-encompassing go-to-service for all business ventures and educational units. Ranging from business review meetings to product training, digital festive celebrations, corporate meetings, and webinars, etc. – all are included in business processes and strategies today. And, the educational entities are leveraging video conferencing for the online classes to educate students from their homes.
Moreover, video conferencing is spinning up more and more towards the cloud to exceed the advanced requirements of business and educational ventures. Even, the organizations are more focused to ensure consistent performance for those working from home with negligible loss of video quality.
In short, cloud video conferencing is the top-notch winner of technologies in the current crisis that helps businesses gain resilience and build a strong business continuity plan.
2. Centrally-Managed Softphones
Most of the organizations are turning to the home-office setup to remain collaborated among the team while connecting to the customers in the best possible way in COVID-19 times.
The softphones are the viable and constructive option to ensure business continuity during this health crisis. You can have or access all the functions of your desk phone in your device using a softphone. You can make, pick up, and transfer the calls using your desktop or laptop. It is actually a software that functions as your business desk phone.
The bonus is not only you can enjoy the features of your desk phone, but you can leverage the features of the unified communications as well. E.g. you can manage your presence, access instant messaging, select your calling ID, set forwarding rules, and even access wonderful video collaboration options too.
Besides, it is also a mobile solution; it doesn't have to rely on a particular place or time. Simply, login with your credentials, given by the service provider, and access all features of your softphone from your home or anywhere. And, the softphone is a centrally-managed platform – that implies – the IT person can configure, manage, and distribute applications from that one interface. It doesn't require any traveling, even in the case of some issues. That can be easily resolved remotely as well.
Definitely, the softphone deserves to be in the list of technology winners in the times of pandemic and after it.
3. DaaS
After the prolonged lockdown, everything is getting normal again. However, it was a big challenge to maintain at least mission-critical operations, and even currently too.
Meantime, Desktop as a Service or DaaS is evolved as a boon for the organizations. It is the most suitable solution to be counted in the current crisis – to continue business operations securely. With it, you can avail virtual desktops and allot to your employees – using which they can access them from their homes easily.
In a way, the DaaS solution uses the central servers, hosted on a cloud platform, to store or lock away all of the resources that are required to run desktop environments on PCs or laptops. You can easily consume or access those resources (applications, and data) via your internet-enabled device and work from anywhere.
The best part is that you don't need to worry about setting up VPNs or other types of infrastructure to access them remotely. Since it is hosted on the cloud with locked encryption, you can access them directly from anywhere with no risk of data loss. Even, it eradicates the need for new physical hardware every time a new employee is on-boarded.
Hence, with so many perks, DaaS is a highly relevant solution for the remote working scenarios in the ongoing Coronavirus outbreak or after it.
4. BYOD
While COVID-19 is engulfed across the globe, businesses are facing unique challenges to assure business continuity. The primary challenge is the immediate procurement of devices to sustain employee productivity while working from home, and that to in less time.
And, none other than the Bring Your Own Device (BYOD) model proves fruitful in such a situation. It enables the workforce to use their personal devices for work in order to stay productive and ensure business continuity.
The main rationale is that when the lockdown was imposed, the IT departments didn't have much time to support everyone, who was going to work from home. In those tough times, BYOD was the only solution that helped the organizations and businesses. And, it doesn't require any hardware setup and doesn't bear some extra infrastructure cost. Simply, the employees connect their devices with the internet and access their all resources through the cloud desktop virtualization model, i.e. DaaS. 
BYOD makes business operations smooth and at a very rapid speed. It has to be in the list of technology winners of post-pandemic - today, tomorrow, and always.
5. Room VC solutions which natively support cloud VC Platforms
Fortunately, we are living in a hyper-connected world where laptops, tablets, and super-powerful smartphones exist – with the help of these, sharing the presentation, and attending a face-to-face meeting become easy. Since COVID-19 grabbed the entire world in its paws, this technology lends the enterprises a hand to continue communication remotely in this pandemic.
However, what would happen if the room devices are not interoperable? In that case, you won't be able to connect in a video conference with your user or client or even your business partner. Eventually, it has become a barrier to proper and clear communication. The reason is that not every person has the same video conferencing device and technology. And, if the companies don't have the video conferencing systems that support other platforms, it would be very difficult for a business in such trying times. Maybe, you won't attend the meeting that can make or break your deal, or you can't showcase your product virtually.
Technology Losers
1. Desktops-Based Apps
This is a mobile world where we can access everything from the cloud, where every IT venture or business is using the cloud for secure storage, accessing applications in just one click, and can work from anywhere – all without any hassle.
The internet and mobility allow the digital workforce to stay productive from anywhere and exceed customer expectations successfully. Meantime, the desktop-apps glue the employee to the desktop because these applications won't run anywhere else. And, if you want to utilize them on some other device, then you have to install it once again and then use it. At maximum times, your data may have been lost due to some malfunctioning of your desktop.
Specifically, in COVID-19 times, the desktop-based applications have dropped off due to their immobility feature. Since they function on a single device, they can't be used while working from home. And, hence the employees, even the organizations have turned their heads away from them.
Even, you can install the desktop application on your device, it needs to install again, some of those apps require a license, you can't get your data, and these apps won't deliver you all upgrades as well.
Sooner or later, the desktop-based applications don't support the companies in such a crisis. Hence, these are the losers in the list of technologies in and post-pandemic.  
2. Corporate Hardware
Computers or desktop PCs never fade away. Although the laptops can be shipped to the employee's place, but the heavy desktops and the huge monitors are cluttering up the office premises and are going to be much less popular.
Moreover, they are also not the stuff that is going to help the organizations in COVID-19 or some other crisis or disaster. These can't be transferred and hence, of no use, even in the future. Rather, virtual private networks and firewalls can work better and don't consume space in the office.
Even, worse, most people don't have the PC setup in their dwellings. Comparatively, they have their laptops, tablets, and mobile phones that are most utile. They are handy, mobile, and easy to carry anywhere to work easily, while, the corporate hardware fails to stand up in today's digital world.
At this point, we can assert that the corporate hardware didn't support the organizations In the lockdown, and won't accompany after this pandemic. Hence, it's a technology loser.
3. Vendor-Locked In VC Room Systems
Sometimes vendor-locked in VC room systems can induce frustration in connecting virtually with people in an organization. These systems don't support the interoperability and can lead to hitches while video conferencing and other video discussions.
This situation can be only viable when you've deployed the same systems across your locations, your customers' and your stakeholders' locations. But, that's not practical enough to execute. In fact, most of the organizations use three and more different systems and have to connect outside the company most of the time.
Meanwhile, due to COVID-19, it's impossible to travel repeatedly, it is necessary to get connected virtually while working from home. And, because of different systems at different ends, connecting seamlessly is becoming questionable. The result can be seen in form of non-interoperability and hence, business loss due to improper communication.
Who are the True Technology Leaders?
The answer is simple- the technologies that are making a difference, are not impacting the businesses & organizations in COVID-19, and will continue post-pandemic in shaping the world better than before – are true technology leaders.
Anyhow, comprehending this list of technology winners and losers, it's time to rethink and restrategize your business technologies and processes!