What is Softphone? Learn about its Features, Benefits & Much More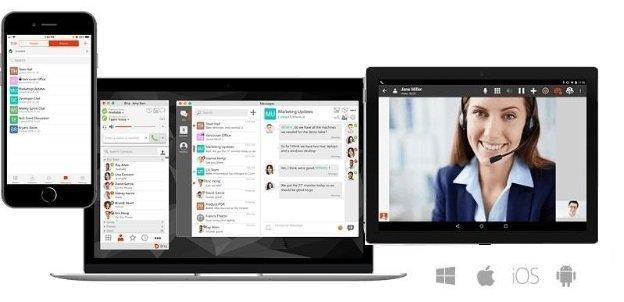 Professional communication has become the pressing priority for organizations to survive in this cut-throat era. Plus, it should be consistent, reliable, secure, agile, and uninterrupted to flow with the wave. Along with verbal communication via phones, there are many more aspects that are establishing their value. Video calling, instant messaging, presence, and cloud-based provisioning tools, etc. are also making their place in the corporate world to enable a robust collaboration among the workforce, clients, customers, and partners.
It's high time to upgrade your legacy systems with collaborative solutions to address the pain points of organizations and develop a simple, secure, streamlined, and productive communication across the entire organization. A softphone is one such next-gen communication & collaboration solution that helps enterprises and businesses to collaborate efficiently. It is integrated with 3 key features that will match the pace of today's organizations' requirements. They are:
1. Customization to meet every unique need
2. Enablement of the best-in-class user experience
3. Supporting a multi-generational workforce
Thus, don't let your communication break in any situation, and adopt this advanced tool to boost up productivity. Let's dive deeper and know what softphone is, its features, why you need it, and much more.
Quick Links
What is Softphone?
A Softphone (a software phone) is a computer-based software program that enables you to call any telephone number or receive calls without the need for any physical telephone device. It is a virtual phone that functions as an IP-PBX using VoIP technology and is equipped with full-fledged features, teleconferencing and calls forwarding, etc. while adding some valuable new features.
Basically, the softphone is provided by the solution provider and is equipped with a user-friendly interface to use it easily. This software application can be used on any IoT device, as- desktop app, web browser, or a mobile app. So, the users have the full-fledged flexibility to utilize it from any location or any time by simply connecting the device to the internet.  
Features of a Softphone
When it comes to features, softphone offers a spectrum of features along with those of IP-PBX as well. Varying from simply call forwarding to unified communications- everything lies in-between. The users can customize and use this software phone according to their business or enterprise prerequisites. Let's discuss them.
1. HD Audio/Video
HD audio/video attribute enables the user to experience quality, crystal-clear, uninterrupted voice even from different geographical lands. Plus, video conferencing delivers great visual and makes communication more interactive.
2. Instant Messaging & Presence
A simple "hi" is more than enough to start the conversation with the prospective customer. Even, messaging will make the experience more personalized and create great value for your services. Plus, presence makes you informed about the participants- whether the person is online or not- so that you can contact him.
3. Collaboration Tools
The collaboration tools are specifically to enhance productivity and to offer mobility, that includes- seamless call recording, screen sharing, video conferencing, etc.
4. Cloud-Provisioning Module
Or, the centrally managed platform- the softphone manages clients and other members carry out other operations related to it from a single interface to avoid any chaos of multiple locations mismanagement.
In short, a softphone possesses all the features of a deskphone and expands the array of services of the deskphone customarily. If you want to read more about the features, then you can explore- top must-have features for softphone.
Types of Softphones
Softphone or VoIP softphone has become a useful collaboration solution, especially for remote workers. It is helping in every way when these workers want to make a voice call, video call, IM, presence, or content sharing, etc.
However, if we discuss its types, then some relying factors are there that can determine its category. Still, the best softphone is the one that matches your customers and business requirements. The factors, like-
1. Functionality
2. Purpose of Use
3. Sophistication & Complexity of Protocol
4. Features Offered
For example- If the softphone is specifically designed for business purpose video conference and more, then it has a heavy interface with rich features and menus; and the simple chat apps on smartphones have simple interfaces to message and interact directly.
How to use a Softphone?
To begin with, a softphone is a bridge between your deskphone (based on VoIP network) and your mobile network. And, SIP (Session Initiation Protocol) supports the VoIP calls and enables the network to send/receive data associated with the internet telephony. In other words, you can assert that the SIP softphones (software-supported digital phones) make the voice calling possible over an internet-connected device. And, for SIP calling to function, you need a Softphone Client (Softphone) that offers the UI for VoIP and SIP phone calls.
To use the softphone, simply you need the following basic assets:
1. The internet connection of high bandwidth
2. An internet-enabled device (laptop/PC/tablet/smartphone)
3. A VoIP headset
4. VoIP service provider/ IP-PBX
You just need to install the softphone application on your device and you are all set to use it. What is important is the network and it should be of high quality, reliable, and secure. The softphones enable you to call from PC to phone line, from a deskphone to PC, and/or between internet-enabled devices.
The softphone acts identical to the deskphone, simply, instead of a physical phone, the display is projected on the device's screen. It has a graphical interface that consists of- call button, dial pad, and other functional keys- same as your deskphone. Then, using that, you can make calls and perform other operations easily. The common deskphone functions, like- speed dialing, text, call waiting, call forwarding, etc., and the advanced features, like- IM, presence, video capabilities, etc. are integrated into that particular software application.
Why do you need a VoIP service provider/ IP-PBX? 
1. The reason is that the VoIP service provider offers the underlying service that carries the calling functionality. And, when it is configured in softphone, those functionalities are inherited in it to make it work perfectly. Each softphone is registered and assigned a unique number under their specific providers. The basic softphone functionality is the same, while other extended features vary from provider to provider. So, it's up to you to choose the right VoIP service provider according to your business requirements.
2. On a different note, the softphones can also be used with IP-PBX to access calling & its other functionalities. Identical as above, it is configured in softphone, and those functionalities are inherited and work along with other advanced features of softphones coherently.
Why do you need a Softphone?
The primary answer is to match the pace with the most flexible technology- the mobile workforce. Secondary, if a single software application program can do much functionality, then everyone wants to cut the cost of extra hardware, its maintenance, and support.
The above two are the most basic rationales that your organizations need the softphone. Along with these two, there are other reasons as well, like:
1. Advanced calling and conferencing features
2. Adding or removing the phones with ease
3. Be reachable and in contact with everyone wherever you are
4. Having the same phone number as your deskphone with same features on your device
5. In sync with the tech-oriented features, such as- voicemail transcription to email, call centers, CRM integration, etc.
6. Most scalable, manageable, and configurable communication platform
7. To impart a unified and professional company impression
Benefits of a Softphone
From the beginning of this blog, we are continuously mentioning that softphone is a boon to an organization with respect to different aspects. Now, let's focus on the core advantages of a softphone.
1. Huge Savings
The less cost is its major advantage that cuts the cost of hardware and saves an exponential amount for an organization. Besides, a softphone simply requires a license, which costs very economical. And, the softphones are powered with VoIP technology that utilizes the internet connection to place voice/video calls affordably, even for the international calls. In the nutshell, the softphones overall bear little to no cost.
2. Perfect for Mobile Workforce
Remote working or the mobile workforce is becoming a common norm in today's corporate world. It has become a resort under any pandemic situation and a boon for the workers working miles away from their workstations. Under such circumstances, the softphone client is a must. Also, it is the most viable and accessible option to handle it on your own. No such requirement of the IT team. Wherever you go, you never have to worry about the cost of moving and reinstalling the equipment (your deskphone). It's a simple downloadable program that allows you to function as your deskphone does. Just install and configure it and you're back in business.
3. No Unnecessary Desk Clutter
Your desk usually carries your PC and the hard phone with all the wires around your workstation- such chaos. A softphone is a simple solution that eradicates all this clutter. It is a software application installed on your device, regardless it's your desktop or your mobile. Carry it wherever you want- from your workstation to the seminar room to the server room, or even outside the office premises, etc. No wires at all! Even, you are having powerful technology with you.
4. No Dedicated Line
As the hard phones are installed and configured using some dedicated network lines, a softphone doesn't require any physical telephone line or some specific wiring. Most of the softphone applications are downloaded directly from the service provider's website or from the source relevant to the selected hardware platform (mobile app or the desktop app). Simple installation and then the configuration of the interfaces (audio/video) is automated.
5. Secure Communications
As the softphone is operating on your private network connection, so it's encrypted and secure. No public network is there that may evolve any threat to your network infrastructure. It's your network and you can easily transfer the information without any peril to data breaching. Whether it's your calling, video conferencing, screen sharing, or chat- all are secure.
6. Integrations with CRM
The softphones can also integrate with third-party CRM without any much effort. It has its in-built feature that can easily connect with the CRMs, like- Microsoft Outlook, Skype for Business, Salesforce, and other third-party applications. It helps you and your team work more collaboratively since it unifies the entire infrastructure of your company.
7. Customer Engagement
Voice and video calls are the most common way to communicate with colleagues or customers or partners. Text messaging or chat is something that most of the customers prefer for a short conversation. The softphone has an in-built feature of chat that is a great way to reach the prospects and the customers. So, to encourage customer interaction, chat has become the new frontier to win in terms of marketing, sales, and support. This will increase customer engagement since the softphone has chat, voice, and video functionality within it.
Softphone-Compatible Platforms
The softphones are the simplest and accessible communication software that takes communication to the next level. However, are all the platforms compatible? Are softphones operated on all or some specific platforms?
Following are the platforms, which can be aligned for the softphones:
1. Microsoft Windows
2. Linux
3. Android
4. iOS
5. Mac OS
Who Uses Softphones?
A softphone is especially come up to help all the enterprises, companies, businesses, and organizations regardless of the size- small, medium, or large scale. However, who are the people who are benefitted most? Who are those professionals, who need it most to enhance their business's productivity and eventually, customer experience? Let's see who they are.
1. Remote workers
2. Call center employees
3. Start-up businesses
4. Road warriors (Travelers)
5. Telecommuters
6. The requirement to make frequent long-distance calls
7. Customer support engineers
In a few words, the softphone is a smart solution that assists the corporate world (especially the above-mentioned professionals) to improve productivity, business efficiency, and unified communication.
Conclusion
A Softphone is a new tech-tool that changes the way how you make a voice call, video call, share the screen, notify the presence, or chat using IM, etc. - simply using a software application program. Not only this, but it is also providing a new shape to communication & collaboration, professionalism, and user experience that everyone seeks.
Frequently Asked Questions
Is Skype a softphone?
Skype is an eminent business communication application software with softphone functionality in-built within it. Just, Skype users are assigned the usernames rather than the numbers, and the dial pad is not used frequently.
What is a VoIP soft client?
The softphones are sometimes referred to as soft clients. And, the softphones enable the VoIP telephone calls from different computing devices, thus, it is also known as VoIP soft client.
What is the difference between a softphone and a hard phone?
A hard phone or VoIP hard phone is tangible equipment that can be connected with your home or IP network. It is configured at your workstation. The softphone is a software application that is installed on your computing device.
What is the difference between SIP and VoIP?
SIP or Session Initiation Protocol (SIP) is a specific application layer protocol that enables VoIP. It is used to establish, modify, and terminate the multimedia sessions, including VoIP calls. And, Voice over Internet Protocol (VoIP) refers to making or receiving phone calls across the internet or the internal networks.
What is Xlite?
X-Lite - is a well-recognized softphone from Counterpath designed for evaluation purpose only. X-Lite allows users access to test the basic features such as VoIP, Video, SIP IM/Presence and contacts.