A to Z Unified Communications Glossary
June 6, 2018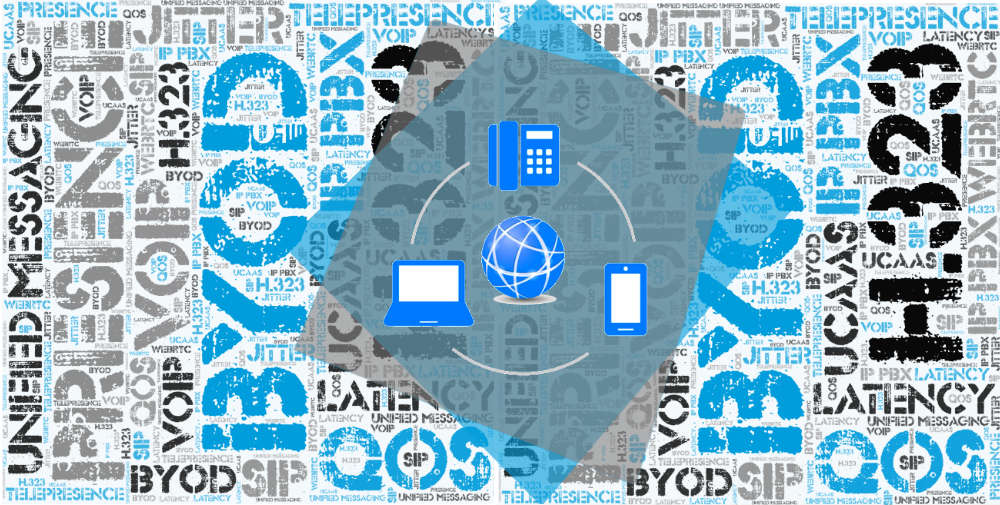 We are living in the times when technological advancements and innovations are continuously coming to the forefront. No doubt, Unified Communications have been proved a bliss for the business organizations to keep their people, their partners and their clients, closely intact. However, there are some commonly used terms in Unified Communications that everyone must be aware about. Let us have a look at a complete Unified Communications Glossary and have a better understanding of terms.
1. BYOD : It implies Bring Your Own Device which refers to the employees bringing their personally owned devices such as smartphones, tablets, laptops, to the workplace to access information and apps for communication and collaboration.
2. CAC :It expands for Call Admission Control. By managing bandwidth allocation of services, it is a practice to avoid network congestion and any degradation in voice quality for VoIP calls across the IP network.
3. Collaboration : Bringing clients, vendors, partners and employees with various solutions for real time communications and ability to share files and documents with them is collaboration.
4. EIM : It stands for Enterprise Instant Messaging. There are organizations that use private IM servers for Instant Messaging services and the service becomes Enterprise Instant Messaging.
5. Hosted Services : When an organization takes IT services such as email, UC, IM, over the internet from a remote location, rather than running their own servers at site, it is called hosted services.
6. VoIP : It stands for Voice over Internet protocol which means that voice signals are transmitted through the medium of internet. It ensures improved call quality over traditional POTS lines, at significantly lower costs.
7. IP-PBX : It expands for IP based Private Branch Exchange. It is a telephone switching system within the enterprise that delivers voice or
video over a data network using IP.
8. Jitter : In telecommunications, jitter is a deviation and undesirable interference in the transmission of data across the network. It is responsible for degradation of voice quality.
9. Latency : It is the time taken for a packet of data to travel from one application to another. It includes the time of transit across the network and time needed to prepare and process data at the sending and receiving ends.
10. Presence : This technology helps to determine the status and location of the users as soon as they connect to the network - whether they're in the office or away from their desk or busy.
11. QoS : It stands for quality of service which means the overall performance of the service or a telephony network as observed by the users.It takes factors such as bandwidth, throughput, transmission delay, jitter and others.
12. SBC : Session Border Controller is a network device which is used to register, set-up, control and tear down VoIP multimedia communications sessions. It is also used as a source of additional network security by barring the outside world from getting access to your users IP addresses and makes sure that only the approved traffic enters your business.
13. SIP : It stands for Session Initiation Protocol. It is a signalling protocol that is responsible for initiating, maintaining, modifying and terminating real time sessions including video, voice messaging and other communication applications between two or more endpoints in IP networks.
14. SLA : Service Level Agreement is a service contract or an agreement which defines the minimum level of services that a service provider will deliver to you.
15. SIP Trunking : When the Internet Telephony Service Providers deliver telephone services and Unified Communications to the customers with SIP based IP-PBX and unified communication facilities. It is VoIP and streaming media service based on SIP.
16. Softphone : Softphone or a software telephone enables voice over Internet protocol (VoIP) telephone calls from computing devices like computers, smartphones or tablets. They eliminate the need of a dedicated hardware.
17. SRTP : It stands for Secure Real Time Protocol. It is a method of end to end encryption and authentication of data transmitted through RTP.
18. Telepresence : The set of technologies which give a feel and the effect as if the person is present there, while he or she is present at the remote location.
19. Trunk Lines : They connect the PBX to a public switched telephone network. In case of cloud based solutions, SIP trunks are put to use for this connection.
20. Unified Messaging : When voicemails, emails, faxes and all different types of messages are stored in the same message store and the users have access to them from the same mailbox from different locations and applications, it is called unified messaging.
21. VoIM : It stands for Voice over Instant Messaging. It refers to the applications which enable users voice communications along with text based Instant messaging.
22. Video Conferencing : A method of bringing people ,dispersed in variously different locations on a single screen, for communicating, interacting and collaborating with them over video is video conferencing.
23. Virtual Team : It refers to a group of people who are dispersed in different time zones and locations and have to work together with the help of various communicating and collaboration technologies.
24. Web Collaboration : It is an act of real time sharing content, files, documents, white boarding with multiple users, across the internet.
25. WebRTC : It stands for web real time communications which enables browser to browser communication applications like voice or video calling, file or document sharing without the need of additional software or plug-ins.
26. UC/UCaaS : Unified Communications or Unified Communications as a Service is the integration of real-time communication services(like chat, IP telephony, video conferencing etc) with non real-time communication services like email, fax, voicemail, messaging and that provides a consistent user interface and experience across multiple devices.
27. VPN : Virtual Private Network means a private network is extended across a public network or the Internet. It implies that one can share data in a more secure and protective way across public networks.