5 Conference Room Design Ideas & Trends for 2023
Your conference room conveys a strong impression that can spark new ideas, create a productive environment and result in an everlasting relationship with your new client or it can simply create unavoidable distractions if not setup properly.
It's best to be prepared and prevent distractions ahead of time and infuse a professional environment into your conference room. All you need to do is to make sure that you setup your conference room according to your meeting requirement.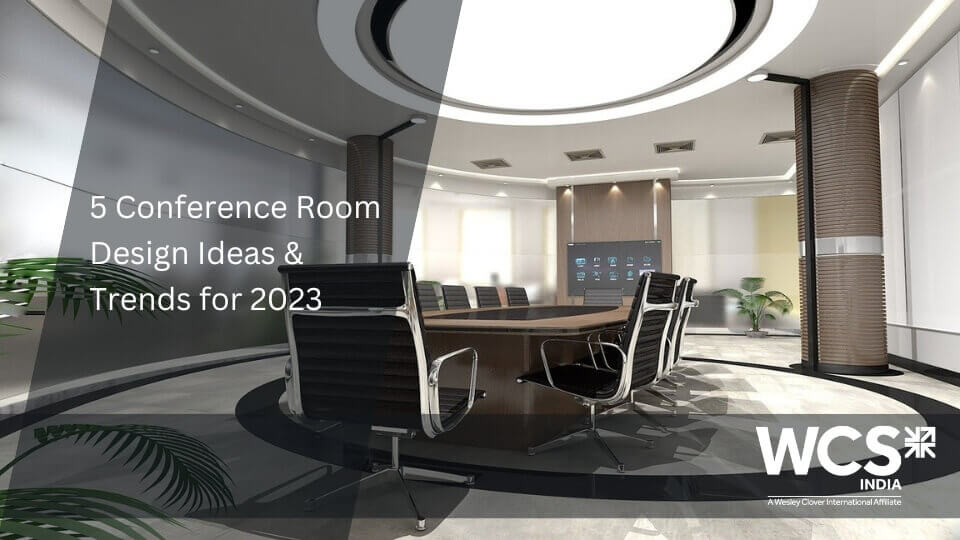 Following are 5 audio visual conference room design tones that communicate business ideas and double the vigor to perform well.
The best part is that we have a boon of technology that makes everything pragmatic and valuable to use it. So as, the conference rooms or the meeting rooms, or the boardrooms- today, they are much more than merely a place for discussion. In fact, they become the multipurpose rooms, refined with different professional and other types of elements, including audiovisual.
Apart from the legacy trends, it's the time of visionary designs, intuitive displays, digital presence, flexible table positioning, productive look, etc. 
But, before proceeding, don't forget to palpate your business's prerequisites and then choose one theme accordingly. This will deliver real value to your outputs and you will have a good meeting experience. Still, if you want to discover more information about video conferencing, the Video Conferencing Guide is ready to help you. Here, you will find everything you need to know about VC.
So, let's discuss the top 5 audio visual conference room design themes that will certainly bring a difference to your outcomes.
1. The Modern Conference Room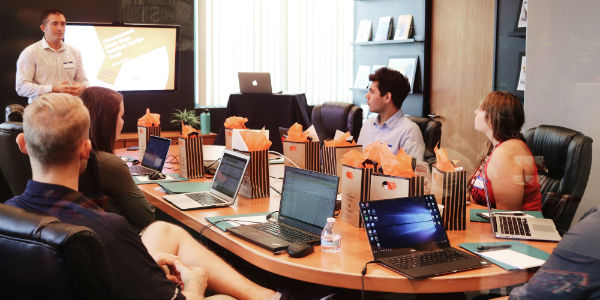 Before proceeding, have a look at its some of the use cases.
Use Cases-
a) Distance Learning & Training
b) Internal Team Meetings
c) Customers/ Vendors Meet
Or the Standard Conference Room or the Mid-Sized Room- Spruced up with modernity with a touch of professionalism is a complete modern conference room. It can accommodate around 12-15 representatives. Varying from the long table surrounded by chairs to breezy ambience to 4K display- everything lies within it. Let's discuss the A/V elements that can be its companions.
4k Display tops the list- Couple your meeting room with automated technology, 1 camera, amazing multimedia/ graphics, and 1 display screen with intuitiveness & photo-realism.
Conference Table and Standing Desks are innovation- The conference tables are the nucleus and it is kicked up with some amazing alterations. Even, the standing position offers you benefits, which vary from- giving energy, releasing endorphins, and helping with the right posture as well. It will definitely make the meetings productive.
Centralized Reservation System

is valuable- For large organizations that have multiple conference rooms, you can book a specific conference room through this system. It's an automated system. So, a tab (integrated with Outlook) is installed outside the room. It has its unique booking ID & all the required details about booking. And, the members are informed through their Outlook accounts.
2. The Boardroom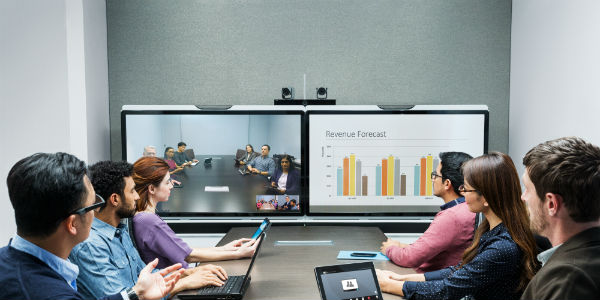 Before discussing its other elements, let's look at its use cases.
Use Cases-
a) Professional Customer Presentations
b) Media Briefings/ Roundtable
c) Executive Business Reviews
Or the Large Conference Hall- A large hall accompanied by multiple stakeholders to make their data-oriented meeting success is something that defines a perfect boardroom. The group of 20 people can meet up for quarterly or some other meeting to discuss sales management or data performance, etc. What are its A/V components, then? Let's discuss...
Display Elements are must- Initiating from a camera, it should be 1 tracking camera, reaching up to the screens- 2 displays complement the room. One is for typically video conferencing, and the other is for wireless content sharing. Using the wireless content sharing system (Polycom Pano, Barco, etc.), 4 people can share simultaneously.

Additionally, each speaker has his own microphone on his respective seat. Moreover, content annotation and convertible-displays-whiteboards are also included, but they depend on the particular solution opted. You can use the displays, as the whiteboards as well, for discussing new visions deeply; and the content annotations are there to describe the detailed information about any vision or objective, or process, or any step.

Centralized Room Allotment System is amazing- This automation system is used to schedule the meeting in a particular room that includes 1 podium. And, to avoid any confusion, a tab is pre-installed outside each conference room that displays the info about the meeting to be held. And, the members are informed through Outlook, since the tab is integrated with Outlook, through which a unique ID is booked for a specific room.
3. The Training Room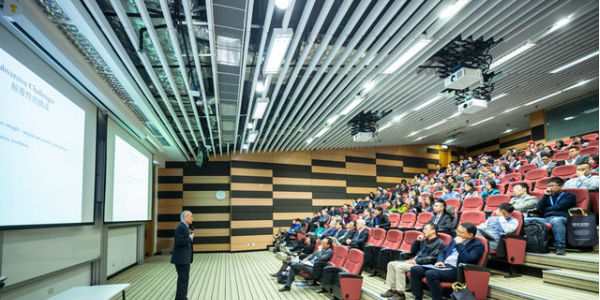 Before moving forward, let's have a quick glance at its use cases.
Use Cases-
a) Corporate Trainings
b) Seminars
Or the Seminar Room- Equipped with state-of-the-art technology and professional A/V components that support presentations, training events, or meetings, etc.- is defined as a training/ seminar room. It can accommodate an average of 50-80 members, and the recommended are approx. 60 participants. Enabled with high-resolution projectors, other essential types of A/V equipment are must as well, such as:
Let's talk Audio & Video- Molding towards the display- projectors, big LED screens, video walls are must-have, then the cameras- 2 cameras are present. One for the full-frame and the other one is to zoom at the specific speaker. In addition, the speakers usually vary from the wall-mounted and the ceiling-mounted speaker.
Acoustics are not-to-be-ignored- As a matter of fact, acoustics play the equivalent role as others do. In fact, the speakers also depend on acoustics. How? Actually, the audio engineers audit the entire seminar room and then upload the CAD design on a software. Then after, the software will do its function and deliver the idea of the acoustics of the seminar room as an output.
4. The Studio Conference Room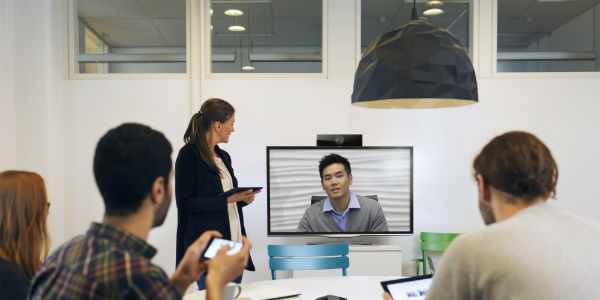 Before diving into deep, have a glance at its use cases.
Use Cases-
a) Brainstorming & Conceptualization
b) Interviewing & Reviewing the Performance
c) Virtual Team Meetings
Or the Huddle Room- Compiled with all-required software and the right technology that fosters transparency among the representatives (up to 8 members) commonly known as the studio or huddle conference room. Although small space, it is a complete ideation hub with visions and creativity. Its components complement its real value through their active collaboration with the requirements. How? Let's get the answer...
What about Operability? – This small huddle room offers the open-solution and will be operable with any of the cloud solutions seamlessly. Whether it's high-quality audio/video or content sharing- everything is accessible.
5. The Café-Styled Conference Room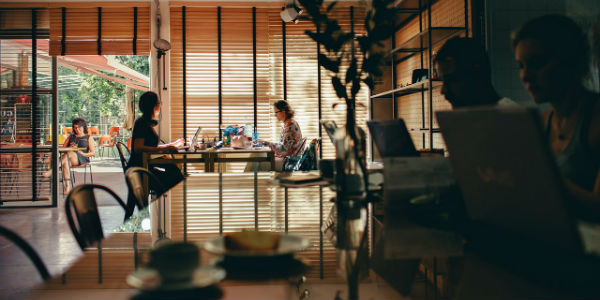 Before getting involved in its further elements, let's peep into its use cases.
Use Cases-
a) Impromptu Meetings
b) Casual Meetings
Or the Relaxed Conference Room- Embellished with a café space theme with a more welcoming atmosphere is what a café-styled conference room defines. It's the best hub for the impromptu meetings, which a café will definitely complement it with all required A/V elements, as:
Crystal-Clear Acoustics is in- The acoustic panel, integrated with tailor-made pictures, brand colors, casual furnishings, uninterrupted noise technology, and other interesting design elements. Moreover, the additional screens are also positioned. These allow the secondary participants (present only to join, not speak) to attend the session easily.
HD Cameras

are evergreen- A sip of coffee and high definition cameras are the perfect pair to have an in-person or face-to-face or video conferencing meeting. With the luxurious ease of connecting anytime, get ready to receive HD or immersive video experience.
Final Thoughts
It's time to go beyond the thoughts. From room design to interiors to audio-visual to overall VC room layout- everything should match with the meeting objectives and the business goals. Therefore, let your business ideas transform into actionable insights with these technology-oriented A/V boardroom themes and increase the productivity of the meetings.
Don't overdo! Keep it subtle!
FAQs
What should be the ideal room design and layout for conference room?
There are multiple factors to consider while designing a conference room - specially on the acoustics part. You can find those fine details here.
What should be in a conference room?
Basic components of conference room consists of :
- LED screen/Smart board based on requirement
- Speaker phone for joining audio calls
- Video conferencing system(Camera, Codec, Speaker, Mic)
What is the best TV/monitor for conference room?
Depending upon the conference room size and sitting capacity , screens comes in various sizes. Avg screen size range varies from 55 - 86 inch and you can also go with 4k option(again depending upon support provided by your video conference system)