Video Conferencing Solutions: The Definitive Guide (A to Z) in 2023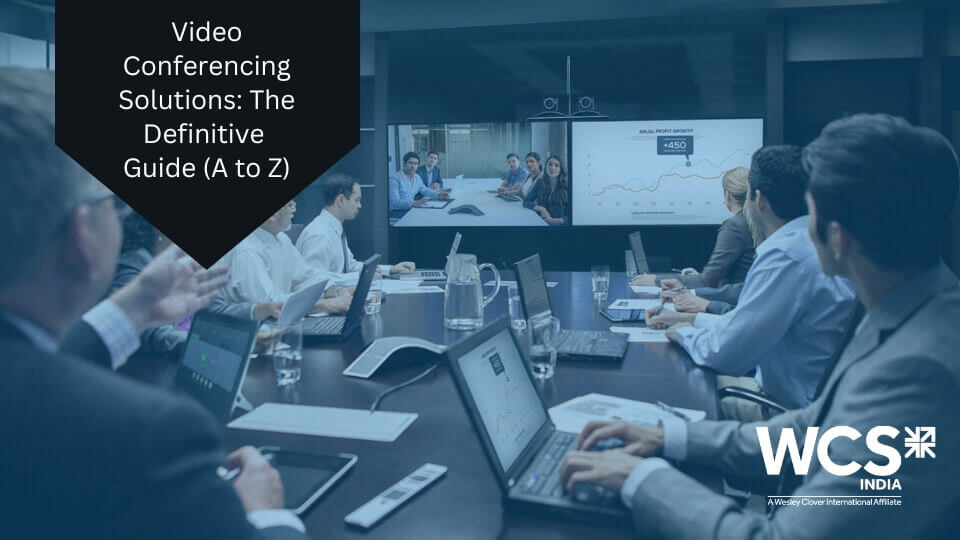 Following is a comprehensive video conferencing guide that will assist you with all-required help for your next video conferencing session. 
What is Video Conferencing ?
A video conference is a live real time, visual communication session between two or more users residing in separate locations. This technology enables business meetings, routine meetings, business deals, and even interviews between different offices/branches located at far locations. Its use cases are endless as it saves a lot of time, cost and hassle associated with business travel. 
Lately, many organizations have also implemented Video Conferencing to such an extent that it has become their preferred mode of communication over a direct telephonic call or audio conferencing.
Benefits of Video Conferencing
Increase in productivity and efficiency of employees
Lower travel costs (No need for physical presence)
Reduce time to market by connecting stakeholders instantly for more productive discussions
Engage more productively with the remote workers by seeing them more frequently
Communicating face-to-face sends an indirect message before you say a word. By watching emotions, hand/body gestures and body language people tends to connect more deeply and it is also a very effective way to emphasize on key messages
Opens a new era of smart classroom concept for the new generation and also provides education to remote areas.
Host informative/educative sessions and provide employees training through materials visually and more quickly
Video Conferencing vs Video Collaboration
Nowadays, these two terms are often overlapped but when we talk about Video collaboration, it is one step ahead of Video Conferencing. While video conferencing is all about enabling video and audio communication between two or multi-parties, video collaboration is video call along with sharing of documents, presentation materials, whiteboards and similar group presentation visual aids.
Basic Components of Video Conferencing Infrastructure
Display: Choosing the right display for your video conferencing system is the first step towards building an ultimate VC experience. It all depends upon your requirement, size of your conference room, usage frequency, surround lighting and your budget. Different variations are available for selection like Single Display vs Dual displays(one for video meeting and other for Data sharing), 4K option(Nowadays some VC systems also supports 4K resolution).
Speaker

Integrated speaker of TV
Intergrated speaker of customized VC solution
Additonal audio speaker as per the room size

Camera: Generally OEMs provide their own camera which can have different specs like:

HD Camera Pan, tilt and zoom camera for up to 4k UHD capture (Commonly known as PTZ cameras)
20x/12x/4x zoom options
Wide viewing angle: 65-degree view, 85-degrees view, etc.
Facial-tracking to accurately frame all room participants(aka auto-framing or smart-framing) or focus on the person speaking

Mic: Here also OEMs provide their own Mic with different specs like 360-degree coverage, 22 kHz of high-fidelity audio. There are two types of mic available:

Table Top(Unidirectional)
Ceiling Mic

Processor (Codec): A processor/codec is a device or algorithm for encoding or decoding a signal with the help of pre-defined protocols. There are 3 main categories of protocols: Audio, Video and Data & Control. These codecs are necessary to encode and decode audio, video and data streams to network. For more info regarding protocols and codecs read here All about video conferencing protocols and video codecs
Network: It includes all possible networks to send and receive video and audio streams from your system to remote one e.g. ISDN, Broadband, 3G/4G Network, Lease line, MPLS. Not all networks are equal so are their services. Performance of Video meetings is very much dependent on the available network. For more details about minimum bandwidth required for video conferencing read here Bandwidth Requirement for HD Video Conferencing
Other Advanced Video Conferencing Components/Features
Video recording: Some system provides USB capability to record complete video streaming(Incoming and Outgoing) along with audio and others have an inbuilt feature to record on cloud or any other location.
Content Sharing device: You can share content wirelessly by using this addon. Connect multiple laptops to share screen to participants
Native integration with 3rd party apps: Provide integration with Microsoft Skype for Business, Outlook and other business tools
Interoperability: It's the capability of the system to operate with other vendor products. It removes the barriers between different video conferencing software systems, platforms, and devices
Events/Webinar hosting: Some tools allow to broadcast video to a large audience, thus addressing the need of engagement up to 15,000 attendees with immersive video, Q&A, polling, and large meeting control
Different Types of Video Conferencing Solutions (Based on capability)
Point-to-Point Video Conferencing: Designed for two parties in a one-on-one situation, both parties can talk from different locations.

Multi-Point Video Conferencing: Up to 8-24 people(number depending upon OEM) can join meeting at the same time.

Multipoint Control Unit (MCU): For more than 8-24 parties, MCU is required. It consists of a video-networking bridge.

Desktop/Mobility Solutions: Desktop/Mobility solutions provide full video conferencing capabilities on desktop, tablets & smartphones.

Cloud-Based Solutions

Up to 100 attendees per meeting
Internal and External, no additional hardware
Any Device: room system, tablet, mobile, PC, MAC
Stream out live to Facebook & Workplace
Easily Scalable
Join meetings from Cisco, Polycom, Lifesize and other H.323 and SIP-based room systems.  
Note: Point to point, multi-point and MCUs are on-premise based solutions(i.e. they need hardware end-points to be installed at your premises) but cloud-based solutions are completely on cloud(they work on subscription model). For more info on their differences read here On premise or Cloud Video Conferencing Solutions – Which one to Choose and Why?
Different Types of Video Conferencing Solutions (Based on room size)
1. Personal VC Solutions
2. Small Rooms or Huddle Meetings
3. Mid-Sized VC Solutions
4. Large or Boardroom Conferences
5. Immersive VC Solutions
Read here for further details: Different Types of Video Conferencing Solutions for SMEs/Enterprises
Video Conferencing Providers (OEMs)
There are various OEMs available in the market, which provide VC equipment and services (some provide on-premise and some are cloud-based). Polycom, Lifesize, Bluejeans, Panasonic to name a few.
Top 5 Video Conferencing Solutions for your Business
Video Conferencing Room Design and Layout Guidelines
An ultimate experience of video conferencing requires room and environment to be optimally designed for that particular purpose. Various factors like Interior designing, furniture, acoustics, room lightning affects the performance of video meeting. A detailed guide on room designing and layout to be followed is mentioned below:
Video Conference Room Design and Layout Guidelines
Frequently Asked Questions
How does video conferencing work?
Video conferencing system comprises of 6 basic elements: Display, Speaker, Camera, Mic, Processor(Codec), Network. These elements enable face to face video conferencing between two or multi parties. The detailed description is already given in this blog.
What are the different types of video conferencing?
There are generally 2 types of solutions:
1) On-premise: Point to Point, Multi-point(with different configs)
2) On-cloud solutions: Users can join from desktops, laptops or other handheld devices
What are the benefits of video conferencing?
Cost-saving in traveling, increase in employees productivity and there are other multiple benefits of using video conferencing systems.
What should be the ideal bandwidth for HD video conferencing?
Different OEMs recommend different bandwidths. You will get more idea over here
What is the difference between video conferencing offered by free services like Whatsapp, Skype and paid ones?
Free services like Whatsapp, Skype and others don't provide enterprise-level security and support.
Which one is the best video conferencing system?
You can directly contact us here. We will guide you in selecting the best VC system for your business.