Video Conferencing Features: Top 13 Must-Have Features for your Next VC Solution in 2023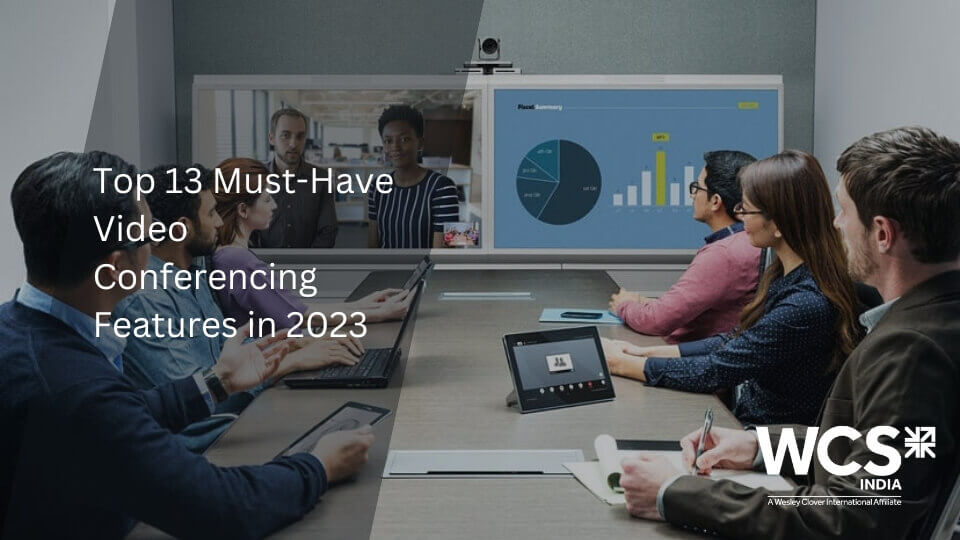 With the rising number of businesses shifting their communications channels from audio to video conferencing, it's becoming a norm for companies to install VC units even in their huddle room. For more productive video conversations, it is imperative to have optimal video infrastructure in place, so that conversations go flawlessly.
Top 13 Video Conferencing Features:
1. Auto Framing/Group Framing

Source: https://www.youtube.com/watch?v=Tug-1PNWmUE
Recommended: Yes (A must-have feature for better meeting experience)
Automatic framing eliminates the need for manual framing.
Without auto-framing, it would be very tedious to set the view of the camera, so that it can include everyone, whenever someone joins or leaves a meeting. Moderator needs to zoom in, zoom out, and make some adjustments to make it a perfect view. Time will also get consumed.
Auto Framing/Group Framing is dynamic in nature. So, if someone enters or leaves the meeting room, the camera automatically adjusts the view of the group.
2. Speaker Tracking
Recommended: Yes (A must-have feature for better meeting experience)
During a meeting, it makes more sense when the focus is on the speaker to the faraway attendees so that everyone can see his/her body language/emotions. If the focus is on the group, then everyone is presented with a smaller version and the live experience is not up to the fullest.
Using the advanced microphone array, VC systems can track who is actively speaking. It then automatically zooms in on that person to get a better view of body language.
3. Interoperability
Recommended: Yes (A must-have feature for better meeting experience)
Organizations worldwide have video rooms comprised of various technologies. Some rooms have Polycom, Cisco, Lifesize hardware/cloud-based licenses, while others use Microsoft Teams as VC. And, there are the hosts of other OEMs, which provide room system endpoint. This is where interoperability becomes critical. With a meeting's platform that works across most of the available VC systems, organizations can easily connect to the outside world.
4. NoiseBlock
Recommended: Yes (A must-have feature for blocking unwanted noises)
NoiseBlock technology keeps away distracting noises, such as keyboard typing, paper shuffling, and other distractions. Generally, these noises appear in everyday meeting and people are often asked to go mute by moderators. This technology identifies when some real person is actually talking and when there is no identification of a real person, it will mute the microphone.
5. Acoustic Fence
Recommended: Yes (A must-have feature to remove outside distractions. Most effective in open workspaces, as it captures voices within the defined zone.)
The acoustic fence creates a virtual boundary around the meeting area using microphones so that sounds/disturbances from "outside the fence" are blocked to remote participants, thus allowing the interruption-free meeting. It automatically reduces background noises, such as co-workers' chat, loud machinery using advanced echo cancellation techniques.  
6. Remote Management/Central Management
Recommended: Yes (If you have multiple units of VC or want to configure system remotely)
Its main provision is to manage remote/central location to update software or change settings without the hassle of walking from room to room. 
7. Camera Resolution
Recommended: 4k Ultra HD Support
4k is the new norm for resolution. Cameras, Display, and VC system from all different OEM's also possess this technology. And, OEMs have launched their products that support 4K resolution for a better experience.
8. Field of View
Recommended: Min. 70 Degree
Field of View is the length that the lens will cover at a certain distance. The FOV can be measured horizontally, vertically or diagonally.  The lenses with shorter focal lengths will have a wider FOV than longer focal lengths. 
9. Optical Zoom
Recommended: Min 5X Optical Zoom
Optical zoom and digital zoom are two main zooming techniques, which are integral parts of any VC system. 
Digital zoom is simply some in-camera image processing, whereas optical zoom is a true zoom, which utilizes magnifying lenses to get you a much close-up version of an image than you'd see with your eyes.
Optical zoom creates a much better quality of video/image compared to the digital zoom.
10. Seamless Integration
Recommended: Yes (A must-have feature for broader collaboration)
The enterprises accommodate distinctive VC solutions that consist of multiple technologies. So, to enhance the reach and access multiple applications, "integration" is a beneficial add-on that offers collaboration with a myriad of applications, like Skype for Business, Microsoft Teams, Slack, Polycom or Cisco, calendar, etc.
11. Support for Mobile Video Conferencing
Recommended: Yes (A must-have feature to experience VC through mobiles)
The world of distributed workforces is running. Thus, it's necessary to offer uninterrupted access to remote employees, irrespective of the location. Hereby, the video conferencing solutions include the robust support of mobile VC through an app that enables one to initiate/ host the meeting or become the participant of the meeting via Android, iPad, or iPhone mobile device.
12. Content Sharing
Recommended: Yes (A must-have feature to share critical content digitally)
The effortless content or screen sharing during a video call helps participants plan, strategize, brainstorm, and decide faster. Using the best sharing collaboration solution, the participant and other representatives can easily access this feature and enjoy the real-time experience that will be the best fit for your enterprise's requisites.
13.
Whiteboard Camera System (Bonus Feature)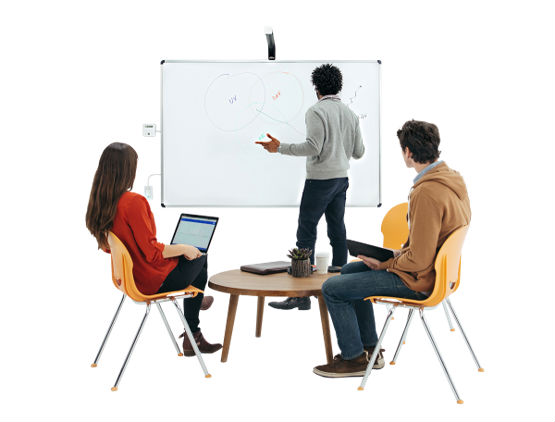 Recommended: Yes (If you want to share your whiteboard drawings to other participants)
It is an advanced camera system that you can attach to the whiteboard, you already own. It enables you to stream your live whiteboard content over your browser or video conference and download all of the important highlights during the discussion.
Expected Video Conferencing Features in Near Future
1. Live Video Editing
This feature is specially evolved to give a magical touch to the video world. Till now, the recorded and live versions are available during the call. However, this attribute is designed to create the post-production effects during a live video call. The effects may vary from backgrounds to state-of-the-art camera tricks, quirks, and effects.  
2. Virtual Background & Greenscreen
This is the special trait that enriches the video conferencing experience. It allows the person to display an image or the video as the conferencing background during a meeting. And, the green screen with the uniform lighting appears to be the best combination that easily detects the difference between the person and the background.
Frequently Asked Questions
What do you mean by video conferencing?
Video Conferencing or Video Conference is a visual session among one or more correspondents from different geographical sites, exchanging the audio/video information in real-time.
What are the basic requirements for video conferencing?
A video conferencing session encompasses several featured components that will make every meeting success. Varying from a display to content sharing to interoperability to a flawless VC layout- everything is important. To know more in detail- here is the Video Conferencing Solutions: The Definitive Guide (A to Z) in 2019 for your help.
What is the best video conferencing?
Breaking the walls of the locations, video conferencing brings the team together to communicate and collaborate in the real world. And, to acquire the best solution, you need to palpate over all significant video conferencing features, functionalities, and the utility measures. So, if you are preparing for your next VC session, then first go through this information- Top 5 Video Conferencing Solutions for your Business in 2019 and get the best out of it.
What are the different types of video conferencing?
Every entrepreneur/ business person is in search of innovative technology, coupled with fast and productive features. Video conferencing is one such approach that exceeds this benchmark.
However, getting the top-notch VC solution (based on the business requirements) is a little bit troublesome. Evaluating all features and functionalities and then measure them with the business strategies- everything lies in between. To help you find the VC solution, best fit for your enterprise, we have come up with- Different Types of Video Conferencing Solutions for SMEs/Enterprises. It's worth and helpful.
What are the tools used for video conferencing?
It is imperative to make use of the flawless & latest video conferencing features and tools in order to earn the best user experience ever. A little help from us, below are some of the top-notch VC tools of 2019 that top the list:
• BlueJeans
• Lifesize
• Google Hangouts
• Polycom
• Panasonic