Video Conferencing Solutions for Boardroom / Conference Room
October 30, 2018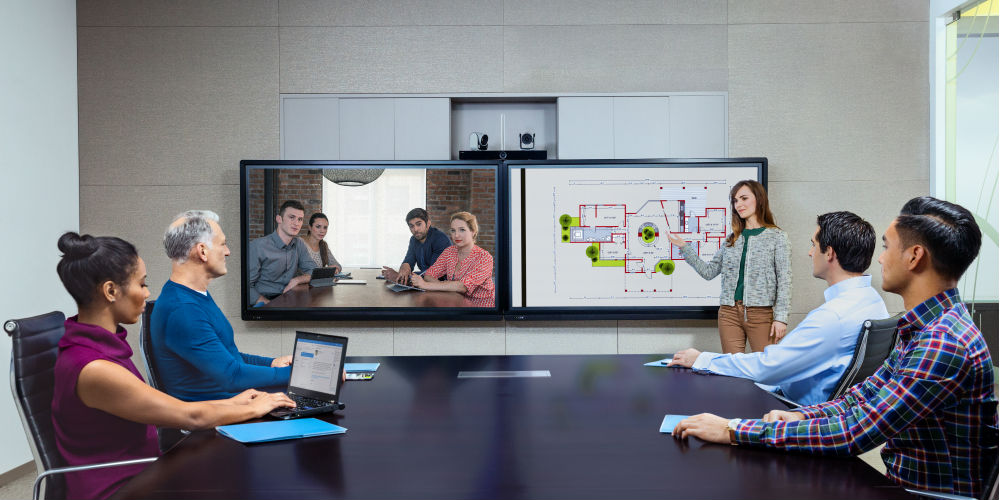 Today, organizations of all sizes are looking for video conferencing solutions that not only accomplish their business requirements, but also deliver best-in-class experience. This blog aims to give a detailed picture of boardroom/conference room video conferencing solutions. What requirements and features are expected from  conference room/ boardroom video conferencing solutions are what is taken into consideration here.
Here are some things to consider, while deciding an appropriate video conferencing solution for your boardroom. 
1. Video Screens/Display Size:
Primarily, you need to decide the size of the screen depending upon the size of the room for video conferencing so that everyone in the room can see and participate.
1. For small huddle rooms, one screen is needed (generally starts from 32")
2. For conference or boardrooms, two screens are needed (mid size screens range starts from 42"/43") in side by side configuration
3. For an Auditorium, we have various options to deploy, as- video wall or single large display or HD projector rated for 2500 to 4500 lumens for a lit room.
For boardroom meetings, LED HD displays between 720p and 1080p are most widely used to offer the best resolution.
Using 1080 p60 video resolution not only brings a realistic picture in business communications, but also removes hurdles met in sharing videos, designing animations, or any content requiring natural movement. This makes video collaboration experience not only productive, but EMPOWERING as well!
2. Remarkable Interoperability:
Boardroom video conferencing solutions of next generation demand native interoperability with the leading Unified Communications platforms. This implies that there is no need to add complex gateways. One can use their existing video conferencing solutions and continue communication in the same way, if the solution is compatible/interoperable with other Video conferencing solutions.
H.323/SIP interoperability: Look out for video conferencing solutions that offer video calling to existing H.323/SIP (open standards based) video systems. This is certainly a positive point for the organizations, which are looking to strengthen their business communications along with "investment protection."
Integration with Skype for Business: It would be an added advantage, if the video conferencing solution is integrated with Skype for Business or Office 365. This way, it gets easy for the users to connect with customers, partners, and other people outside the organization without changing the way they work.
Video Standards(Codecs): Follow here!
3. Webcam or Camera:
Conference rooms must have high definition (HD) conferencing cameras with features, like remote control pan, tilt, zoom (Optical and Digital - there are optical cameras, which can deliver up to 12X optical zoom for better coverage). Along with HD video transmission, camera must capture clear, natural colors from precisely tuned optics and fluid movements with a sharp focus. There are cameras, which come with built-in microphones.
Moreover, no matter what the size of the organization is, the solution you opt, must have facial tracking technology that accurately frames all room participants and focuses on the person speaking at any particular time. Along with speaker tracking experience, there should be precise transmission of facial expressions and body language for a more realistic experience.
4. Microphones:
For a larger group interaction, digital microphones should be used that run on integrated environment and deliver instant connectivity.
The solution must have instant adaptation to echo cancellation, automatic noise suppression, and keyboard noise reduction. Moreover, the microphones must have 360 degree coverage and deliver high-fidelity audio. 
5. Speakers:
For small to medium size boardrooms, inbuilt speakers could be used. But for large area, separate speakers need to be deployed. Additional speakers come for various purposes, like wall speakers, ceiling speakers, and others as per requirement.
6. Advanced Content Collaboration:
There are video conferencing solutions, which help in sensing and receiving content in up to 1080p60 quality. It is easy to share content wirelessly from laptop or mobile device.
For instance, Polycom Pano is one such impressive solution that enables easy wireless sharing from up to 4 users at the same time, plus annotation and whiteboarding, when using a touch display. 
This will enable teams to locate differently to work closely together and empower business productivity.