Video Conferencing Solutions for Small Businesses/Startups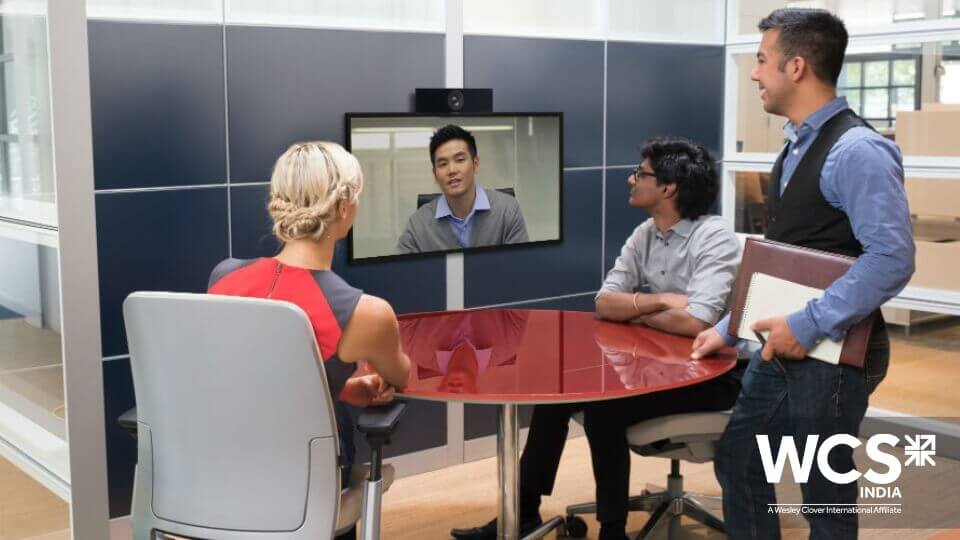 Every small or mid-sized enterprises look out for technology that accomplishes their goal of developing a collaborative working environment and that too at the most affordable costs. This blog aims at discussing the video conferencing solutions for small businesses (SMBs small or mid-sized businesses).
Before moving on to decide the best video conferencing solution for your enterprise, there are few parameters to consider in order to make a better judgement.
1. Number of Participants:
First of all, you need to decide the number of participants for video conferencing. For a small requirement, there are solutions for personal and huddle rooms supporting limited number of participants at a time.
But, if your business is on the verge of exponential growth and is planning to set up offices across various cities or countries, you may need a solution that supports hundreds of people.
2. Audio and Video Quality:
If you hold important business discussions with your team members or if you need to arrange important meetings with your clients or if the quality of your meetings is a direct reflection of the quality of your business, you must go for compelling service in HD video conferencing.
3. Budget-Driven Solution:
For a start-up or a small business, budget is one of the major driving force towards implementing VC system. Both cloud based and in-premise solutions are available depending upon the business needs.
4. Screen/File-Sharing and a Truly Collaborative Experience:
Share documents and presentations is a necessary add-on required for better collaboration. You may need to look for a solution that enables easy screen sharing and white boarding feature.
5. Meetings on the Go/Mobile:
Every small business owner dreams of reaching the surmounting heights. Therefore, the video conferencing software they have opt for must give a full-featured experience on mobile devices and tablets. The employees must be able to communicate and collaborate seamlessly from the device of their choice, without facing the troubles of travelling.
6. On-Premise vs. Cloud-based Services:
Follow here
7. Record and Archive Conferences:
You may want to record your video conferencing meetings in which you have hold important discussions, for future playback. Your video conference solution must have this feature.
8. Consistent End-User Experience across all Operating Systems:
It's important for a startup or for any business size to go for a unified communication solution that provides consistent user experience across all operating systems (or web browsers). It is important to deliver a uniform experience to the clients and meet their requirements whether they are using a PC or android.
9. Customer Service:
Before choosing any video conferencing solution for your business, you must take heed of the customer support service provided, in case there is ever a disruption of services.
Following are some best video conferencing solutions suitable for small/mid and large type of businesses:
1. POLYCOM :
Polycom provides multiple range of solutions for personal and small spaces:
1. RealPresence Mobile & Desktop: Extending rich video collaboration to your mobile device using your iPad\iPhone\laptop to connect and collaborate face to face with colleagues, partners, customers, students and patients anywhere, anytime. 
2. Polycom RealPresence Debut: This is an enterprise grade video conferencing solution made simple, elegant and affordable for huddle rooms and smaller spaces. It also delivers cost effective collaboration for smaller organizations that are ready to move up from consumer-grade alternatives which are great for chatting with friends but don't get the job done at work. 
3. RealPresence Web Suite: It lets users arrange scheduled or impromptu meetings by automatically sending invitations with meeting details including a web link for simple click to connect convenience. Once in the meeting, Web Suite opens a world of collaboration. With a browser and web camera on a PC, smartphone or a tablet. RealPresence Web Suite makes it easy to extend collaboration to anyone, anywhere. 
4. Polycom Trio: It is the only modular smart hub in the market today and your expectations of group collaboration will be forever changed. modular in design and priced right for mass deployment, Polycom Trio is perfect for any size group. Hear, Share, See. Simply. 
5. RealPresence Group 310: Optimized for smaller groups, it is ideal for small meeting rooms, huddle rooms and personal workspaces. It features simple setup and configuration, with software options for Skype for Business/Lync integration.
6. Polycom Pano: It is the easiest way to connect and share content at work. Connect up to four simultaneous streams from your personal device with a simple touch, all in crystal-clear 4K resolution. Now every room can be turned into a powerful collaborative environment.
2. LIFESIZE 
Robust, high quality, business grade cloud video conferencing solution.
Easily integrated with every platform, windows, android, iOS, MacOS.
high quality audio and video than most of its competitors.
Intuitive controls and ease of use
Consistent experience across many devices
Easy integration with Outlook, Slack, Skype for Business, Cisco, Polycom
3. BLUEJEANS 
BlueJeans again is a cloud based video conferencing solution and has an added functionality to broadcast large events(up to 15000 participants) :
Allows Universal Interoperability and works with tools, devices and systems that one already uses,
Enables group meetings, lectures, webinars, conference calls and townhall meetings,
Rich HD content sharing
Easy participation in group chat with laptop pairing feature,
Provides Global Cloud Service,
Offers Multi-party Video Meetings and large events,
24×7 Customer Support for optimal online meetings.
Conclusion: 
You need to go for an adequate video conferencing solution for your business that may not come with all the bells and whistles around, and with the features that your business does not even need. This may prove to be thoughtless use of money. Primarily, you need to enlist the requirements of your business and then look for a solution that accomplishes them in a cost-effective manner.