Six steps guide to select the best phone system for business
March 27, 2015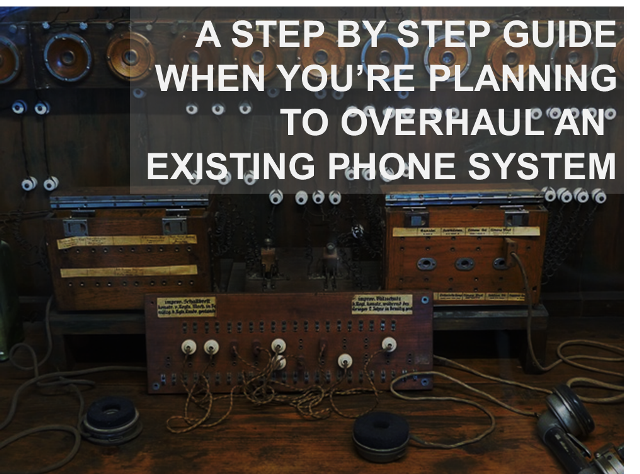 Implementation of a phone system is a huge investment. We all know we have to be prudent while making a choice of a telephone system. IT managers are required to do a lot of comparison - feature-wise, price-wise before finalizing the one that makes sense. But what should be the starting point? How do you ascertain you have explored all options? A couple of weeks ago we did a webinar to address this concern. In the webinar, we enlisted a simple process that you need to follow when you're either overhauling an existing sytem or putting up a new telephony system in place. Though you can access the webinar video or the slidedeck, I'm trying to make the information more handy by summarizing it here in this blog on how to choose the best phone system for business.
Step1. Identify the business needs
First thing first, you need to jot down your requirements on a piece a of paper and analyze them. Now, to do this you need to talk to different stakeholders in the organization - your team, sales, marketing, customer support, R&D team etc. to understand their expectations from it. Most important cog here will be the customer support team since they are generally the first touch point for your customers, so the system should help them delivery a seamless experience to your customers (a contact centre solution is what is required here). If you're overhauling an existing sytem, identify the reasons why you want to do this - is it because of poor voice quality, outages or high maintenance cost or old infra? Assess it thoroughly. When you have a case for an overhaul or for a new PBX sytem, determine the size of the solution. This will depend on the size of your business - number of office location, number of employees. Do thorough mapping of users with locations. Make sure you're taking future projections into consideration at this stage. If your business has workforce spread across regions, prefer collaboration, it's wise to evaluate latest technologies like VoIP. More and more businesses are opting for IP based telephone system these days owing to enhanced collaboration features and resources optimization. I'll touch upon it later in detail. But don't forget building a case for mobility if your workforce is mobile which prefers anytime anywhere access.
Step2. What infrastructure - Traditional(Analog) or VoIP?
This is more relevant for businesses which are still carrying the load of a traditional analog PBX. Let's accept it, it's time to say goodbye to it. It might be good for local calls and you might still love it because you've invested heavily into it, but it's an old elephant which is highly inflexible and expensive to maintain. More so, it's very expensive to scale, provides very limited features. It's a no match to VoIP based phone systems. VoIP based solutions, on the other hand, are low on TCO (Total Cost of Ownership). Highly flexible - system grows as you grow. Feature rich - mobility, hot desking, one number calling etc. Low on maintenance cost - existing infra can be used, administration is easy. If you were to consider my opinion, it's clearly VoIP.
Step3. Which deployment model suits you?
It's important to weigh different options keeping current and future requirements into consideration. The deployment options are obvious - on-premise, cloud or hybrid. While chances are you currently have a phone system manged in-house (on-premise) and you have inhibitions against cloud for security reasons, I would say it's time to debunk this myth. Cloud communication systems are a lot secure now. Mitel, the platform our solutions are based on, has seen multifold growth in cloud communication space globally. As per the Gartner magic quadrant for cloud communications, Mitel has emerged as a leader with some of the largest businesses opting for cloud deployment of their telephone system. But, if you're still not convinced you have an option to go for a hybrid model wherein you can use your existing infra to achieve some cost savings.
Step4. Identify the features set
This is the time when you start hitting vendors' websites to download their brochure and make list of the features their products have. I would rather suggest a different route here. Almost all vendors have all features. That's no more a secret. Some may have a little extra, but if that doesn't map to your requirements it's of no use. So, what's important here is mapping of your requirements with the features available in different products. This will help you shorten the list. Put the features into two buckets - must-have and nice-to-have. While must-have drive your decision to select a particular product, nice-to-have too can play a role when all other things being equal. Some of the features that you are recommended to evaluate are - hot desking, one number calling, audio/video conferencing, unified messaging, mobility, presence, automatic call distribution, voice mail in email. These are relevant for all length and breadth of businesses.
Check out some must have features for IP telephony here
Step5. Select a perfect vendor
You have reached a point when you can ring us! On a serious note, it's a long term relationship, vendor should be chosen wisely. Meet multiple vendors, evaluate on the basis of their solution designing capabilities. Ask questions. Seek clarification as many times as you may need. Please don't take a decision on the basis of the cost of the product, all fall in more or less same range. Consider TCO (Total Cost of Ownership). Assess the implementation and post sales support capabilities. A true solution provider would like to put himself in your shoes to do justice with your resources. He would try to maximize the usage of your existing resources, create a scalable system to reduce the initial outlay.
Step6. Implement Wisely
If you've followed the previous steps religiously, you're already wise enough. But still, I won't recommend you to take implementation lightly. It's where most of the best solutions collapse. If the implementation is not done properly, all efforts made till now are futile. Plan wisely, work closely with your implementation partner, organize meetings, ensure deadlines are met. It's your responsibility to make everything work. Create a task force to create and test a pilot before the full implementation. Ensure a proper training calendar is designed for training of different users depending upon their usage quantum. Once done correctly, you save both $ and time.
I'm sure by this time, you would be thinking there's a lot to think about and plan. Don't worry. For your convenience, we have created an ultimate checklist that covers all six steps. Refer slide 21 of this slidedeck. You can take the print out of the checklist and with a few tick marks you know what is it that you need to implement. And if you still need more info, you can talk to us. In fact, you can talk to us anytime, at any stage.