Everything you need to know about Net Neutrality
April 23, 2015
Net Neutrality is the new buzz word which recently came into focus in India. The whole concept is that "internet should remain open to everyone (from users to content providers)". A service provider should allow access to all content whether it is sent by an individual blogger or a multinational company regardless of the source without any extra fees.
Still wavering! Let's understand it with an example
Before the advent of DTH in India, cable TV was omnipresent. Users used to enjoy all channels (paid or free-to-air) by paying a fixed amount. There was absolutely no difference between paid and free channels cost-wise. Users had to pay only between Rs 150 to Rs 200 for the full package. Then came DTH. DTH was introduced with an improvement in video quality, but at the same time it led to sub-division of channels (base pack, special pack, sport pack, movie pack etc.) and charges according to the selected criteria (packs). A complete package can go upto Rs 500 – Rs 700 per month or even higher as compared to Rs.150-200 earlier.
Now you can imagine how it can affect normal users like us and also the content providers (SME companies, individual professionals, NGOs etc.) who have limited funds as compare to large enterprises.
Legally, the notion of net neutrality doesn't exist in India but until now ISPs were adhering to its principle. The major uproar over this issue came into limelight over the Flipkart-Airtel deal. 
TRAI intervention
TRAI published a 117-page long consultation paper - "Consultation Paper on Regulatory Framework for Over-the-top (OTT) services". TRAI is seeking public views on it and the deadline for the submission is 24th April. People can send their views regarding the future of net-neutrality in India.
Over 9 lakh emails have been sent to TRAI in support of net neutrality. And the number is still counting.
Why Net Neutrality Now?
Reason 1 
OTT (Over the top) services such as Whatsapp, Viber, Hike and other messaging and calling apps are continuously eating the biggest revenue streams of telecom providers –SMS and calling. Users can send unlimited amount of messages and do unlimited voice calling. All this is possible through sending voice and text over data. But the problem here is, earlier this used to be the biggest revenue generation factor for telecom providers.
Reason 2 
Charges from content providers will provide extra revenue to internet providers. Businesses would like to see increase in their top line.
Reason 3 
Consumers will also be paying premium for viewing extra content (special packages- later on ISPs will evolve their pricing strategy and create creative schemes to pull out more $).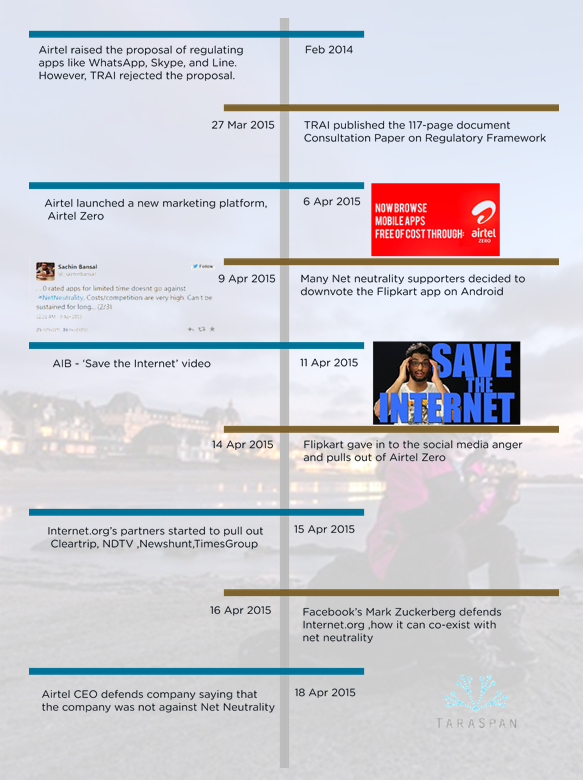 How does Net Neutrality affect your business?
Net neutrality maintains a level playing field for content providers. It does not matter whether the content is from a small company, medium or a large corporation or an individual, all are treated equally. But once this balance is distorted, big corporations would try to prioritize their content over others.
It will be just like google ads which you generally see over the top, right and bottom of almost every page, whether you want it or not. For small companies which won't be able to afford this special access/privilege will suffer, their websites will be slower than their large competitors (may be they get completely blocked depending upon ISP's model).
How does Net Neutrality affect everyday user?
Cost will rise for special packages but at the same time, as content providers will also be paying from their own end, some content will be free to use. For e.g. In 2012, Reliance announced that it would provide WhatsApp & Facebook at Rs.16 a month, Aircel offers free Wikipedia access to its users.
In the end…
This is just the beginning of the wave. Initially the offers presented by ISPs are really convincing (the benevolent concept introduced by Reliance-Facebook deal - Internet.org, which will provide free Internet access to remote areas, free Wikipedia from Aircel etc.) but gradually it will evolve into a more profitable and skewed-towards-big-pockets preposition. ISPs will device a mechanism to create another revenue stream and society will adjust to their terms and conditions, if no checks/regulations are there from the beginning.