Technology says I will #SMAC you down
March 18, 2015
That's what I hear when I interact with it daily. My everyday interaction with technology has changed. Before I open a company's website, I search for its LinkedIn page. Before I open my laptop, I access all my applications on my smartphone. I don't use excel anymore for number crunching; the applications I use give me a customized dashboard. And I pay for my usage; I don't need to spend time managing these applications because everything is on cloud. The technology consumption, as I see it, is seeing a paradigm shift - the search journey, the buying cycle, the usage pattern everything is different than what it used to be a decade ago. Probably, would be a lot differ a decade from now. The disruption can be largely attributed to a quartet of Social Media, Mobility, Analytics and Cloud, collectively referred as SMAC technology sometimes. All of them are equally disruptive, but together they have the potential to rewrite the business technology landscape.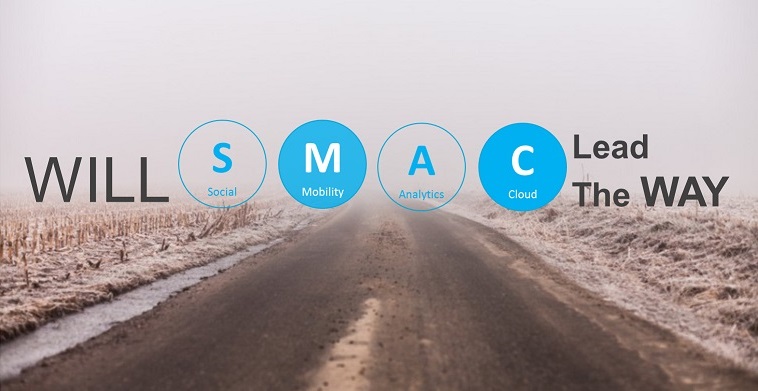 Social media is driving conversations
More than a billion people are active on social media, millions of businesses are there too. More and more brands are interacting with consumers on social platforms. Not just sharing with, but also listening to ever social, ever proactive consumers. Hitherto enterprises were using it for customer servicing, it's become an important sales and marketing medium now. Social selling is piping hot. A visit to somebody's LinkedIn profile before a meeting with him has become a custom. No business can afford to oversight the significance of social media in its growth strategy. They need to be more agile now.
Smartphone is the new platform
For everything - accessing data, consuming content and using applications. Mobile now exceeds PC internet usage. Along with cloud computing, it has materialized the dream of anytime, anywhere access of the information. Consumers have moved beyond using mobile for comparisons, to making purchases. There are more than 4.5 billion mobile subscribers globally, and more than a billion smartphones (more than laptops and PCs). This implies an increasing pressure on businesses to allow an access to secure information on mobile devices. But it also implies enhanced productivity and agility. What becomes important is striking the right balance between the two.
Data drives decisions
And the big data drives smarter decisions. Data is being generated everywhere, both inside and outside an organization. It used to be there earlier too, however, the size, speed and variety have changed. Most importantly, the methods of analysis have changed from traditional analysis to predictive analysis. Industries like banking, telecom, e-commerce rely heavily on big data analysis for spotting trends, understanding behavior for smarter decision making. Analytics forms the core of customer acquisition strategy now. More and more businesses are using analytics for resources optimization and identifying new revenue streams.
Cloud means productivity and efficiency
I concur with it. I don't think I use any desktop application now. All my productivity applications, marketing tools reside on cloud, giving me convenience to access them whenever I want on a device of my choice. Leading to enhanced productivity, high resource optimization and a significant cost reduction. As per Gartner, cloud computing is more than a 100 billion dollars market, and is growing at a steady pace. Enterprises have already jumped on the bandwagon, consumer IT space is seeing the upward swing too in the cloud adoption, with a host of applications being launched by service providers. Data privacy, security issues appear to be a thing of the past. 
The convergence shouldn't be ignored
A cloud application is expected to have a mobile app, an analytics dashboard. Marketers are expected to have a mobile strategy, social media strategy  backed by analytics. IT team is expected to assess the impact of mobility and cloud while evaluating a new infrastructure. Convergence is inevitable and the impact is considerable. If not all, combinations of two or more impact different functions of enterprises. The holistic approach should evaluate the impact of all forces.
Will it lead the way
SMAC is already there. Challenging, shaking up businesses. It's certainly at the forefront of defining the technology adoption. But a new kid's also emerging on the block - IoT (Internet of Things). Does the future belongs to SMACIT (read IT as IoT)? I'm optimistic.